Champlain Sponsors Female-Identifying Tech Students at the 2021 Grace Hopper Celebration
Champlain College sponsored 19 on-campus and online female-identifying tech students and alumni to virtually attend this year's Grace Hopper Celebration, which took place September 27 through October 1, 2021. Founded in 1994, the annual Grace Hopper Celebration honors influential tech pioneer Rear Admiral Grace Hopper, who was one of the first women to receive a doctorate degree in mathematics. Her expertise led her to later join the U.S. Naval Reserve during World War II to work on the Mark I computer. After the war, she continued serving the U.S. Navy as a reserve officer working on the more advanced Mark II and Mark III computers. Grace went on to create the first compiler for computer languages and was the first female recipient of the National Medal of Technology (1991). She was also posthumously awarded the Presidential Medal of Freedom (2016) for her various contributions to the field of computing.
The Grace Hopper Celebration was founded by Dr. Anita Borg and Dr. Telle Whitney to inspire future generations of women in tech by bringing the research and career interests of women together. From fields like computing, cybersecurity, and other tech-related industries, female-identifying attendees gather at this annual event to share collaborative proposals, network, become mentors/mentees, and recognize the importance of diversity in tech. Today, the Grace Hopper Celebration is the world's largest gathering of women in tech and is co-presented by AnitaB.org and the Association of Computing Machinery.
Given Champlain's commitment to delivering the most cutting-edge tech programs and devotion to highlighting the importance of women and underrepresented professionals in tech, the college was delighted to sponsor on-campus and online female-identifying tech students at this event, who were all chosen at random after nominating themselves to attend. The lucky winners were granted virtual access to sit in on live and pre-recorded sessions across a wide variety of themes and were able to virtually network with fellow attendees as well. 
Following this week-long celebration, a handful of Champlain's attendees reported back to the college to share what they enjoyed most about their time at the Grace Hopper Celebration.
Here are some of their biggest takeaways:
 
"The celebration gave me to chance to connect with other females in technology, be inspired by them, and learn from them. All the speakers that I had a chance to see were an inspiration and I continue to watch more speakers that I missed during the celebration on demand. So far, my favorite session was Jen Easterly from CISA, and her presentation titled, 'See Yourself in Cyber.' This session boosted my confidence as a female entering the cybersecurity field as Jen explained her own journey and the goal to increase the number of women in cyber. My favorite quote from Ms. Easterly was, 'cyber is an art and a science.' As a creative person in the cyber field, this resonated with me immensely."  – Megan I.
"My favorite session was 'A SaaS-y Approach To Product and Infrastructure Security.' Since I work in software development and am studying security, it was incredibly interesting to hear a talk that combined the two in a practical, actionable way and gave me a conceptual framework to approach similar problems in the future. This conference reinforced to me just how important cross-disciplinary skills are in technology. From advocacy to user experience to ethics, diversity of knowledge and experience not only radically improve the end product but are valued by the greater technical community." – Kate G.
"The Grace Hopper Celebration with AnitaB.org was eye-opening. Getting to meet hundreds of women in the field of technology working to address difficult topics such as race and gender equity and fair pay and opportunity was both inspiring and humbling. I will use this experience to continue the shared vision of community and interdependence in the field of technology." – Brianna D.
"My favorite session was probably 'Digitizing Endangered Language Texts: How NLP Can Help Language Revitalization.' I thought the session was really interesting and informative. I learned more about how technology is being used to save endangered languages, and I am eager to learn more about the technology." – Emily C.
"One thing that I took away from Grace Hopper was that even though in small settings I may appear to be an 'only,' that is not the case in a more grand scheme. Despite it sometimes feeling like I'm only one of a handful of women who make up the field, there are so many women in technology that are doing amazing work and supporting and lifting each other up. I know that I'm not the only one who can feel discouraged by being a minority in their field. Because of that, I believe that showing others that they do belong and they are not a sole pioneer in their field is crucial to recruiting and retaining women in tech." – Jessica T.
About AnitaB.org
AnitaB.org is a nonprofit social enterprise inciting a movement to achieve intersectional equity in the global technical workforce by 2025. Computer science visionary Anita Borg and her co-founder and fellow computer scientist, Telle Whitney, founded AnitaB.org in 1997 with the goal of driving a future where the people who imagine and build technology will mirror the people and societies for whom they build it. The Grace Hopper Celebration is co-presented by AnitaB.org and the Association of Computing Machinery (ACM) annually.
Request Information
Connect with our admissions team to learn more about Champlain College Online.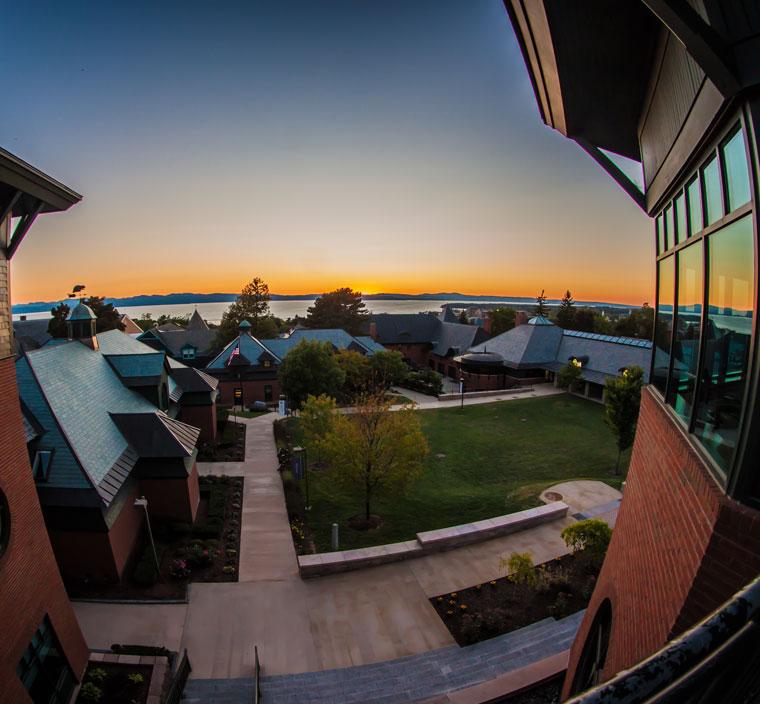 Request Information
Your growth is our purpose. Let's work together to uncover the strengths and experiences you already possess that will help you succeed in your academic and professional pursuits so you'll be ready for your next opportunity.