We asked members of the Champlain College Online faculty and staff to share their experiences within transitioning to remote work. Janet Morrison, student success advisor, reflects on what working from home has been like for her, and highlights some thoughts from her teammates Emily Peters, Caroline Steele, and Emily Fenuccio.
What It's Like to Work Remotely
For me, personally, the transition to working from home has been manageable. I felt immediate relief from not having to be on the road for three hours a day, which is my typical work commute time. I do miss contact with my colleagues, but our team has taken full advantage of the Google Suite to enable group communication, as well as dialogue with each other and with students. Interestingly, without the distraction of other people going about their business in our office, I find that my focus has increased to the point of not moving from my chair for hours at a stretch.
There is variation across our advising team, though. It's taken each of us several days to feel "situated" with equipment, workspace, and technology. My teammates have been innovative in creating structure for their work day, including cues that help them remember to take breaks (and not feel guilty about it). Getting dressed to "go to work" has taken on a whole new meaning! There's definitely a sense of "hard scheduling" in concert with fluidity and adaptability that marks this transition to working remotely.
There is risk for advisors who live in and work from a rural setting to feel somewhat isolated, and those who are more extroverted may feel a tad lonely. We continue to support each other as we always have - by staying aware of and responsive to how we're each experiencing this transition.  We have a daily check in as a team, via Google video, and that also brings an element of fun, as we've taken advantage of being able to see one another's children and pets in real time!
Team members who have school-aged children are adapting to not only creating and working in a different physical work space, they also have to be even more adept at juggling spinning plates than they already are. At the same time that they appreciate being able to step outside with their children for a work break, they are also working around a child's nap time and managing their families' transition to schooling from home.
Change is already inherent in the work that academic advisors do - we manage a number of moving pieces, we pivot from task to task, we collaborate with each other and colleagues to keep students' experience at the center of what we do.  We're just doing it all a bit differently now.
The Positives and Negatives of Remote Work
Janet: One positive is not having to drive more than an hour each way to work. One negative is my brain is not as "ready" to work when I turn on the computer, as I typically use the commute to get oriented, thinking about work as I drive.
Emily P.: A positive is that I get to be with my kids and I can get outside more. A negative is having to split many tasks at the same time, and not always feeling that I am doing parenting or working to my best and fullest potential.  
Caroline: A positive is that it's a little quieter and easier to stay focused, but I do miss my colleagues. A negative is that I live in a more "rural" area and my internet and phone is a little bit slower than at the office.
Emily F.: A positive is being able to dress more comfortably, and being able to make a fresh lunch that's not leftovers in a microwave! A negative (and a big one) is that it's much lonelier, and I also miss talking more regularly and informally with colleagues.
How Advisors Have Structured Their Home Workspaces
Janet: Because I used to work from home, I have a large desk dedicated as a workspace, with holes cut out in the top for cords. 
Emily P.: Right now, I am temporarily at the coffee table. Two monitors and more space to come.
Caroline: I have a desk, overlooking my neighbor's field and Lake Champlain. I'm using my laptop connected with a second monitor, and can have my Sonos on--no earbuds!
Emily F.: I have a desk space off of my living room with my laptop and a second monitor, and also have my record player going! I have been using the "getting up to flip the record" timing as a reminder to get up and move.
How Working Remotely is Changing Advisors' Work
Janet: I think I'm more focused without the same kinds of interruptions and distractions typical of an open office - it's easy to get caught up in the work, because there is no one else around to cue me that I haven't eaten (no snacks out on the table) for a long stretch, for example. I see myself needing to schedule breaks. 
Caroline: I don't know that it's changing my work all that much: I feel like I'm moving a little bit slower, but I think it's offset by being more focused!
Emily F.: I find myself feeling more guilty about having "unproductive" moments or taking breaks, even though my work in an office also has natural ebbs and flows. I'm working on trying to expect that more and be kinder to myself.
Tools and Strategies Advisors Are Using to Be Productive While Working Remotely
Janet: Our team has quickly started using the Google Suite to both meet as a group, have smaller conversations, and support a new team member with screen sharing training.
Emily P.: I've been trying to keep a schedule and check in with my colleagues, reminding them to get up and take a break. I've also been relying on Google chat and Google videos to stay connected.
Caroline: I am keeping as much of a normal schedule and process as I can: getting to the "office" around the same time, keeping my daily check-lists/post-its/reminders, having my same music on, using technology to keep in touch with my colleagues and students, etc.
Emily F.: It's been helpful to structure chunks of my day in a similar way to being in the office, like emails in the morning, meetings/follow ups in the middle of the day, and building out time towards the end of the day for registration/new students.
Tips for Success While Working Remotely
Janet: Schedule breaks and keep a similar schedule to your regular work day if possible. 
Emily P.: Set goals, break up the day. Be kind to yourself. 
Caroline: Set a clear stopping time and stick to it. I'm also a student in an online program and now that work and homework space are the same, I could very easily just work forever and never transition to homework or something else. Also, get dressed: it's tempting to roll to work in jammies when you're at home, but it's hard for me to be serious if my clothing is telling me to get back under the covers or curl up on the couch.
Emily F.: It's been helpful to plan for a schedule throughout the day and maintain consistent hours with a hard start and stop time.
Download Online Experience Guide
Learn what you can expect from your experience at Champlain College Online.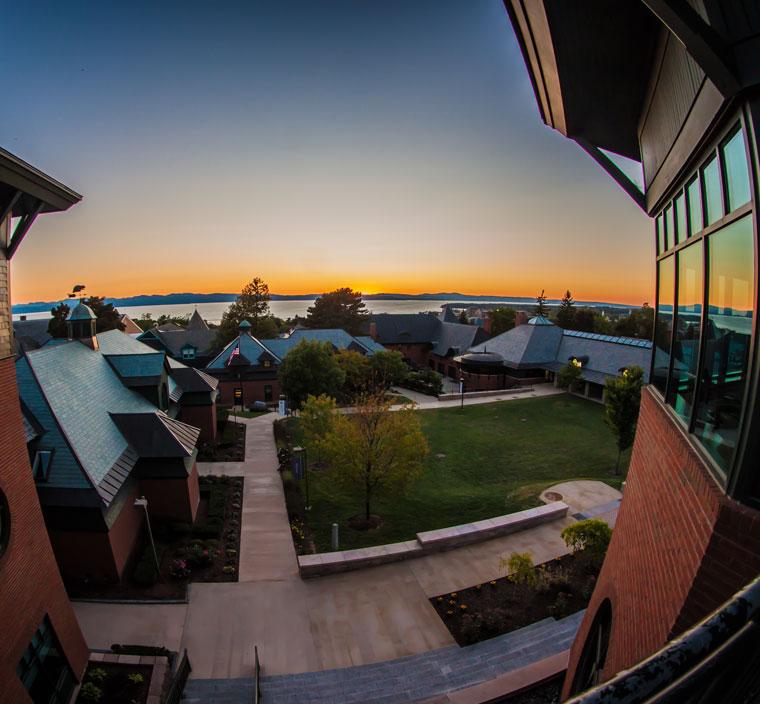 Online Experience Guide Download
Learn more about what you can expect from your online experience at Champlain.