Take Your Online Learning to the Next Level
Today, online learning comes in many forms. These at-your-fingertips experiences range from anything as small and informal as a series of YouTube tutorials to advanced or formal options such as an online master's degree.
The value of free educational content on media and learning platforms is unmistakable: it's an accessible and approachable way to learn a new skill or expand your knowledge - and they also can serve as a gateway to credentialed learning.
Taking your online learning to the next level through formalized education prepares you with credentials and job qualifications that cannot be obtained elsewhere.
Upskilling through a reputable online certificate, associate degree, bachelor's degree, or master's program not only gives you the qualifications you need to pursue new job opportunities, but it also demonstrates to employers proficiency in your area of study and your dedication to life-long learning.
If you have had experience with either informal online learning processes such as following along on a series of YouTube videos, or have made smaller investments into credentialed learning, then you may have considered taking this next step to pursue an online degree program with a higher education institution. But how do you know when it's time to take this next step and bring your online learning to the next level?
What to Consider When Pursuing an Online Degree
There are many factors to consider before enrolling in an online degree program, from the logistical to the financial. Here are a few of the top elements to reflect on: 
Your Motivations & Desired Outcomes
The key to finding the right program for you is to first assess what your motivations are for pursuing the program and ask yourself what your desired outcomes are. For many, the objective for pursuing an online degree is to earn new credentials and qualifications to advance their careers or pivot into a new field.
Researching your desired academic program, including specific courses, program learning outcomes, and alumni employment statistics will become instrumental in narrowing your school and program choices and, ultimately, discovering which online program works best for you.
Your Time & Financial Investment
A full online degree program will, of course, be longer and more structured than free online courses. With that said, time and money are considerable concerns for many adult learners and working professionals looking to pursue higher education.
While exploring degree programs, conduct thorough research on what each school is offering for ways to save on tuition. For many online learners and adults returning to school, transfer credits are one of the most efficient cost-savers, while allowing you to maximize your prior learning experiences. Previous professional or military experience could also be used as transfer credits.
Your Return on Investment
As degree programs involve greater time and financial commitments, it's important to have clear goals and expectations going into an online degree program. During the research phase of finding a program, determine if your potential degree program demonstrates a positive return on investment for the career outcomes aligned with your original goals and reasons for seeking a degree program.
What to Expect From an Online Degree Program
If you have some experience in online learning, even in small investments, then you are likely familiar with some of the advantages of this learning style. The ability to learn at your own pace, wherever you want, is certainly one of the most notable benefits of online learning. However, for the long-term commitment of higher education, you may be wondering, what can you expect from an online degree program?
Compared to traditional classroom instruction, online degree programs are known as being more accessible to students, especially those who require flexibility in their degree programs.
Online programs are typically offered in two formats: synchronous and asynchronous. In synchronous learning, students "attend" class at a specific time, just as they would on campus. Conversely, asynchronous learning does not adhere to a set schedule, which gives students more flexibility to choose when and how they complete work.
For adult learners and working professionals, the flexibility and self-pacing of asynchronous online programs make it possible to continue their careers while obtaining a degree. Online learning provides the additional benefit of removing geographical barriers, which allows students to access learning opportunities at institutions outside of their region.
Get an Online Degree From Champlain College Online
Getting credentials with an accredited, reputable academic program will set you up for success in your career advancement journey. But, with online degree programs becoming a more popular and permanent offering at colleges and universities far and wide, it is more important than ever to consider how well a school understands the needs of today's online students.
With a long history of providing exceptional online education, Champlain College Online (CCO) has opened doors for thousands of students who have gone on to make impactful contributions in their field. For almost thirty years, Champlain has been a leader in online education, expanding offerings in cybersecurity, information technology, business, and healthcare - and refining curriculums to meet the evolving qualifications for careers in these industries.
Learn more about CCO's expertise in remote teaching and explore which highly-ranked academic program is right for you.
Download Online Experience Guide
Learn what you can expect from your experience at Champlain College Online.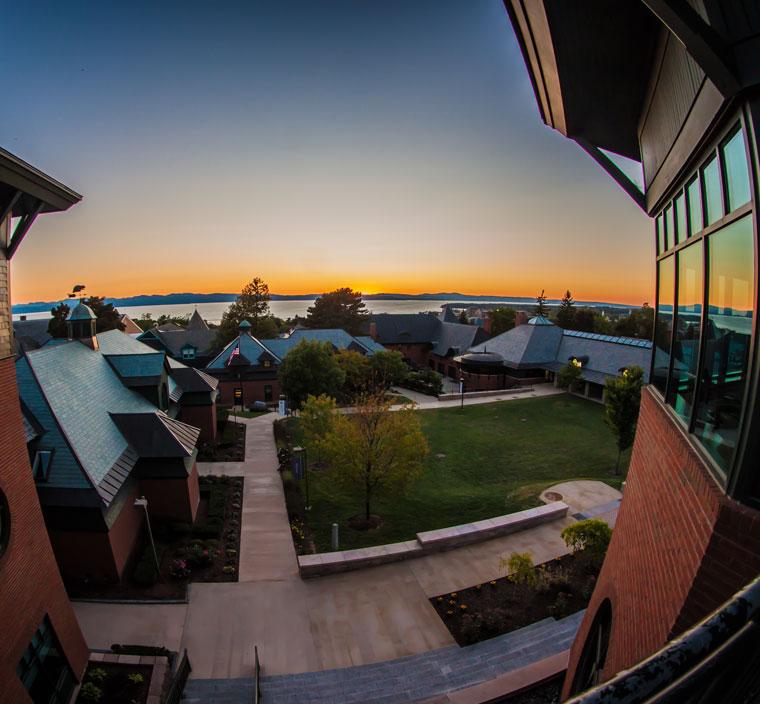 Online Experience Guide Download
Learn more about what you can expect from your online experience at Champlain.