Explore AT&T Cybersecurity Fundamentals Badge
AT&T Employees: Become Future Ready With A Cybersecurity Badge Created Especially For You!
The AT&T Badge is an internal credential developed specifically for AT&T, through collaboration between AT&T cyber security professionals and the Champlain College Online cybersecurity program experts. This program is available only for employees of AT&T.
Created to meet the cybersecurity needs of AT&T, the Badges contain select courses from our Cybersecurity bachelor's degree and certificate programs; they are rigorous and there will be students in the classes who do not work for AT&T. If you decide to continue on from the badge to the Champlain College Online Cybersecurity certificate or bachelor's degree the courses will transfer seamlessly.
The AT&T Cybersecurity Badge program consists of three badges; the Fundamentals Badge, Advanced Badge. and the Gold Badge. These badges build upon each other, the Gold Badge is granted to those who complete both the Fundamentals and Advanced badges.
Getting Started
No matter what program you are interested in you must apply for admission, including for the AT&T Cybersecurity Badge programs. Because the admission requirements for the various program levels differ, students who wish to continue on from the Badge to a degree or certificate must also complete the application process for their new program of interest.
When applying to the badge program, please apply for the highest badge level you are considering pursuing. We have found that most students who apply for the Fundamentals Badge continue on for the Gold Badge. By applying for the Gold Badge you will not need to do anything after you complete the first two courses, your advisor will contact you about your next course(s) automatically. If you decide not to continue, simply let your advisor know and you will be removed from the Gold Badge. 
Badge Prerequisite Requirements
Courses in the Cybersecurity Badge programs require certain prerequisite knowledge and must be demonstrated via review by the Champlain College Online Cybersecurity Program Chair. This includes consideration of prior work history via résumé, related industry certifications, and more. AT&T employees who do not demonstrate mastery of prerequisite course content must complete the additional courses prior to taking the required courses.
Financing The Badge
Students are responsible for payment of their courses; AT&T reimburses managers for badge program tuition following course completion, AT&T employees who are not managers should speak with their supervisor or check the HR OneStop tuition page for information regarding their reimbursement eligibility. Champlain College will bill students, regardless of reimbursement eligibility, before the start of the semester and students have the option to pay in full or in monthly installments. The standard Champlain College refund policy applies to badge programs as well as degree and certificate programs.
A Nationally Recognized Leader in Cybersecurity
Champlain is designated a National Center of Academic Excellence in Cyber Defense Education by the U.S. National Security Agency and the Department of Homeland Security since 2006, and Champlain cybersecurity programs have been named best in the nation by SC Magazine. Champlain is also designated as a National Center of Digital Forensics Academic Excellence by the Defense Cyber Crime Center (DC3) Air Force Office of Special Investigations - the fifth college in the nation, and the only private college in the country, to receive this distinction.
Program Details
AT&T Cybersecurity Fundamentals Badge
AT&T employees will earn the AT&T Cybersecurity Fundamentals badge after successfully completing two courses:
CYBR 210 Foundations of Cybersecurity
CYBR 240 Networking & Security
Pre-requisites include: CMIT-130, CMIT-135, and NETW-215 
Following are the courses and their descriptions:
Required Courses (6 Credits):
This course will introduce foundation subject matter and technologies that are critical to the multidisciplinary landscape of cybersecurity.
Prerequisites
Complete CMIT-130 and CMIT-135.
In this class, students take an intense look at networks and the ways that we provide appropriate controls and technology to provide security to them, while using Wireshark and NMAP as supporting tools.
Learn More About The AT&T Cybersecurity Fundamentals Badge
Learn more about the AT&T Cybersecurity Badge programs, including how they can be used as stepping stones to other Champlain College Online programs.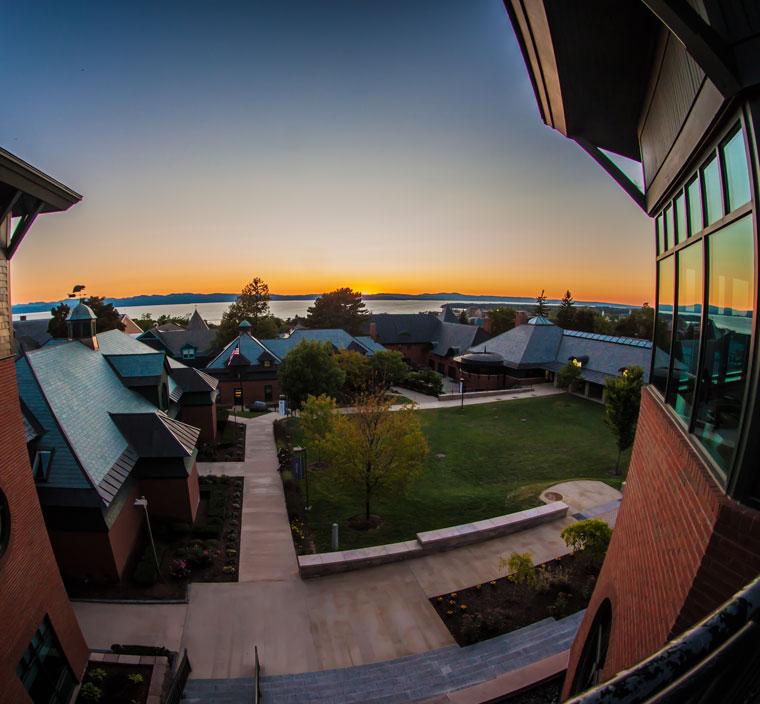 Request More Information
Complete this form and one of our admission representatives will contact you. 
Champlain College will not share or sell personal information. Submitting this form constitutes your express written consent to agree to receive e-mails, texts, and phone messages from Champlain College at the phone number(s) and email address provided in this form.