Undergraduate Admissions Eligibility
Our admissions team seeks to admit students who:
Demonstrate a solid academic foundation - a minimum 2.5 GPA is our recommendation, though exceptions may be made on a case-by-case basis for those who demonstrate a potential for academic success in other ways.
Possess an aptitude for success in an online learning environment.
Exhibit the ability to make a positive contribution to the Champlain College Online community.
The following application requirements must be completed and submitted to our admissions team before any student may be considered for acceptance to a Champlain College Online undergraduate degree or certificate program.
Online Application
The first step in applying to an online program at Champlain College is to start your fast and free online application. You'll need to create an account and follow the step-by-step instructions.
College Transcripts
Official academic transcripts are required for any post-secondary coursework you have completed and all colleges and universities you have previously attended, whether or not a degree was conferred. Foreign transcripts must be evaluated by a recognized equivalency service. Learn more about our international student requirements below. Request that all transcripts be sent directly to Champlain College Online. For students who are still completing their undergraduate degree, we have a Provisional Admittance policy listed below that may apply to you.
To obtain your college transcript, visit your school's website and search for "request transcript". In most cases you will just need to complete an online form.
If you are unable to find the information you need, we suggest calling the school directly and ask to be connected to the registrar's office.
You can also check to see if your school uses services such as Parchment and National Student Clearinghouse and order your transcripts there to be sent directly to Champlain College Online.
High School Transcripts
If you have not completed a minimum of an associate degree, we will also require copies of your official high school transcripts or GED scores. Foreign transcripts must be evaluated by a recognized equivalency service. Learn more about our international student requirements below. Your high school transcripts or GED scores can be mailed, emailed or faxed to Champlain College Online.
To obtain your high school transcript, first visit needmytranscript.com and search for your high school. You may be able to have your transcript sent from this site, and it will most likely be the fastest option.
If your high school is not listed on the above site, contact your high school directly and ask who you should talk to about having your transcript sent to a college. You can also search for your school district at the National Center for Education Statistics website to see if you can obtain it that way.
If your high school is closed you will need to request your transcripts from the Department of Education in the state where you attended High School.
If you've completed the GED, you can request your GED transcript by clicking here.
Proof of English Language Proficiency
Proficiency in the English language is both required and necessary for academic success at Champlain College. If English is not your native language, you will be required to demonstrate proficiency. Learn more about our international student requirements below.
Your official transcripts should be sent by mail or electronically to Champlain College Online, directly from the administering institution, to the mailing address or email list below. All other admission materials (resume, proof of credentials, etc.) may be submitted by the applicant directly.
See the Undergraduate Application Requirements" section above for details on how to request your college and high school transcripts. 
Mail: Champlain College Online, PO Box 670, Burlington, VT 05402
Email: cco@champlain.edu
Fax: 802-419-5321
If you have been homeschooled we will need proof of graduation via homeschool diploma or equivalent from the student's home state, or the official results of the GED/high school equivalency exam.
We ask that homeschooled applicants also include:
Official high school transcripts, which should include completed coursework with grades and, if possible, a brief course-by-course description.
Any courses completed at a secondary or post-secondary school, which will require official transcripts from those institutions.
Students educated outside of the United States and Canada seeking admission to Champlain College Online will need to visit our International Admissions Requirements page to learn about our English proficiency requirement, as well as our international transcript evaluation process.
If you reside in the United States, please be aware that not all categories of Visas allow you or your children to take college courses, including online. Please confirm with the U.S. Department of State whether your Visa allows you to take online courses while you are living in the United States. If you are living outside of the United States you do not need a Visa to enroll in our online programs.
We look forward to welcoming back former Champlain College students! Whether you studied as an undergraduate student on the Champlain College campus or took Champlain College courses online, we are eager to talk to you about your next steps in returning to school. Keep in mind that if you have not taken online classes in over a year, you will need to reapply. Contact our admissions team at onlineadmissions@champlain.edu or call 802-357-5188 to learn more.
At Champlain College Online, we strive to meet students where they are by providing access to higher education programs when students are ready, and have the academic foundation and requisite knowledge and experience to be successful. One way we do this is through our provisional admittance policy. We offer the pathway of "provisional admittance" to incoming students who are otherwise admissible, meaning they have met an academic program's admission requirements, but do not have a final transcript from their current institution denoting the conferral of a degree. Most of these students are finishing the final credits of their degree at an institution when they apply, and their degree may not be conferred by the time their classes begin at Champlain. 
Provisional admittance is not automatic, nor is it appropriate in all cases. In order to be considered for provisional admittance to Champlain, an applicant must:
Self-identify at the time of application as being in the last term of coursework at another institution.
Provide all official transcripts for past and current academic institutions at the time of application.
Have the current institution's registrar, or similar, provide a written statement and return it to Champlain College (via email, fax or USPS) that confirms:

The applicant is making good academic progress toward conferral.
The applicant is in good financial standing with the institution.
Date of expected degree conferral.

Satisfactorily complete their coursework prior to beginning an academic program at Champlain.
At Champlain College, provisional admits are "regular students" and, as such, are eligible for financial aid. However, students admitted provisionally must ensure that Champlain College receives their official transcripts, with degree conferral date, prior to the 5th week of class to ensure their standing in their current and future courses. Provisional admits whose final transcripts are not received prior to the 5th week of classes may be required to return any financial aid they have received to date for their Champlain College program.
Registrar written statement and transcripts should be sent to:
Mail: Champlain College Online, PO Box 670, Burlington, VT 05402
Email: cco@champlain.edu
Fax: 802-419-5321
Champlain College Online reserves the right to review and rescind offers of admission if we learn of conduct occurring before or after the date of an offer letter, or changes in academic performance, that raise substantial issues about a prospective student's character, integrity, or qualifications to become a member of the Champlain College Online community
Examples of conduct or academic issues that may lead the College to rescind an offer of admission include but are not limited to:
Academic Dishonesty, including but not limited to plagiarism, cheating, or other academic infractions.
Academic Performance, including but not limited to a significant drop in academic performance, failure to provide a final high school or college transcript with proof of graduation.
Conduct, including but not limited to questionable student conduct that may have a negative impact on the College community. Students who have accepted an offer of admission are expected to abide by the Champlain College Code of Conduct.
Decisions about reviewing or rescinding an offer of admission are made in the sole discretion of the Manager of Application Review & Transfer Credit. In the event of an alleged violation of standards outlined in the Code of Conduct, the Office of Student Conduct will assist in reviewing and/or deciding the matter.
Individuals who have had an offer of admission rescinded may appeal the decision to the Associate Vice President of Champlain College Online, who will make a final determination.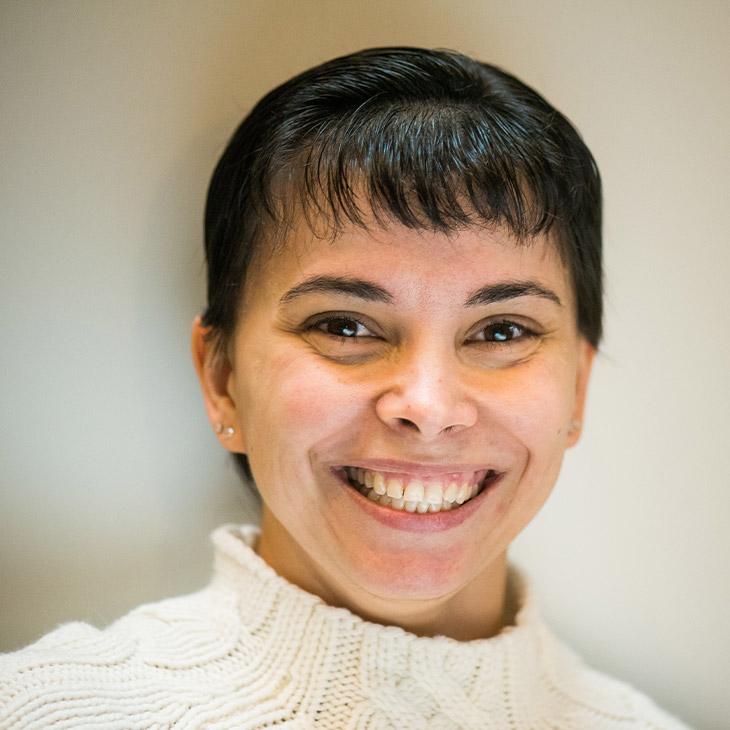 Champlain Community
"My advisor was nothing short of wonderful! She helped me organize my class schedule to complete my degree at an accelerated pace and keep me on track. Without her knowledge and help, I couldn't have completed my degree in the timeframe I needed."
Mary Trepanier
Bachelor's & Master's Degrees in Healthcare Administration
Mammography Team Lead, Central Vermont Medical Center
Academic Excellence and Recognition

Regionally accredited by the New England Commission of Higher Education

Ranked among the Best Online Bachelor's Programs by U.S. News & World Report

Designated as a Military Friendly School for our commitment to the military community

Named the among the best schools with accelerated bachelor's degrees by Intelligent.com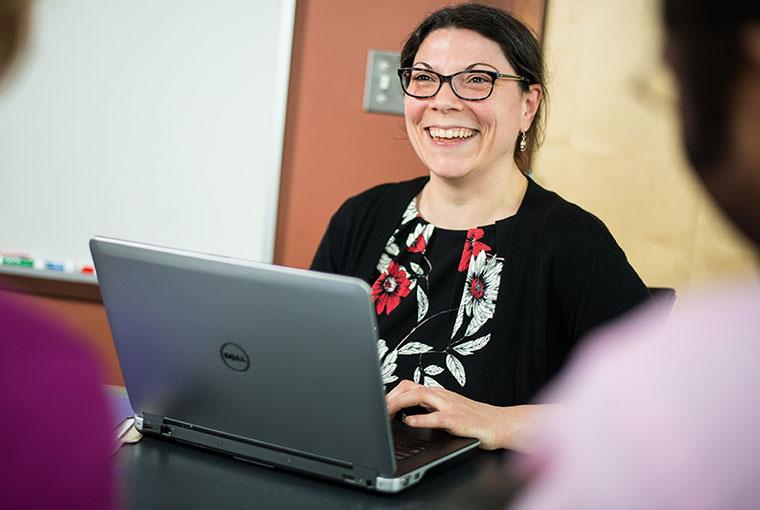 Champlain Experience and Support
Our classes are intentionally small, and our faculty and advisors are focused on your success from day one through graduation. Discover what makes us different in our Student Experience Guide.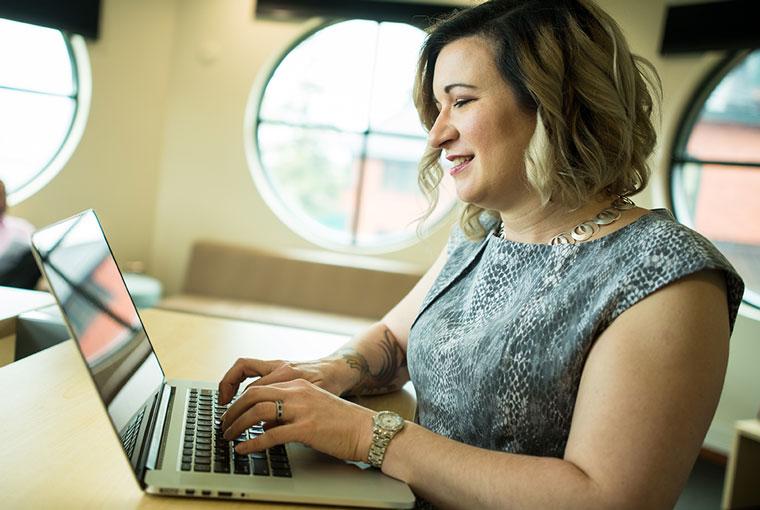 Start Your Fast & Free Application
The online application is free and should take about 15 minutes to complete. You can finish your application or return to it later, so get started today!
Apply Now
Contact Admissions
Our admission counselors are standing by to answer your questions. Complete this form and we'll be in touch ASAP!