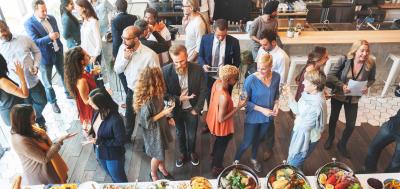 Alumni Network
At Champlain College, online students are alums from day one, just as on-campus students are. You'll be part of a thriving community and wear your alma mater proudly.
Connected For Life
As soon as you enroll in classes, you join a community of over 3,000 fellow online adult learners and 20,000 Champlain College alumni located across the United States and around the world. This dynamic network of Champlainers provides a wealth of experience, support, and connections to both current students and graduates.
Champlain invests in our alumni far beyond graduation day. As an alum, you have access to:
Free Champlain Connect events around the country to network with students, fellow alumni, and Champlain faculty and staff.
Career support and proprietary and subscription-based tools from the Champlain College Online career resources.
Job listings from organizations seeking Champlain College graduates through our Champlain Alumni LinkedIn Group.
Membership to regional and industry-focused alumni groups.
A monthly e-newsletter highlighting new and exciting happenings on campus and around the country.
We'd love to hear your CCO story
Did you have a great experience as a Champlain College Online student? A special faculty or staff member you'd like to thank? Have you excelled in your career since you finished your program? We'd love to hear your story! Fill out this form and we'll be in touch to setup a 15-30 minute interview for the blog, social media and for use in other storytelling opportunities. 
Request Information
Our team is standing by to answer your questions. Complete this form and we'll be in touch ASAP!