Credit for Prior Learning
Credit for Prior Learning
Earn Credit for Your Prior Learning at Champlain College Online
Earn Credit for Your Prior Learning at Champlain College Online
Your prior learning, whether at a community college or another regionally accredited institution, can considerably reduce the time it takes to complete your degree or certificate. In fact, the typical Champlain College Online transfer student brings in over 30 credits earned at other institutions, which translates to one-quarter of a bachelor's degree. 
Champlain offers numerous ways for you to demonstrate both prior learning and knowledge, to help earn you up to 90 credits toward your bachelor' degree and ultimately reduce your time to completion. 
Ways to earn transfer credit include:
Prior college experience
Professional credit and training 
Credit for prior knowledge 
Alternative credit providers 
Military training 
If you attended another regionally accredited higher education institution or a nationally accredited career or technical college, we are eager to identify opportunities for awarding transfer credit towards your undergraduate coursework. We evaluate transfer credits on a case-by-case basis for graduate courses. 
At Champlain, you are eligible for up to 45 credits for an associate degree, 90 for a bachelor's degree, and 6 for a master's degree. Up to one-third of the credits required in an undergraduate certificate may be completed through transfer. 
To ensure we can award you the maximum transfer credits possible, we recommend that you do the following:
Send us all of your official academic, JST and CCAF transcripts, even if they are more than 10 years old or are in a discipline other than the one you are applying to. We may not be able to accept all your transcript credits, but rest assured that if there is a way for us to give you credit and ensure that you complete your program with all the skills and competencies required, we will.
Make sure the transcripts you send us are "official." This typically means they are sent in a sealed envelope, bear an official seal of the institution, and/or are sent directly from the institution to Champlain.
If, after you apply and/or after your transfer credit review is completed, you remember attending another institution, send documentation in. We will continue to review transfer credits for you until the time you graduate.
Check our Community College Agreements & Articulations page to determine if your community college has an agreement with Champlain College Online. 
Champlain College Online accepts all American Council of Education (ACE) credits, and is pleased to receive credentials evaluated by the National College Credit Recommendation Service (CCRS).
If your professional development or training has not been reviewed by ACE or NCCRS, please ask your advisor if C-KET or the Portfolio Assessment of Prior Learning would be appropriate for you. 
National Test-Based Evaluation Tool: CLEP
One option for earning credit for knowledge you already have is to take the CLEP (or other regionally accepted exams). CLEP is offered through The College Board and is  recommended by the American Council on Education. CLEP is the best test-based option to earn college credits. 
Champlain Knowledge Evaluation Tool (C-KET)
C-KET offers students the opportunity to reduce the number of courses they are required to take for an undergraduate degree program by successfully demonstrating they already have the competencies associated with select courses. Students may enroll in a C-KET course after they have completed at least one term at Champlain College Online. There is a select list of courses available for C-KET credit. Please speak to your academic advisor to determine if there are courses available for your program.
How Does C-KET work?
Students will work with their advisor to identify courses for which they believe they already have mastery of the material. They will then discuss the potential benefits and drawbacks of using C-KET versus taking a course. If the student decides to proceed with C-KET, their academic advisor will register the student, the student will pay a non-refundable $250 fee per C-KET, and the student will have up to 7 weeks to access the timed assessments. Once the assessments are submitted, a Champlain College Online evaluator will review the student's work, and determine a pass/no pass result. If the work receives a pass (grade of C or higher), the student will receive credit for that course, and it will appear on the official Champlain College transcript as a Non-Course Equivalent with a grade of "P." An unsuccessful C-KET attempt will also appear on the official transcript with a grade of "NP" for no pass, but will not affect the student's GPA.Because C-KET is designed to evaluate prior learning - and is not a self-paced course - the student will not be provided with any course materials.
The maximum number of potential credits a student can earn through C-KET is 60 for a bachelor's degree and 30 for an associate degree. Since C-KET is considered as non-institutional credit at Champlain, a student may not exceed a total of 90 credits for a bachelor's degree and 45 credits for an associate degree for credit earned through a combination of C-KET and other awarded transfer credits.
Champlain Portfolio Assessment of Prior Learning (CRIT 200)
Through this course, Champlain College Online offers admitted undergraduate degree students an opportunity to demonstrate skills and knowledge from work and other life experiences equivalent to courses included in their degree programs. CRIT 200 uses a guided workshop and feedback approach to help students develop portfolios to request credit for these outstanding degree requirements. Each portfolio is then evaluated by a Champlain College faculty subject matter expert to determine whether credit will be awarded.
This course is only for students who have been admitted to a Champlain College Online associate or bachelor's degree program, and who have had their degree audit completed. If you are interested in this opportunity, contact your academic advisor to discuss a plan for earning prior learning credit that could include both testing and portfolio options, depending on your background and outstanding requirements. 
CCV Assessment of Prior Learning Course
CCV offers students the opportunity to demonstrate competency and the value of their prior professional experiences through the Assessment of Prior Learning (APL)—EDU 1240 portfolio course. At Champlain College Online, we want to ensure CCV students get the maximum possible transfer credits to all of their CCV coursework, including the portfolio course. For this reason, we request specific documentation, as outlined below.
Documents Required for a Transfer Credit Review of the CCV Portfolio Course:
If you have completed, or are in the process of completing, the CCV portfolio course, please request to have an official Assessment of Prior Learning (APL) transcript sent directly from the Vermont State Colleges to Champlain College Online.
In addition, please email your personal copy of the document titled "Marked-up Areas of Study" from your CCV award packet to cco@champlain.edu.
Champlain College Online currently has an agreement to accept specific courses from Study.com for transfer credit. Visit our page on their site for a complete list of course equivalencies. Always speak with a Champlain College Online academic advisor prior to enrolling to ensure that credits can be transferred to your program.
Transfer credits from other alternative credit providers may be accepted as well. If you are considering taking courses from an alternative provider, please discuss with your advisor which course you are considering and from which provider. Your advisor will work with our program directors to determine whether the course you would like to take will qualify for transfer credit.
If you have already completed a course or courses from an alternative credit provider, submit your official documentation to your academic advisor or to Champlain's admission operations team to see if they are eligible for transfer credit in the program you are interested in, or are already enrolled in.
Please note that not all courses will be eligible for transfer credit, so it is important to speak with your advisor prior to enrolling in non-Champlain College Online courses.
The training you received during your time in the Armed Forces can transfer to Champlain College Online. Follow one of the links below to learn more about how to send your official transcript to us.
You may still have questions about transfer credit and how it works at Champlain College Online. Below are answers to some of the questions we are asked the most. 
Can I find out whether credits I earned at another college will transfer before I apply?
At Champlain College Online, we are passionate about helping our students complete their degrees, and we work diligently to be certain you receive the maximum transfer credits possible. To get a full picture of your prior education, professional experience, and any certifications or trainings that might be eligible for transfer credits, we require that you first complete an application. There is no cost to apply, and our application is designed to ensure that every potential transfer credit opportunity is taken into account.
How does Champlain determine if a course is eligible for transfer credits?
Decisions regarding transfer credits are based on criteria provided by Champlain faculty in the related academic area and comparing that criteria to the description of the course received from the college where you completed the course. See the transfer credit policy for more details.
Do my grades transfer as well as my credits earned at another institution?
Credit hours for your transferred course are given full value, but your grades are not transferred to your permanent record at Champlain and do not become part of your cumulative quality point average (CQPA).
Will my credits for IT courses transfer?
Due to the quickly changing nature of IT, technical courses you took many years ago may have to be repeated because of substantial changes in the field or emerging technologies. You will be informed of this after transfer credit review.
Ready to Speak with Someone About Your Transfer Credit?
If you're a prospective student or an applicant interested in learning more about transfer credit opportunities, reach out to one of our admission representatives at 1-888-545-3459.
If you are a current student and would like to explore applying additional transfer credit toward your degree contact your academic advisor, who will be happy to assist you.
Download Paying for Your Education Guide
Learn more about ways to fund your online education.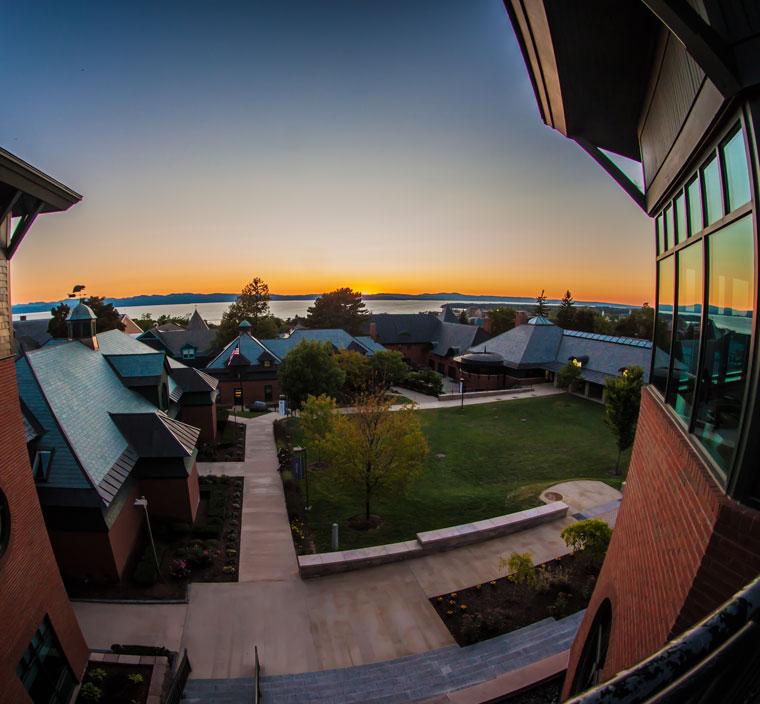 Download Pay For Your Education Guide