How to Become an IT Manager
Digital innovation is at the crux of business growth today, and, more than ever, information technology professionals are tasked with identifying cutting-edge digital solutions.
With demand for sophisticated technological solutions comes an increased need for highly qualified information technology professionals, including information technology managers who have the technical expertise and leadership skills necessary to manage IT teams, communicate the value of IT opportunities, and drive organizations to success.
According to the Bureau of Labor Statistics, employment of computer and information systems managers is projected to grow 11% from 2020 to 2030, significantly faster than the average for all occupations. The demand for IT managers will continue to grow as firms look to expand their digital platforms. As an in-demand field, information technology management is a wise career choice for those interested in leading technical projects and helping companies prepare for the future of today's ever-changing subsets of technology.
If you've been working in information technology for a while and have been looking for the right time to take the next step in your career, you might have been wondering how to become an IT manager. Advancing your career in IT management may require expanding your technical skills and obtaining new qualifications, namely leadership and management skills. Earning a master's degree in information technology is one way to qualify for management and c-suite level positions that are responsible for driving innovation within their organizations.
To help guide you through this next step in your career, we've listed some of the necessary skill sets and education requirements needed to become an IT manager, in addition to some career and salary expectations.
What Do Information Technology Managers Do?
Information technology managers are generally responsible for overseeing and maintaining an organization's computer technology and information systems. As leaders of their department, they oversee technical projects, manage budgets and scheduling, and communicate changes or recommendations with other internal departments. IT managers, like all information technology professionals, must remain lifelong learners in order to keep up with the ever-changing nuances of emerging technologies.
IT managers are not just team leaders, but also executives tasked with guiding their organizations through technological change. As executives, IT managers are responsible for assessing an organization's existing information infrastructure and networks and identifying new digital solutions or methods to optimize and streamline existing information systems.
IT managers must be big-picture thinkers and have an understanding of the role technology plays in helping an organization run more efficiently and achieve overall business goals. Understanding that an enterprise relies on sophisticated technical solutions, IT managers have to be strong communicators who can explain clearly to other executives and stakeholders the value and opportunity-cost of implementing new technical recommendations.
What Skills Should an IT Manager Have?
When it comes to becoming an IT manager, technical proficiency alone is not quite enough to set you up for success. Information technology managers wear many hats. Individuals looking to break into information technology management must have a versatile skill set that incorporates a balance of technical aptitude and people management skills. Below, we've noted some of today's most important skills for IT managers.
Technical Aptitude
Information technology managers are responsible for navigating companies and their teams through times of technological change. To effectively lead IT team members, managers must have deep experience using various types of information systems and computer technologies. This means that not only do they need to understand today's IT best practices, but also must be aware of emerging IT trends and be able to recognize how they can be incorporated into their company's current technology configuration.
Problem-Solving
Problem-solving is a key skill for any IT professional, regardless of their seniority. Identifying potential security risks, discovering new ways to optimize existing systems, and configuring network structures that protect against threats, are pivotal responsibilities for IT professionals. Successful IT managers must be expert problem solvers to properly guide their team members in solving and mitigating challenges.
People Skills
What sets apart IT technicians from IT managers is management and leadership experience. IT managers must be effective communicators, problem solvers, conflict resolvers, and internal advocates for their team members to ensure they have the resources and equipment necessary to be the best possible IT workers.
General Business Acumen
IT managers are responsible for ensuring that information systems are optimized to their fullest potential and align with an organization's overall business goals and strategic direction. This means having the general business acumen to understand how decisions about the company's networks and systems will affect other areas of the business, which means understanding opportunity-cost and how to communicate new opportunities to other executives and stakeholders.
Decision-Making
In management positions, IT professionals must make decisions that can impact and alter the day-to-day processes and overall organization of a company's technology systems. These decisions can pertain to business needs, such as adopting new technologies and digital solutions, to people-based decisions, such as onboarding team members, conducting training on new best practices, and implementing structural change. Effective IT managers are not only responsible for making well-informed technical decisions pertaining to the future of the organization, but they also need to communicate the value of these decisions to other executives.
Project Management
IT managers must have strong organizational and project management skills in order to manage and track ongoing projects, deadlines, budgets, and schedules, as well as to communicate requirements and provide status updates to other internal teams and executives.
IT Manager: Jobs and Salaries
Gaining the skill sets mentioned above will certainly set you on the path toward becoming an IT manager; however, you might be wondering what other qualifications are necessary to advance your career into management-level positions. To break into management positions, candidates often need between five and 10 years of professional information technology experience under their belt.
However, exact job requirements will vary from company to company, so it is important to conduct thorough research on the qualifications of the exact positions you're after. Knowing what companies are looking for can also help you craft your resume to reflect the needs listed in the job description, which can be helpful to stand out to recruiters.
As you consider taking the next steps in furthering your information technology career, you may be curious: How much do information technology managers make?
According to the Bureau of Labor Statistics, the 2020 median annual salary for computer and information systems managers was $151,150, which is significantly higher than the median annual pay for other occupations. While salaries will vary between industries and organizations, generally, holding a master's degree in the information technology field significantly increases your earning potential as an IT manager.
Earning a Master's Degree in Information Technology
One of the best ways to acquire these in-demand IT manager skills - and be set up for long-term success in the field - is to enroll in an accredited academic program. Many companies exclusively seek candidates who hold a master's degree to fulfill IT management roles.
Earning a master's degree in information technology is an ideal option for someone with professional experience in a tech-related field who is looking to advance their career, or, more specifically, qualify for executive and c-suite level positions. If this sounds like you, Champlain College Online's master's degree in information technology may be an ideal way to gain the education requirements and technical IT skills needed for career advancement.
What sets an ideal IT manager candidate apart from other applicants is management and leadership knowledge. Champlain College Online's master's in IT program, with a concentration in business management, prepares students to graduate with today's in-demand soft skills and leadership abilities that are necessary to succeed in executive-level decision-making roles.
100 percent online, the master's in information technology program is flexible to fit the busy schedules of working professionals and adults returning to school, which makes it an ideal option for those looking to continue working while advancing their IT careers.
Request Information
Connect with our admissions team to learn more about Champlain College Online.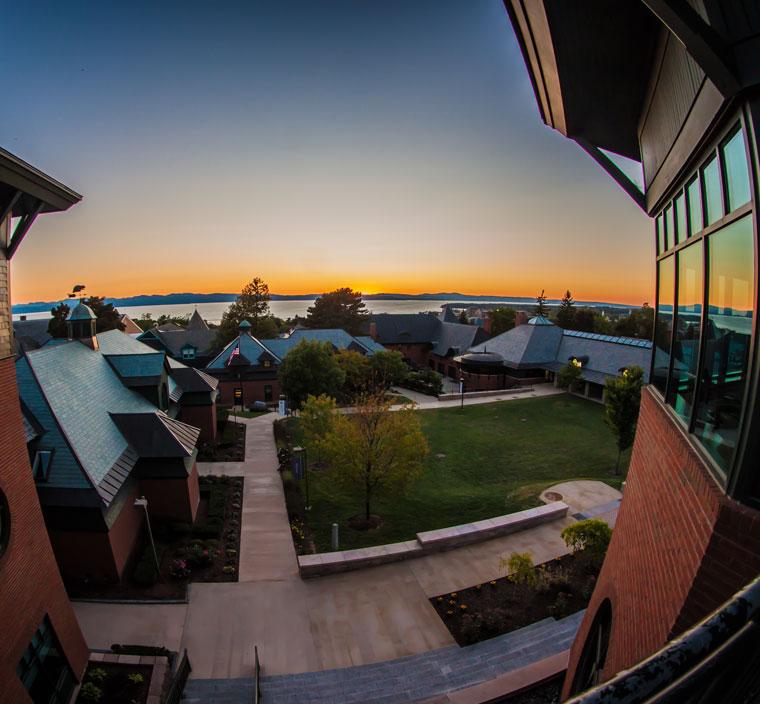 Request Information
Your growth is our purpose. Let's work together to uncover the strengths and experiences you already possess that will help you succeed in your academic and professional pursuits so you'll be ready for your next opportunity.