Working from Home: How to Prepare for a Remote Job
Over the past decade, thanks to more sophisticated and accessible online collaboration tools, more and more companies have expanded their remote workforce or loosened their occasional "work from home" policies. Providing better work-life balance and greater flexibility were two big reasons we've seen an upward trend in remote work, but then came 2020.
The coronavirus pandemic accelerated this already-growing trend. Since March 2020, both the academic and professional world have had to quickly pivot their daily procedures and adapt to working and collaborating remotely. This transition posed many challenges for companies and employees. Businesses were tasked with retaining the same standards for work quality and productivity, while finding new ways to collaborate and communicate effectively online.
While eventually remote work will no longer be mandated for health and safety reasons, it is certainly a work format that is here to stay. According to surveys of working professionals, 97% of employees don't want to return to the office full-time and 61% of employees prefer being fully remote. By 2025, it is estimated that 70% of the workforce will be working remotely at least five days a month.
For current and future employees, this means that the labor market and work environments and are changing. While there are many pros to remote work, such as increased flexibility in hours, no/lower commuting costs, access to jobs outside of your geographic location, and more family time, there are also some downsides. Many remote workers find they aren't as productive as they would be in a typical office environment, and others struggle to find the boundary there once was between work life and home life. The lack of social interaction and the ability to form deep connections with coworkers have been indicated to be some of the greatest challenges of adapting to remote work.
Finally, some predict that the labor market could become more competitive because, with no geographic limitations, companies will have access to a greater pool of qualified candidates.
What an Online Degree Teaches You About Working from Home
While colleges may not need to change the contents of their curriculum to prepare graduates for a changing workforce, some instructors may want to integrate online learning into their approach to course instruction. For example, faculty members may decide to adapt certain lessons to include remote work or learning to better prepare students for a changing professional environment. Students should begin to consider how the shift toward remote work will impact their desired profession, and how they can best prepare for a labor market where remote labor has become the new standard.
While online learning has been available to students for decades, we have recently observed just how instrumental remote learning is in making education convenient and accessible to all. There are many pros to earning a degree online, and we should acknowledge how online learning can better prepare students for an increasingly remote work environment.
Online Collaboration and Communication Skills
Online students must learn how to efficiently use the technology at their disposal to learn, communicate, and collaborate remotely.
As students take courses online, they interact with their instructors and classmates through video conferencing software such as Zoom, Skype, Microsoft Teams, and Google Hangout. When completing group work, students can also use these tools for meetings, as well as other digital collaboration spaces, such as cloud-based documents, to complete assignments together in real-time. Students will also gain experience presenting work on camera during live calls and recorded sessions.
Gaining familiarity with these tools and learning how to navigate them effectively will go a long way in preparing you for remote work. You'll emerge from an online learning program with better communication, organization, and tech skills.
Discipline and Self-Motivation
Online degrees are typically taught in one of two formats: synchronous and asynchronous. Synchronous learning refers to programs that are taught on a rigid class schedule, similar to on-campus learning programs where students "attend class" at specified times. Conversely, asynchronous learning gives students a great amount of flexibility when choosing how to spend and manage their time while learning online.
While this flexibility is ideal for working professionals and other learners who already have busy schedules, it also requires excellent time management skills to succeed. Online learning requires students to be self-starters and to hold themselves accountable for watching lectures and completing assignments by their deadlines.
Time management, accountability, and self-motivation are some of the most important qualities that recruiters will look for in remote employees. Students who experience online learning will have a leg up on other candidates for remote positions because they will have a proven track record of being able to productively complete work while in asynchronous work environments.
Productive in a Non-Work Environment
A significant challenge many employees face when transitioning to remote work is maintaining the same level of productivity as they did in their typical office environment. At home, there are plenty of distractions that can contribute to inefficiency. Likewise, there aren't any coworkers around to help motivate employees to be productive and proactive.
If you've already had success with even one online course, then you will be well-prepared to develop your own strategies to stay productive when working from home.
One of the best ways to ease into this remote work transition is to wake up and pretend you are going to go into the office. This means waking up early to give yourself time to mentally prepare for the day, the same way you would during your morning commute. Additionally, creating a workspace that minimizes distractions and replicates a typical in-office setup will also go a long way in helping you be more efficient and more comfortable working remotely.
Candidates who have online learning experience demonstrate self-motivation and an ability to successfully complete work in a non-typical work environment. This is an important advantage that employers appreciate seeing in cover letters or discussing during interviews, as this ability can ease any hesitations an employer may have about trusting your capabilities and productivity in a remote work environment.
Balancing Work and Home Life
When you begin working from home, the lines between your work life and home life can very easily become blurred. The mental association you have with physically being at school or at the office can go a long way for your productivity.  However, when you begin to associate being home with working, it can become difficult to find the right balance between the two.
If you are taking classes online, you might have already discovered the benefits of having a space dedicated to your schoolwork. You can take the same approach when working at home by creating designated work and non-work spaces. The distinction between these spaces will help create different mental associations that can help increase productivity and make you feel more comfortable relaxing during typical non-work office hours.
Explore Online Degrees with Champlain College Online
While there are certainly pros and cons of working from home, remote work is here to stay. Graduates of online degree programs are often at an advantage for succeeding in remote positions because of their experiences and familiarity with digital communication and collaboration tools - not to mention their self-discipline and accountability.
Remote work allows companies to hire candidates regardless of their geographic location, which means there is a strong possibility that the job market will become even more competitive. Whether you want to pursue a degree for the first time, or you are a working professional looking to advance your credentials, we encourage you to explore the online programs available through Champlain College Online (CCO).
Designed with accessibility in mind, CCO offers 100% online bachelor's degrees, master's degrees, and certificate programs in four primary areas of study: business, cybersecurity, healthcare, and information technology. Graduates from CCO are prepared not only for the next step in their careers but also for the future of remote work.
Learn more about CCO's various online degrees and certificate programs.
Download Online Experience Guide
Learn what you can expect from your experience at Champlain College Online.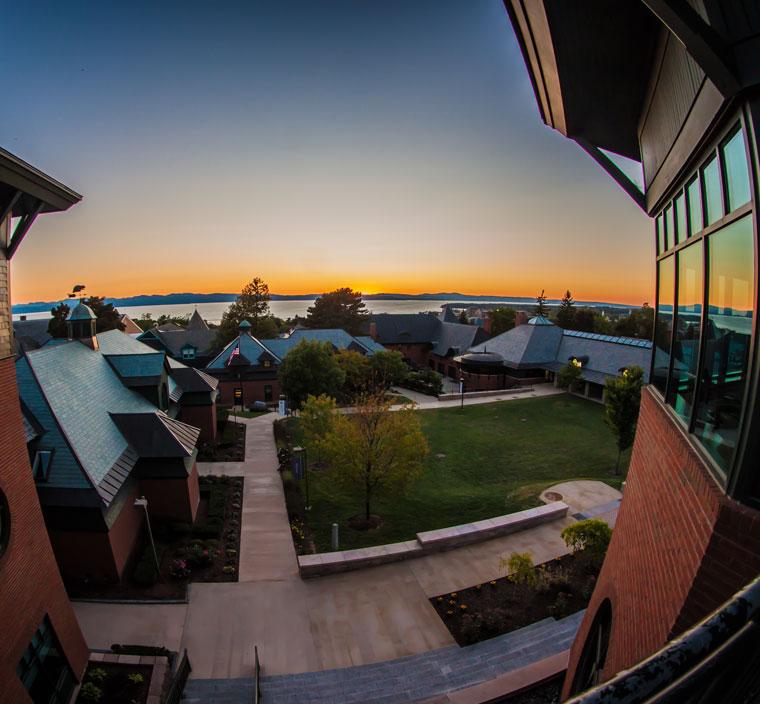 Online Experience Guide Download
Learn more about what you can expect from your online experience at Champlain.