With the rising cost of tuition - both in traditional, campus-based degree programs and in online programs - prospective students might find themselves wondering if the cost of a degree is worth it, or if it's possible to find a high-quality degree program that they can afford.
While it's true that many colleges have high tuition rates, making it challenging for students - particularly adult learners, who are often balancing their tuition payments with other significant financial obligations - those who are willing to put in the effort to do their research can find affordable online degree options, that will offer them a great education at a reasonable cost.
If you're seeking the best value online colleges but aren't sure where to start, here are some tips to keep in mind.
Finding an Affordable Online Degree
1. Look at Multiple Schools
Many prospective online students only look at one or two schools, and often decide to go with the first program that has their desired degree. However, in doing this, they're not giving themselves the opportunity to compare pricing - meaning they could be missing out on a great deal elsewhere. Don't assume that the first estimated cost of attendance you see will be the best one. As with traditional institutions, tuition at online schools varies widely, so you may be able to find a better deal at another school.
2. Don't Limit Yourself Based on Geography
When looking for the best online colleges, many students immediately turn to  the school or schools that are closest to them geographically (even though they're doing an online program). While this makes sense - many students feel more comfortable knowing a physical campus is nearby, and likely know people who have attended - it might not make sense to do this, for a variety of reasons.
The beauty of an online degree program is that you can attend a school located anywhere in the world, so why limit yourself to those in your area? You may be able to find a school that better meets your needs, and offers a better value, in a different region or state. If you're not sure where to start, U.S. News & World Report compiles an annual list of the best value universities and colleges, and many of them have online divisions; they also provide lists of the best online bachelor's and master's degree programs. Remember that this list does not include all of the schools out there, and some of their data may be out of date, so it's important to do additional research and consult with schools directly to ensure you have the correct information about their programs.
3. Ask Questions About the Real Cost of Attendance
Once you have a list of a few institutions that are within your price range, it's important that you speak to an admissions or financial aid representative to get a better sense of how well the sticker price listed on the school's website reflects what you'll actually end up paying. Many online institutions add additional fees beyond tuition for things like distance learning, course materials, and more - and those can represent a significant cost.
4. Research Quality in Addition to Cost
It's important to remember that cost is only one factor to consider when choosing an online college. The best value online degrees are able to provide a high-quality education at a low cost - but there are many schools offering low costs per credit that don't have high academic standards. If you find a school in your price range, make sure to do your homework. Find out who develops their coursework (for example, whether it's an in-house academic or a third-party course developer), what kind of expertise the faculty has, how the education will be delivered, and how you'll be assessed on your performance. You'll also want to make sure that your school is non-profit and regionally accredited.
5. Make Sure You'll Be Set Up for Success
An overlooked factor when it comes to value in an online institution is how successful you'll be in your chosen program. This starts with your degree: is it a career-driven degree? Are the prospects for individuals with similar degrees strong? You'll ultimately derive the most value from a degree that correlates strongly with in-demand careers and helps you build broadly applicable skills in addition to subject-specific expertise.
Within the online institution and program, you'll want to find out what kinds of support systems are in place to help you succeed. You'll want your school to offer, at a minimum, easily accessible advisors, practitioner-faculty who are willing to work with you one-on-one outside of the classroom, 24/7 technical support, tutoring or writing assistance, free academic resources (like an online library or subject-specific databases), and career services (both while you're enrolled at the school and as an alum). These services will help you power through any challenges you might face and reach your goal of completing your degree - and ultimately translate into value you for you.
Download Online Experience Guide
Learn what you can expect from your experience at Champlain College Online.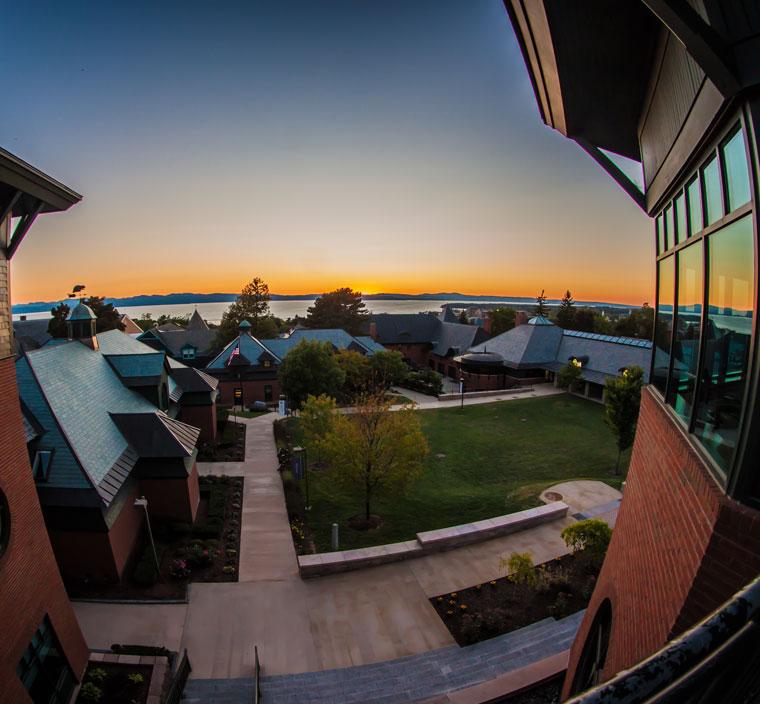 Online Experience Guide Download
Learn more about what you can expect from your online experience at Champlain.