The job market is becoming increasingly competitive, with employers now requiring more experience, more skills, and more education for the jobs they're trying to fill. Obtaining some form of higher education - whether it be an undergraduate degree, graduate degree, or certificate - is widely seen as one of the best ways to distinguish yourself and to increase your career potential.
Top Reasons to Pursue Higher Education
Demonstrate What You Know
One of the best reasons to get a degree or certificate is to get the chance to demonstrate what you know. Many people have years of experience in a specific field, but lack a credential, which makes it difficult to prove to prospective employers that they have the qualifications for the job. Pursuing higher education is a great way to formalize your knowledge and showcase your skills.
Build Your Skillset
Higher education is one of the best ways to build a broad, versatile skillset that will make you a valuable employee to any organization, in any field. Higher education will not only help you gain essential industry-specific fields, but will also help you build essential soft skills like communication, critical thinking, and problem-solving - traits that any employer will be looking for.
Prove Your Hard Work and Dedication
Obtaining a credential is a huge accomplishment, and it's one that shows employers you understand the importance of hard work, commitment, time management and seeing tasks through to completion. A degree is a marker of your success, and employers understand its significance.
Set Yourself Apart
Although degrees are becoming increasingly important when it comes to the job market, relatively few Americans have them - it's estimated that only about a third of the U.S. population holds a bachelor's degree. That means that by getting a degree, you'll automatically have a leg up in hiring or promotion processes - it's just one less thing for you to have to compete on.
Become an Expert
A degree is a great way to become a subject matter expert in a specific field, with current, applicable knowledge that will be immediately useful in your current role (or in a position you hope to obtain). The coursework in your degree program will introduce you to all aspects of your field, and directly prepare you for a role within it.
Gain Marketable New Skills
Similarly, a degree or certificate can be a great way to enhance your existing skillset by helping you to build new, highly marketable skills. For example, if you're in a technical field, going back to school to gain additional experience in cybersecurity might give you an edge, or set you apart as a unique applicant or employee. This can be a good opportunity to take on new responsibility or be considered for different types of roles.  
Become Qualified For More Positions
One of the best reasons to pursue higher education is not the guarantee of a new, better job, but simply the opportunity to apply for a wider range of roles. More and more employers are requiring a bachelor's degree for positions that once only required a high school diploma; by having a degree, you're removing a potential barrier to employment.
Set Yourself Up for a Promotion
It's in an employer's best interest to hire from within, and to give employees who already have proven their success, understand the business and its processes, and are a good fit for the organization's culture. Show your employer that you're the ideal candidate for internal advancement by building your skillset, demonstrating your existing knowledge, and showing your commitment to professional growth by pursuing a career-relevant certificate or degree.
Stay Up-to-Date
Although a good degree program will help you build skills that will be applicable for your entire career - both general business skills and those specific to your field - the reality is that most industries are constantly changing, meaning that it's important to keep up-to-date on new developments. A degree or certificate is a great way to stay current with the latest happenings in your field, and to keep your knowledge of your field fresh and fine-tuned to new trends and developments.
Find More Satisfying Work
Many adults feel stuck in their current jobs - they might be seeking new challenges, more interesting work, or a career that will offer them a sense of purpose. Obtaining a degree is not just a great way to identify what your dream career might be, but can also serve as an actionable first step towards making a career change and obtaining your first role in that new field, opening the door to a much more satisfying career.
Increase Your Earning Potential
Finally, it's important to not overlook the financial benefits of a degree. Studies show that those with a bachelor's degree make significantly more over their lifetimes than those with a high school diploma; similarly, those with master's degrees make more than those with an undergraduate education. A degree is one of the clearest ways to improve your financial situation and to increase your earning potential.
Download Online Experience Guide
Learn what you can expect from your experience at Champlain College Online.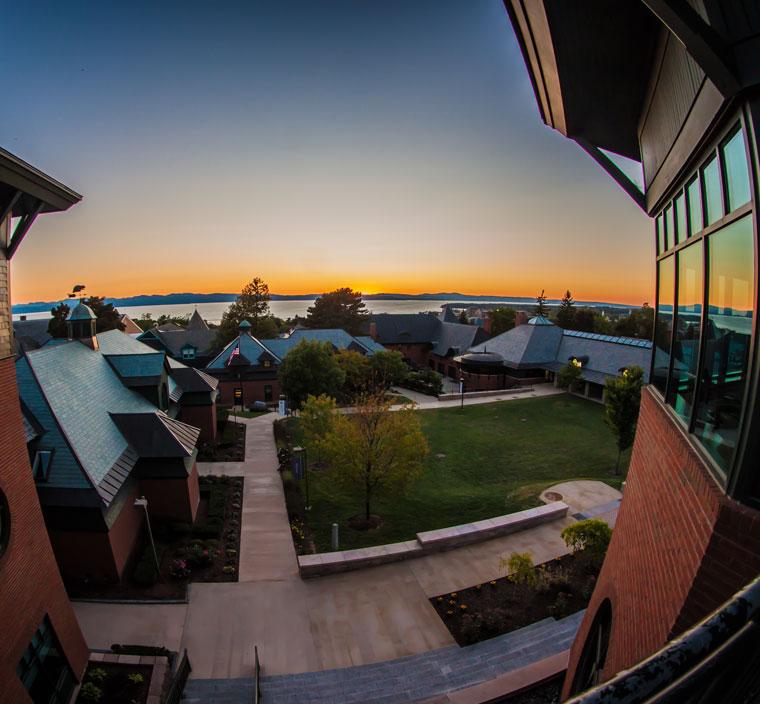 Online Experience Guide Download
Learn more about what you can expect from your online experience at Champlain.