An Inside Look at Champlain's Online Classroom
An Overview of Online Learning at Champlain
Whether you're going back to school after spending years out of the classroom, or you're attending college for the very first time, you likely have some questions about how online learning works at Champlain College Online (CCO). Enrolling in a 100% virtual program comes with a unique set of characteristics and benefits.
For starters, from the moment you begin your first course, you'll be connected with online adult learners from all around the world in our intentionally small classes. CCO students hail from all over, including all 50 U.S. states and across countless countries around the globe. With roughly 15 to 25 students per class, you'll be learning alongside students with a diversity of backgrounds and a variety of academic and professional experiences. In our online classrooms, every student has a unique ability to contribute. This facilitates a rich learning environment, fostered through participation and connection with your peers in our online classroom.
Secondly, you can take your classes from virtually anywhere and our asynchronous course delivery means there are no set meeting times. Need to get the kids settled down for the night before you can get to your assignments? In an asynchronous environment, you can make that happen. Working the late shift and need to complete an assignment at two o'clock in the morning? Go for it! Want to check on your coursework while you're on a business trip in Europe? Have at it! As long as you're connected to the Internet, you can make online learning work around your busy schedule, no matter the time or place.
Finally, our online learning platform, Canvas, is student-centered and easy to use. CCO students find that Canvas is compatible with any web browser, on desktop computers, laptops, tablets, and mobile devices. There's even a Canvas app that you can download through iOS, Android, and Windows platforms, depending on your mobile device, which makes it user-friendly to connect to Canvas while you're on the go - whether you're attending your child's sports practice or sitting in the waiting room at your doctor's office. The app makes it easy to view your courses, review your course calendar, and check your to-do list, all in one place.
Of course, there's a lot more to online learning than this! Let's get into the nitty-gritty of what coursework actually looks like at CCO.
Breaking Down Coursework at CCO
Coursework varies depending on the program you're enrolled in and each course's content, which means your classes may or may not include the types of assignments outlined below. However, here's a flavor of what you might expect in the majority of our courses:
Weekly Content
Content delivery is a big part of the college experience regardless of online or on-campus learning classrooms, but what makes online classes unique is that content delivery is asynchronous - available any time, anywhere!
This means that you do not have set classes. You won't have a dreaded 8 o'clock morning class or one smack dab in the middle of your workday. Instead, the content is available to you 24/7 -  whenever you are ready to log in.
Our faculty have worked hard to create an engaging learning experience, and content delivery takes a variety of forms. You might encounter short recorded content on relevant material, additional problem-solving videos, or feature articles that help connect the content to real-world applications.
Your instructor will act as a guide throughout the course by delivering the content asynchronously while also providing you with opportunities to apply your learning right away.
You can also expect your weekly content to be supplemented with required reading assignments, which are all laid out neatly for you in Canvas. Remember - Canvas is designed to be your roadmap for success!
Weekly Reading
Reading is an essential aspect of any learning environment. Depending on your course, you will read the following types of course materials:
Instructor-led content delivery
Ebooks
Academic resources (e.g. thought leadership articles, publications, etc.)
Textbooks
Current events and blog content from industry experts
Since reading accounts for such a large portion of your online learning experience, it's crucial that you set enough time aside each week to engage with your reading assignments. You'll need to read - and may even re-read - course materials ahead of each week.
Weekly Discussion Forums
Discussion forums are a big part of the online learning experience at CCO. They're not only a place where participation occurs but also where you get to apply your learning immediately. Essentially, these forums provide a space for you to discuss and engage with the course material, facilitated by your instructor's prompts, in a virtual shared forum in Canvas. This format welcomes you to learn and collaborate with your course peers.
Think of discussion posts as opportunities to make course subject matter your own, put your learned skills into practice, and then collaborate with your classmates and faculty. This shared space gives you the chance to learn from your peers' perspectives and experiences, which leads to robust and engaging conversations and connections!
There is quite a bit of variation in how discussion forums are used in each course, but you can expect your instructor to provide you with an overview and resources section each week that offers clear expectations about deadlines for discussion posts and how to respond to your classmates. If you're curious about how to write a successful discussion post, review our tips here.
Weekly Written Assignments
In an asynchronous learning environment, there is not only a high quantity of reading assignments but also a higher quantity of written assignments compared to brick-and-mortar institutions.
Written assignments can be expected for most courses each week. Think of written assignments as anything from formal papers to slideshow presentations, surveys, and more. The types of written assignments you encounter will vary depending on the types of classes you take.
Class Projects and Other Types of Assignments
Outside of written assignments, you may encounter a variety of tasks that fall into the "other" category. Projects and assignments in this section will vary even greater than the aforementioned types of assignments, as they are specialized to the area of study you're in.
For example, in business courses, you may be tasked with completing video assignments or recording voice-over work. In accounting courses, you'll likely take quizzes and engage in problem-solving on a regular basis. In marketing communication courses you may be engaging in a simulation, working on an industry certification, or completing research for a course project. Projects, like these examples, may occur on a weekly basis or they could build upon each other and lead to your final project due at the end of the course.
As you can see, there's a lot of variation in class projects, so it's best to review your syllabus closely in each course you take. Your instructors will approach class projects, if applicable, in their own individual ways, so keep in mind that you may or may not have micro and/or macro projects to work on throughout each term.
Begin Your Journey at CCO
Now that you have a broad understanding of what online learning looks like at CCO, get started! Chat with our admissions team, explore programs, and take the first step in your online learning experience. Our team is here and eager to help you when you're ready to begin!
Request Information
Connect with our admissions team to learn more about Champlain College Online.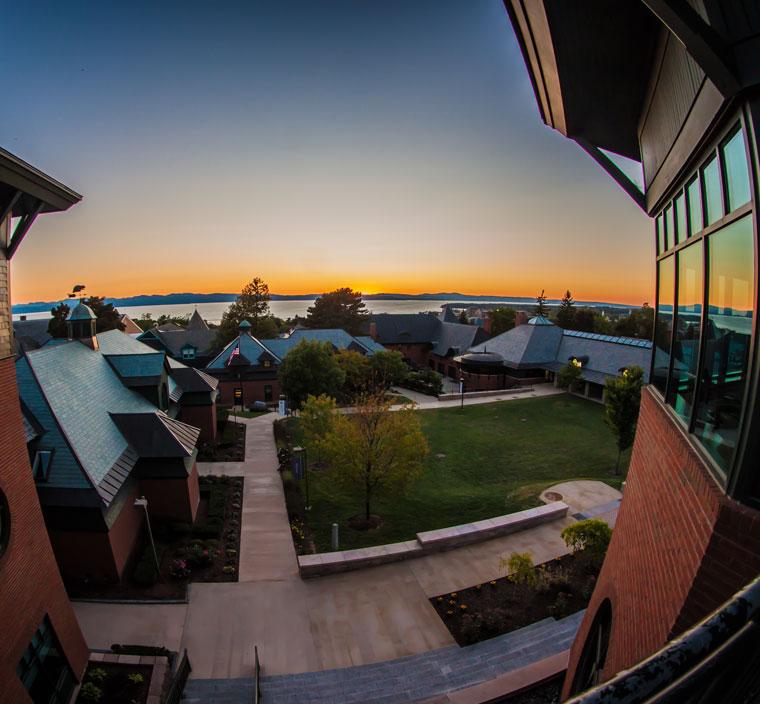 Request Information
Your growth is our purpose. Let's work together to uncover the strengths and experiences you already possess that will help you succeed in your academic and professional pursuits so you'll be ready for your next opportunity.