What do you need to accomplish your educational goals? 
You've set out to achieve a goal for yourself, and this is an important question to ask yourself as an adult online learner. Some things that come to mind might be: 
A quiet study environment
Scheduled time each day to focus on your coursework
Good study habits
Required textbooks, materials, and technology
While all of those things will help you succeed, achieving your goals and overcoming challenges is much more manageable when you have a support network there to encourage you along the way.
As an adult online student, you are in a unique position to build a supportive network both in the academic world, and in your personal and professional life as you navigate your academic journey. However, it can be tough to know how and where to start, especially as an adult juggling many other responsibilities like your family, career, and more (and doing it all during the COVID-19 pandemic).
What is a support network, and why is it important?
Part of your support network are people you engage with in your academic circle, such as your fellow students, instructors, and your academic advisor. Taking the time to build these relationships from the very start will ensure that you have the support you need when you find yourself needing it. Your academic network can connect you with college and career resources, provide a safe environment to share your ideas and learn from others, and plan your path to program completion. 
It is also important to have a supportive network in place outside of your academic circle. This might include family, friends, co-workers, mentors, and others that you interact closely with to cheer you on, provide emotional support, and help keep you accountable.
Engage with your peers often. 
This is crucial these days, as most of us find ourselves more isolated than usual. In the online classroom, it can sometimes feel challenging to build connections with others through a computer screen without having natural conversation that in-person, face-to-face learning environments provide. Making it a habit to communicate and engage in your learning with peers around the world can provide new perspectives and meaningful interactions that will help sustain your progress and expand your learning. 
In courses that I have taken with Champlain College Online, I have found that participating often in discussion posts is a great way to feel more connected with my peers. In most classes, there is an opportunity at the start of the course to participate in an introduction discussion post. This is a great way to jump right in and get to know the people you'll be learning with. Post early and often to discussion threads, and ask questions to deepen the conversation and learning. 
You might find that creating a study group with a partner or a few peers provides a time and place for social interaction and discussion. This can help all participants further their understanding of the course material, build positive relationships, and apply individual experiences to a group context for deeper meaning. If you find yourself struggling, asking one or two of your peers how they have faced similar challenges might give you ideas you have not yet thought of!
Your advisor, instructors, and all of our Champlain faculty and staff care about you, and want you to be successful!
Your instructors can offer a wealth of knowledge, and are one of your best resources for extra help in your classes. Be sure to reach out to them to introduce yourself, and open the lines of communication. If you feel yourself running up against a deadline (it happens!), your instructor can help you develop a plan to get back on track with your assignments. Being curious and asking questions is a great way to create an open dialogue, and receive guidance from your instructor when you need it.
Your Academic Advisor is there to cheer you on throughout your journey at Champlain College. There are many ways your advisor can provide support and help you stay on track, such as: answering questions about your program requirements, working with you to co-create a plan for your degree or certificate program, offer words of encouragement, direct you to tutoring or career resources, help you navigate the online classroom, and much more. Be sure to connect with your advisor often!
Lean on the support systems you have outside of your academic life.  
This could include friends, family members, mentors, and even your co-workers. Talking about your education and experience with others is a great way to show your dedication to learning and growing both personally and professionally. Your friends, family, and those closest to you can offer emotional support, help you problem solve, and the opportunity to share your learning and update them on the tremendous progress you are making! There may be times when you are facing unexpected obstacles or struggles, and having that support system to lean on can help you re-energize and re-focus.
Do your colleagues know that you're working on online coursework? Talking about your educational journey is a great way to integrate what you are learning in your courses and apply it to your professional life. Sharing your learning with your community can reinforce your own learning, bring about opportunities to hear others' experiences, and build pride in your work!
If you have young children, family and friends might help out with child care so that you can focus on your studies, or even help out with other tasks you find falling lower on your priority list. As a mom myself, having family members help with my children made a big difference, because I could focus solely on my coursework for an hour or two without distractions. You might also chat with your kids about some of the steps you're taking in your life to learn and grow, just as they do each day! Involving them in your journey shows them the importance of lifelong learning, and what you can accomplish when you persevere!

Building a strong support network plays a key role in your achievements and growth as an adult student. Engaging often with your instructors, College staff, and your peers can help you build good habits and reach your goals, so don't hesitate to open those lines of communication. Share your learning with your workplace, or with another community close to you. Be sure to identify your network of people in your personal life to help you stay accountable, to lean on for help with daily tasks, and for sharing your accomplishments with. Your supportive network can help you achieve the goals you set out for yourself, and be there to celebrate your hard work along the way.
About the Author: Stefanie Booska, MS
Stefanie initially joined Champlain in 2018 working on the Compass Student Services team. In 2020, Stefanie moved into academic advising where she currently advises undergraduate students enrolled in cybersecurity bachelor's and certificate programs. She earned her undergraduate degree in early childhood education from the University of Vermont, and earned her master's degree here at Champlain College Online in human relations and organization development, with a specialization in leadership. Stefanie helps students strategize ways to tackle challenges and create a plan for a successful academic experience.
Request Information
Connect with our admissions team to learn more about Champlain College Online.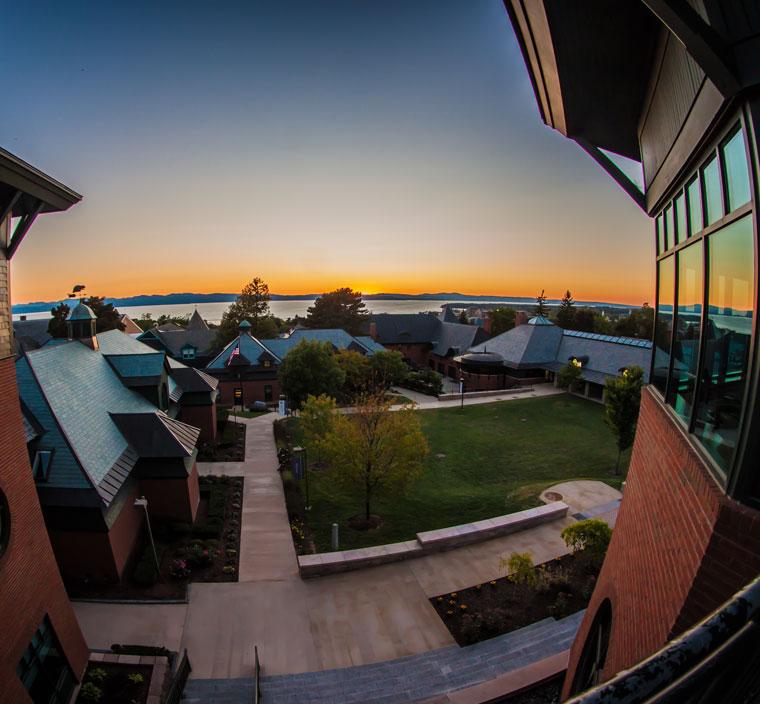 Request Information
Your growth is our purpose. Let's work together to uncover the strengths and experiences you already possess that will help you succeed in your academic and professional pursuits so you'll be ready for your next opportunity.