When I was younger, my brother Brandon would often seek my advice on his writing projects. In fact, "my little brother" (now in his forties), who has a much better command of the English language and a Ph.D., still sends documents my way for a quick review.
Is this a sign of weakness, admission of a deficit, or even a complete waste of time? Absolutely not. Brandon has mastered the most important step to slaying an admission essay, journal article submission, or even important professional communication: have someone else proof your work! While it is actually the final step in writing a successful admission essay, it's among the most important and neglected, which is why I am listing this tip first.
Have Someone Edit For You
Although I am not one to endorse a commercial product on a work blog post (I have plenty to say on Yelp, however, about local restaurants), Google Docs are free and brilliant for getting feedback in nearly real time, so I highly recommend them for the purpose of proofreading. You can choose how you want the feedback - as a comment in the document, or by allowing your editing privileges to make inline suggestions. Plus, the easier you make it for someone to review your work, the more likely they are able to do it in a timely fashion.
It probably goes without saying that it's extremely helpful to have someone with a good command of the English language review your work for typos and overall clarity. I find for myself that the more I re-read my own work, the less objective I am. Furthermore, my brain tends to fill in missing words, so I quite literally cannot see what isn't there. For me, my mother, a former English teacher, is my go-to reviewer, but when she's not available, I have a couple of other folks who I trust to give me honest feedback. I make it clear to anyone who reviews my work that I want their true opinions, and I don't take negative feedback personally. Sometimes it's hard to read when I missed the mark on something, but I would rather know and fix it than not get my point across.
Read the Questions Carefully
The second, and possibly most critical tip I want to offer, and an easy, yet surprisingly, overlooked step in writing an admission essay is to read the essay questions and related directions thoroughly. Then, and only then, should you tackle the draft responses that you will send to someone to review.
At Champlain College Online, we wrote the current admissions essay questions based upon conversations between our admissions committee and our program directors about what constitutes success in their programs. The essay questions serve both as a writing sample (which is why the actual writing is so important) and a window into an applicant's motivations, journey, and plan for success - each of which we ask about in separate essay questions. We set expectations about the length of each essay - typically a minimum of 2-3 paragraphs for an undergraduate and 3-4 for a graduate application, and yet we probably have our amazing admissions reps reach out to about 5 percent of our applicants to remind them to answer the specific questions being asked, or to address the length which ranges from 1-2 sentences to a short story (but it is frequently shorter than we requested).
Don't Overthink It
One thing I have told applicants over the years and still holds today is do not overthink the admission essay questions. What do I mean by this? I mean, most essay questions for adult student applicants are intentionally straightforward. They are not meant to trick you, or ask you to interpret their meaning. As such, do not overcomplicate them. Take the questions at face value, and do the same with your responses.
Be Genuine
Last, but not least, make sure you are writing in your own words, not someone else's, and definitely not words that are supplied, in large part, by thesaurus.com. Trust me, the admissions review team can tell when they are served a "word salad." If it's not a word you know, or a word you hear on a regular basis, save it for Scrabble. You are far better off using a common word you use regularly and correctly, than something you find on the Web.
Get Started!
One last thing while I have your attention: get something on paper! Do not give in to writer's block. The second you start writing something - anything - is the moment you've made the choice to start to slay your essay. You're far better off trying than leaving your application unsubmitted.
Hey, what are you waiting for? Armed with these tips, it's time to get writing and submit your application. Good luck!
Download Online Experience Guide
Learn what you can expect from your experience at Champlain College Online.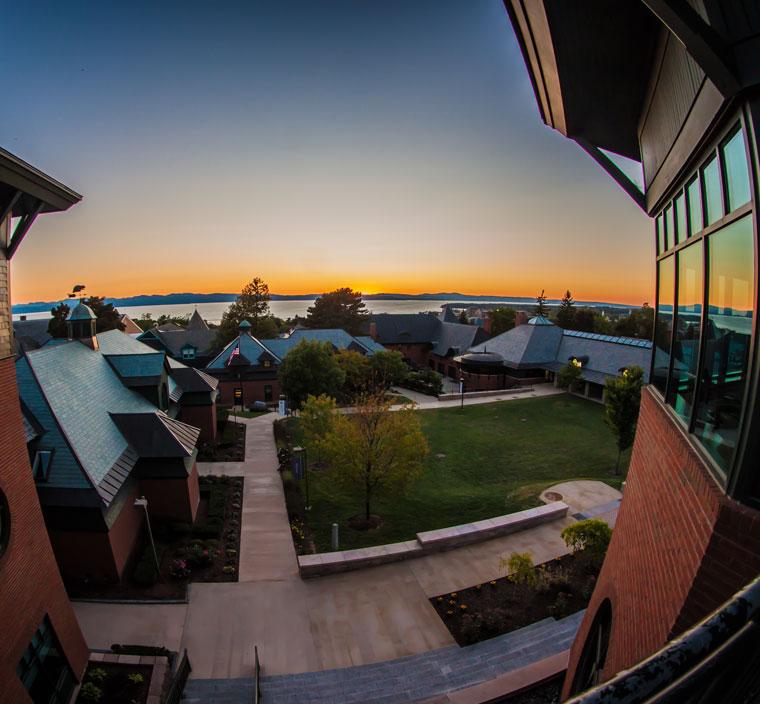 Online Experience Guide Download
Learn more about what you can expect from your online experience at Champlain.