Transitioning from working in an office environment to working remotely (at home) during the coronavirus pandemic has felt a bit like when I moved into a dorm room as an undergraduate. It was an odd mix of the familiar with the unknown. I've worked for Champlain College Online from my home office previously, as an adjunct instructor, so I expected things to be the same this time. No big deal.
I quickly found out things weren't the same. Working full-time from home feels different. I am no longer surrounded by co-workers - they have been replaced by cats. I no longer have access to my stand-up desk, which means I have to make a conscious decision to get up every once in a while and walk around, if for no other reason to make sure I can extract myself from my office chair after a long day at the keyboard. Also, unlike when I was an adjunct, working full-time from home now means being available when others are available, while also finding the time to complete my work.
One would think working remotely for a while would make me an expert. In some ways, I suppose it does, but right now I can't say I feel that way because in the last few weeks things have changed so much. The co-workers I spent time with in the office are also now working from home. We're concerned for each other, our students, our families, and the world.
For those of you who are just starting this journey, or have years of experience and find yourselves reading a little too much news, I thought I'd share some of what I've learned. Maybe it will help you be a little more grounded or productive. Maybe it will provide a welcome distraction or an excuse to try something new. In any event, when I'm tapping away on my keyboard, the cats seem to want to sleep rather than sit on my lap.
Tips for Remote Work Success
Plan Your Workspace
Make sure you have a comfortable chair and that your desk allows your keyboard to be easily and comfortably accessible. Your back and wrists will thank you for these amenities. Your computer monitor or laptop screen shouldn't be too close or too far away. If at all possible, use a light-blocker or wear glasses that offer UV protection. Your eyes won't be as tired or dry, nor will they be as susceptible to macular degeneration.
Plan Your Day
When you work from home, it's fairly easy to become sidetracked. Planning out your day will allow you to take part in all the meetings you need to without suddenly realizing it's 5 p.m. and you never stopped for lunch. Also, it will allow you to set boundaries on when you are available so that you can get YOUR work done. Use a calendar to keep track of conference calls, Zoom sessions, and meetings. Don't be afraid to block out the time you need to complete your work. If drafting a proposal will take an hour, create an entry that shows you will be busy during that time.
Prioritize What You Need to Accomplish
I'm a task-oriented person. I can work on a project for hours, and need deadlines to get things done. I also like the sense of satisfaction I feel when I am able to check something off my "to do" list. That's why I create a "to do" list each day that contains the tasks I must complete and/or that should be done for me to continue moving projects forward. I typically try to limit the list to three to six items, though that doesn't always happen. The trick to being successful is not overloading this list or spending more time on the list than it would take to complete some of the tasks on it. Prioritize the tasks and align the time you block in your calendar to tackle them with when you will have adequate resources (energy and concentration).
Take Breaks
Sitting at a computer all day will take a toll on your body, not to mention your ability to concentrate. Physically, your posture may suffer and that could impact your lung function. Spending too much time staring at a screen can affect your vision. For us to remain productive, we need to take breaks. Look away from the screen every so often. Get up and take a short walk around the house. Get a glass of water to drink so you stay hydrated (without the calories). You might even want to look up the Pomodoro Technique for time management, which, in a nutshell, suggests we break down our work into intervals followed by short breaks.
Shut Down
Unless you are in a profession where you must maintain 24x7 contact with your employer, you also need to make time for yourself, your loved ones, and/or your home. It's very easy - too easy, in fact - to think when you are making the transition to working remotely that you need to be available whenever someone needs you. You will need and you deserve to have down time.
Download Online Experience Guide
Learn more about the online learning experience at Champlain College.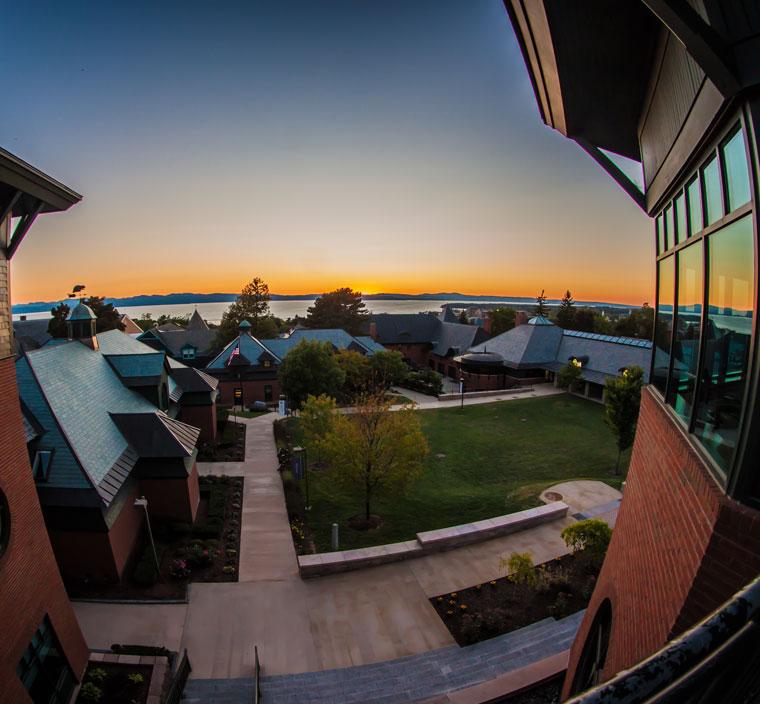 Online Experience Guide Download
Learn more about what you can expect from your online experience at Champlain.