LinkedIn self-advertises as the world's largest talent network. It's the social media platform to be on for job seekers and hiring managers alike. Professionals on the hunt for their next career move will quickly discover that LinkedIn advertises a plethora of job opportunities (20+ million, to be exact) in just about every field imaginable. For employers, LinkedIn promotes their job openings to connect them with qualifying candidates. In short, LinkedIn has something to offer everyone in their career-focused endeavors.
If you're not yet a member of LinkedIn, you should create your free account straight away. All you'll need to get started is an email address and password. If you already are a member, kudos to you! Your next task is to warm up your profile to better market yourself on LinkedIn this year.
5 Ways to Warm Up Your LinkedIn Profile in 2021
Here are five simple ways you can refresh your LinkedIn profile for success this year:
Update Your Account Settings
LinkedIn will automatically save default settings on your account when you create your profile. Depending on your employment status and career goals, these default settings may or may not suit you. The first thing you should do is visit your account settings to make sure your profile appears the way you want it to. For example, do you want to share your full profile when you apply for a job? Do you want to signal to recruiters that you're interested in their job alerts? Do you want your profile to publicly display that you are open to work? These preferences can be updated quickly in your account settings on an as-needed basis. Be sure to take advantage to keep your LinkedIn profile updated and relevant.
Update Your Headline
Your headline appears at the top section of your LinkedIn profile. In 120 characters or less, you should use this space to briefly call out the target job (e.g. a specific job title) you have in mind for your next career move. Additionally, your headline is a great space to create a value statement that describes what you bring to the table. Your target employers will notice your headline almost immediately when visiting your profile, so it should be a concise and thoughtful description that entices a hiring manager to learn more about your experience and background. Explore a few examples of LinkedIn headlines to get a sense of what other professionals have had success with.
Write a Thoughtful and Compelling "About" Section
The "about" section of your LinkedIn profile is a space where you can thoughtfully summarize your professional life. In 2,000 characters or less, this section is the one place on your profile where you can freely define yourself in your own words and give recruiters a strong first impression of who you are as a professional. Start by telling the story of how your past experiences connect with your desired future role. For example, draw on specific experiences you've had–either in college or in a previous role–where you developed skills that are transferable into this new role you're working toward. LinkedIn has a list of successful "about" sections that you can model after to get started. Just remember to write in your own words.
Continuously Build Connections
Your network is critically important as you navigate your career. Fortunately, LinkedIn makes it almost effortless to grow your network. Simply search for people by name in the search bar at the top of your LinkedIn account. It should be fairly easy to find people you already know, especially if you have mutual connections on LinkedIn. LinkedIn will even suggest new connections to you based on your existing network. Your network should include classmates, former employers, coworkers, vendors, or any other relevant professionals you've met throughout your career.
When you connect with people you've worked with or gone to school with, you're growing your network and possibly even building credibility on your profile. For example, LinkedIn gives you the opportunity to interact with your connections by endorsing their skills and writing reviews. See if any connections in your network are willing to endorse you for specific skills you want to highlight and ask them to review your performance. Endorsements and reviews are public on your profile and will give you credibility that hiring managers can see while exploring your page. Remember, continuously build connections and watch your network grow overtime.
Publish Posts
Like most social media platforms, LinkedIn features a main newsfeed where you will find posts, job updates, or news articles that your connections or any accounts you follow share. You should get into the habit of publishing posts too. Share updates so your network will know what you've been up to lately in your professional life. This is a great way to gain visibility and remind your connections of any professional development you're pursuing. For example, start a conversation based on something you're reading, ask your connections for advice or ideas, and even respond to news relevant to your industry. Publishing posts will get your name and headline on your connections' newsfeeds, so get into the habit of posting regularly. LinkedIn has some best practices to keep in mind as you post, so be sure to review these to be thoughtful about the content you're sharing with your network.
Happy Job Hunting
Now that you have the tools needed to warm up your LinkedIn profile, get going! A new year is the perfect time to refresh and reset your professional goals to move forward in your career. With these practical steps, you can do just that. Happy job hunting and good luck!
Wondering how earning a degree or certificate can impact your career? Check out the top three reasons for earning your degree this year!
Request Information
Connect with our admissions team to learn more about Champlain College Online.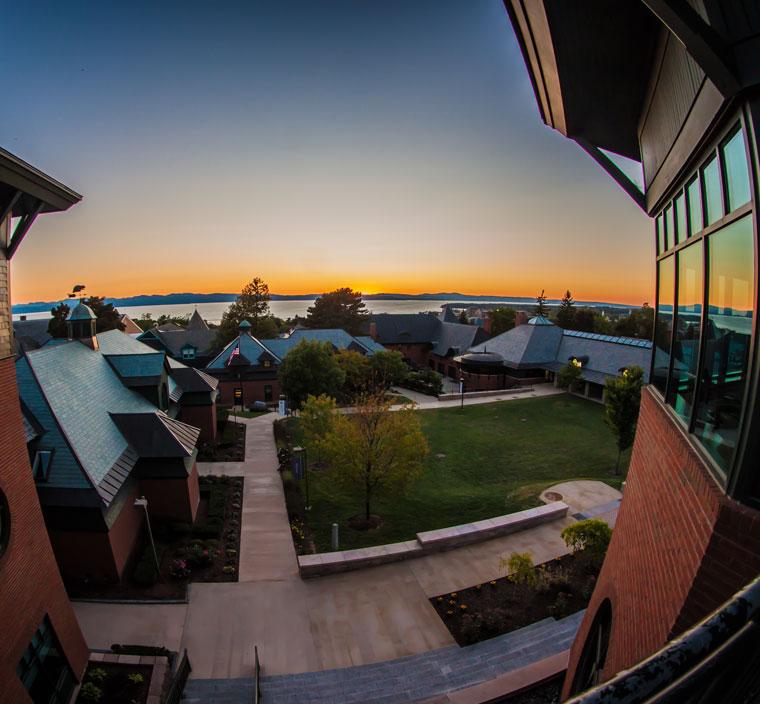 Request Information
Your growth is our purpose. Let's work together to uncover the strengths and experiences you already possess that will help you succeed in your academic and professional pursuits so you'll be ready for your next opportunity.