Back in Business: Marketing Strategies After COVID-19
2020, a year like no other, brought about profound changes in our daily lives. Stay-at-home mandates, enforced to promote the health and safety of communities, resulted in the massive disruption of businesses of all sizes. While made for the greater good of society, these changes to business procedures and practices left many organizations in vulnerable positions during the economic downturn of the COVID-19 pandemic.
Even as things progress for the better, it is safe to say that, in 2021, things have not reverted to "business as usual." There are, and will undoubtedly continue to be - lasting effects across social, economic, digital, and behavioral aspects of life.
The significant lifestyle changes that resulted from COVID-19 protocols, such as remote work, at-home schooling, and even curbside pick-up, contributed to the development of new social values and trends in online behavior and consumer preferences.
Businesses and their marketing teams can leverage these insights to revise and optimize their digital marketing strategies. Evaluating, or reevaluating, your consumers' behaviors and actions will help ensure that your marketing efforts are relevant and set up to produce a positive ROI.
Approaching a post-pandemic marketing strategy might seem like a daunting task, but we can learn a lot from 2020. Businesses should be asking strategic questions, like:
What are the most important takeaways from the pandemic?
How should we account for changes in behavior in our marketing planning?
How has the marketing landscape changed over the course of the pandemic?
Key Marketing Trends Your Business Needs to Implement Post-Pandemic
To help you develop an effective digital marketing strategy post-pandemic, consider the following key trends and considerations your organization should adjust and implement.
1. Consumers Have New Expectations
One of the most noteworthy takeaways from the pandemic is the acceleration at which traditionally in-person behaviors and actions transitioned online. Without question, an upward trend in digitizing business to consumer relations was already in motion pre-pandemic, but COVID-19 regulations forced businesses to extend their online offerings to remain accessible to consumers - and to get online if they were not already.
Regardless of industry, businesses have had to adjust their practices, whether that meant event companies developing virtual events, brick-and-mortar retailers implementing online ordering and curbside pick-up options, or colleges and universities creating virtual campus tours and admission sessions.
For many organizations, adapting to COVID-19 restrictions out of necessity set a new standard and opened up possibilities for online interaction and engagement that hadn't existed before.
But what does this mean for businesses post-pandemic?
Consumer expectations and demand for digital experiences are increasing. This means businesses must leverage data and put technology at the forefront of their marketing plans. Tech-savvy consumers are fully aware that companies have access to personal information and online behaviors, which means they're also expecting relevant ads and personalized experiences. Be sure you are engaging appropriately throughout their customer journey.
To simplify and automate many aspects of this process, your business should consider investing in a customer relationship management (CRM) tool that collects first-party data about your consumers and how they're engaging with your brand. Using a CRM tool that aligns with your business and marketing goals will be instrumental in providing consumers with experiences that align with their personal motivations, goals, and behaviors.
Even as it slowly becomes permissible to gather for in-person events, consumers have grown to appreciate the accessibility, flexibility, and convenience of online and digital experiences. It's evident that consumers will continue to demand these options, so your business must be prepared to meet the needs and expectations of their consumers or risk falling behind.
2. Prioritizing Your Brand Experience
Consumers appreciate transparency, and that's only been highlighted by the pandemic. Your organization and its overall brand should feel empowered to highlight the measures it took to promote the health and safety of the community, both with internal employees and with external customers (if this applies to your business).
Research conducted by EY demonstrates that factors like sustainability, trust, ethical sourcing, and social responsibility are increasingly important to how consumers select their products or services. At times, these factors are often of greater importance than convenience and price. In addition to the pandemic, other monumental social and political events in 2020 resulted in shifts in social values and behaviors. Authentically communicating your brand values and organically integrating them into your content and messaging will help your brand resonate with audiences and create an improved brand experience.
3. Content Marketing Opportunities
Throughout the COVID-19 pandemic, people have been spending significantly more time online. While brick-and-mortar establishments were closed for a period of time due to federal and state-level restrictions, consumers took to the Internet to find online resources that would replace their in-person behaviors and experiences. This included consumers searching for instructional "how-to" videos and other at-home tutorials, as well as registering for virtual events. There is an opportunity here to extend the value of your brand to customers by refining your content marketing strategy.
Consider using this newfound data to create or optimize website content or use new marketing channels to promote what's relevant to your consumers or aligns with what they're searching for and engaging with, such as the aforementioned tutorials. Pioneering a new content marketing approach can help promote brand awareness and contribute to a more sophisticated and unique brand experience.
As you adjust your content strategy and marketing and communication efforts, keep in mind that your brand's voice should be consistent across channels to provide a unified brand experience for users.
4. Focus on the Customers You Already Have
The pandemic left many companies in vulnerable financial positions. In anticipation of lost revenue, some organizations looked to decrease costs. For many businesses, the marketing department was among the first to experience budget cuts.
If your team has been working within limited budget constraints, consider adjusting your marketing strategy to focus on customer retention and loyalty.
Rather than investing in brand awareness campaigns to attract new prospects, market to current customers and contacts - the folks who have already engaged with or expressed interest in your brand. One way to do this is through remarketing campaigns. For example, use the first-party data captured by your CRM tool to deliver relevant messages to consumers respective to where they are in the customer journey. Retargeted ads can produce a good return on investment, too. They have higher conversion rates and a click-through rate 10 times higher than a typical display ad.
As your marketing budget increases, you can layer brand awareness campaigns back into your marketing mix to attract new consumers and extend the visibility of your brand.
5. Make the Most of Your Data
During times of uncertainty, data can serve as your guide in making well-informed marketing decisions. Your team should leverage analytical and research tools, such as Google Analytics and Google Search Console, to gain insights into your users' behaviors and understand where your traffic is coming from.
With users spending more time online than ever before, it is essential to invest in search engine optimization (SEO) to heighten your search visibility. While SEO might already be part of your marketing efforts, there could be important shifts to be aware of.
Search intent and trends change over time, and that has clearly been the case during the pandemic. With increased time online, coupled with other lifestyle changes brought on by COVID-19, your target users have likely adjusted their search habits and interests - and this is data your business can capitalize on.
Knowing what your audience is looking for and what search queries are driving them where is imperative to inform your SEO efforts. Use your research tools and resources to identify new search trends, high-volume keywords, and other opportunities. Keeping a pulse on what your audiences are looking for in relation to your brand and business not only informs your marketing and SEO efforts but can also be instrumental in developing new business goals and opportunities.
Resuming Business and Moving Forward
If there's one key takeaway marketers can learn from the pandemic, it's that customers no longer hope that your brand offers something; they expect it. Consumers have formed new expectations over the past year, which in turn requires companies to find new ways to resume business to stay relevant and successful.
As your business reopens and restrategizes its marketing efforts, utilize the aforementioned key marketing trends to optimize your business to reflect and provide what your audience is looking for. This is, ultimately, imperative to finding success post-pandemic.
Request Information
Connect with our admissions team to learn more about Champlain College Online.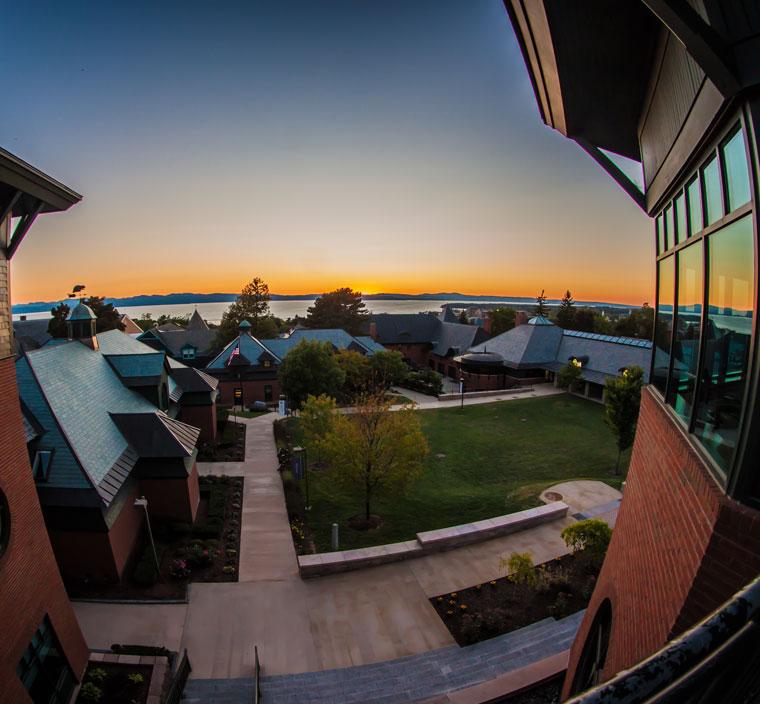 Request Information
Your growth is our purpose. Let's work together to uncover the strengths and experiences you already possess that will help you succeed in your academic and professional pursuits so you'll be ready for your next opportunity.