Kathleen Hyde, MCIS, MBA, is the Champlain College Online cybersecurity co-chair and a Champlain College cybersecurity program director. We spoke with her to get her perspective on the information security field, learn more about her professional background, and get insight into Champlain's online cybersecurity programs.
Tell me a little bit about your background in the cybersecurity field.
I originally started my career as a news reporter, and then became an investigative journalist. After getting married, my then-husband started a consulting business, which I sort of considered my "insurance policy," as a backup career option. But to work there, I would need to know how to service computers. I began to learn and eventually became a mother and then I began working as an IT consultant/technician. IT grew and morphed over time into what it is today, with lots of different areas coming into the field, so I eventually transitioned to cybersecurity. I still do Information Technology work, but now I mostly do cyber-specific consulting for small- to mid-size businesses and contract clients. I have spent 20+ years as a consultant. 
How did you become involved with Champlain College's online cybersecurity degree program?
I am lifelong friends with Ric Messier, the former program director, which is how I came to learn about the program. About three years ago, I became an instructor, teaching a variety of courses. Then I started designing courses and became a subject matter expert for course development. It was a natural progression to apply when the program director position became available.
What do you like most about your role as Champlain College cybersecurity program director?
I really enjoy the students, and my interaction with them. And I love the online learning environment. Champlain is my home!
What are your favorite classes to teach?
I like all of the classes I've taught, but I have two favorites, mostly because I've taught them for so long. The first is Emerging Threats & Defenses, which is a look at where we've been and where we're going in the cybersecurity field. There's a wealth of information to look at and analyze with the news today, so there's a heavy current events component, which appeals to my background as a news reporter. A lot of time is spent talking about the Internet of Things - there's projections of an explosion of devices, which brings so many challenges and security concerns for us to think about (both as a consumer or an enterprise). It's extremely exciting - students come in and then can't believe all they've covered by the end of the semester. And it affects how they conduct themselves personally and as employees when it comes to technology and security.
The other is Foundations of Cybersecurity. People ask, how can you teach this class for so long and not get bored? But all students who take the class bring different experiences and backgrounds. There are so many flavors that after the first week's discussion, the material is entirely new. The course is so dependent on students. We hit on many topics and I often see the "lightbulb effect" - students say, "I never thought about that!" It's amazing that so many students have that same experience at the same time in response to the course material.
What are some of the trends you see shaping cybersecurity education over the next few years? What kinds of cybersecurity skills are employers looking for?
There are a lot. Some of them include the internet of things, mobile - the mobile component will be big for digital forensics, there are so many things to consider with software and storage. How breaches are impacting businesses and how that landscape keeps changing - the "human holes" are going to change, as is how we think about breaches. We're in a period where breaches are become standard and we are almost becoming anesthetized to them. There's going to be a different approach by businesses, different thought processes around how they protect personal/consumer data, and regulatory policy and procedure. Those are things we will need to stay in contact with, be cognizant of, and translate into classes.
What type of person might be interested in going back to school for cybersecurity?
Can I say everyone? I really do see everyone as an ideal candidate! Cybersecurity cuts across all fields and areas of study. From the standpoint of employers, having someone with cyber skills versus someone who doesn't will always be preferential. There's a natural tendency to assume you have to be interested in math or science to do cybersecurity, but I don't see this at all. My undergraduate degree is in art!
It's one of those things where people can make the jump if they're interested. It's constantly changing. If you like that environment, you'll do well - if you ask questions, if you always want to know the "why." There's no "type" of person who belongs in cybersecurity because it's a field that encompasses so many things - digital forensics, software development, hardware development, the insurance industry, risk assessment - it moves across so many fields that you really can't say there's any one type of student who belongs in the industry.
You just need to have an open mind and be a blank canvas and have a willingness to learn. If you approach it with that perspective and have interest in it, you'll do well. There's always something new, exciting, different. It's a dynamic environment - how can you not be excited by it?
What would you say is the career outlook for those considering entering the cybersecurity field?
It's definitely a smart career move. The current projections show that we have a huge skills gap and a deficit of cybersecurity professionals. There's no sign that it will let up in the next 50 years. It's going to continue. Even if you started now in a new degree program, that need will still be there when you graduate. I don't see that changing, with the internet of things, hacking, the cloud, mobile, everything that needs to be secured.
What's the best way to get started in cybersecurity?
Find what interests you and increase your experience so you can find a job when you get out of school. One of the things people ask is, there are so many avenues to take - degrees, certifications, internships - how do you decide which to do? Ultimately, academic degrees give you a broad basis and the theory, how things work, and the concepts you can apply to everything else. Certifications are wonderful but in only one area. For me personally, I wanted something more broad, to have that broad concept base and the lifelong learning experience, so I got a degree. If I want a certification down the line, I can pursue that. And once you have a degree you always have it, can always draw off of it. Certifications you often have to renew.
What would you like current and prospective students in the cybersecurity program to know?
My door is always open - that's something I value. I'm accessible and willing to have conversations with you about your thoughts, what you want to do, questions about the field or the program - you just have to reach out! It may take a day or two, but I will always get back to you.
As cybersecurity co-chair, Kathleen oversees the following programs: the computer forensics & digital investigations bachelor's degree, the computer & information systems bachelor's degree, the management information systems bachelor's degree, the web design & development bachelor's degree and certificates, and the information security master's degree and graduate certificate.
Download Cybersecurity Careers Ebook
Learn more about careers in cybersecurity.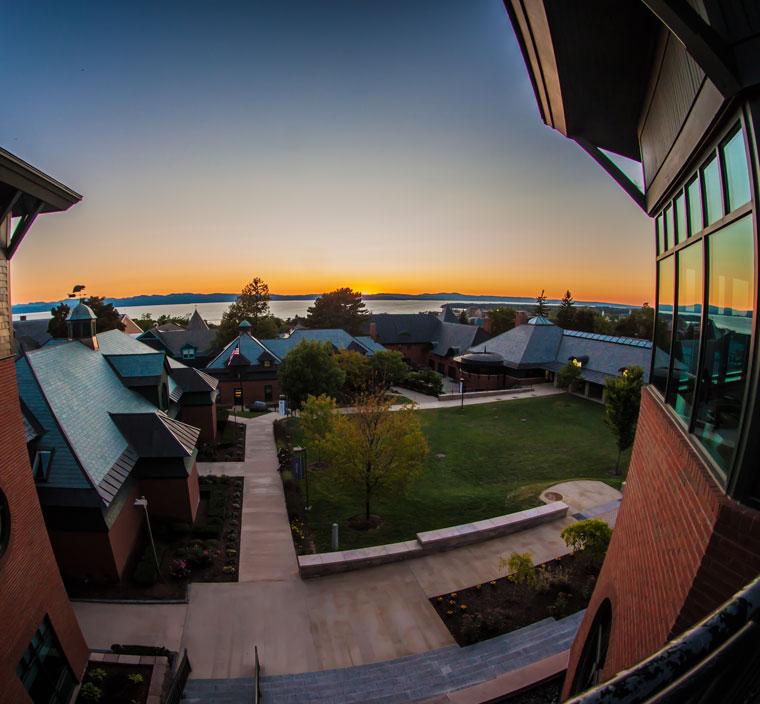 Download Cybersecurity Careers Ebook