Conventional wisdom dictates that succeeding in an interview comes down to a few things: communicating well, building a rapport with your interviewer, presenting yourself professionally through positive body language, and doing company research, to name a few. However, one essential piece of an interview that is often overlooked is the opportunity to ask questions of your interviewer. Almost every interview will end with the hiring manager asking the applicant if they have any questions - and in many cases, having forgotten to prepare a set of questions, the applicant will find themselves drawing a blank. If you've ever had this happen to you, or have wondered about good questions to ask at an interview, it's a smart idea to do a bit of preparation.  
Having a few thoughtful, probing questions written down to ask at the end of an interview is essential - not just because the quality of those questions will reflect on your conscientiousness, curiosity, and preparedness, but also because it gives you the chance to assess whether a company is truly right for you. Many applicants forget this - they assume that they are the only ones being evaluated for fit, when in reality, they should also be determining whether the workplace is right for them.
If you're looking for good questions to ask an interviewer, the first place to start should be with the things you genuinely find interesting. Come up with a list of the things you need to know, or want to know, before being able to decide if the company is a place you truly want to work. In most cases, a lot of this information will be covered over the course of the interview (and you should feel comfortable to bring questions up at relevant points during the discussion, not just at the end). However, having your top questions listed out is a good way to keep them all in mind, and you'll be able to mentally cross off the ones that have been touched on as you go along.
If you're stuck or need some inspiration, here are some ideas to help you get started.
Questions to Ask Employers During an Interview
It's helpful to break questions down into a few different categories. You should aim to have at least two or three questions to ask, but it's always smart to have more in your back pocket, in the likely event that some of your questions get answered naturally during the conversation.
Questions About the Position
These questions will help you have a clear understanding of what you would be doing every day, and how you would be doing it, if you got this job. Your goal is to determine whether the responsibilities of this role and the projects you'd be working on sound interesting, and whether the working conditions (in terms of team size, your supervisor's management style, and the alignment of the skills and qualities they're looking for with those you have) would be a good fit for you.
What does a typical day or week look like in this role?
Can you describe the day-to-day responsibilities of the person in this position?
Can you give me some examples of projects the person in this role would be working on?
Is this a new role? If not, why is the person currently in the role leaving?
Who does this position report to? Can you describe your management style?
How many people work on this team?
What would success look like in this role?
What would you expect a successful first month/quarter/year to look like for the person in this position?
What skills and experiences would make an ideal candidate for this job?
What are the biggest challenges the person in the role would face?
What are the top three qualities or skills the ideal person in this role would have?
What would be the first thing you'd want the person in this role to work on?
Questions About the Company
These questions will help you get a better sense of what it's like to work at this company overall. While your manager, team, and position are important, the overall environment of the workplace is, of course, something to consider. Your goal with these questions is to determine whether you would be a cultural fit, whether you can see yourself going to work there every day, and whether you can envision a path for yourself within the company. This is also a good place to assess the health of the business - if it sounds like they're growing and have strategies in place to ensure future success, that's a place you want to work!
Can you describe the workplace culture here?
What are the prospects for growth or advancement here?
What's the office environment like?
What do you perceive as the biggest challenges this company is facing?
Can you tell me about the company's plans for growth?
How has the company changed over the last few years? How do you foresee it changing in the future?
How does this company define and measure success?
What type of person tends to do well here?
Questions About Your Interviewer(s)
These questions take advantage of the unique opportunity you have to talk to someone who knows first-hand what it's like to work at the company. This is a good place to get more insight into specific topics that have come up (and show that you're a critical thinker), as well as to learn more about how other people perceive the company.
What's your favorite part about working here? What's your least favorite part?
How long have you been working at this company? Where did you work before this?
What made you want to work at this company?
You mentioned X [a concept, a campaign, a project, etc.]. Can you give me some examples of that?
Can you clarify what you meant by X?
Questions About The Process
Not to be overlooked, these are all great final questions to ask to help wrap up the interview and set your expectations moving forward. You should leave the interview with a clear sense of next steps, timeline, and, ideally your fit for the role.
Do you have any hesitations about my qualifications?
What's the next step in the hiring process?
What kind of benefits package do you offer?
What is the salary range for this role?
When do you anticipate making an offer for this role? What is the anticipated start date for this role?
Have I answered all of your questions? Is there anything else I can tell you about myself?
 
Things to Consider When Thinking About Good Questions to Ask Employers
Once you have a list of questions to ask during an interview, you'll be ready to go! However, here are some final tips to keep in mind before you starting asking them.
Don't ask a question for the sake of having something to ask, or because you think it will sound good. Unless you really want to know the answer to a question, it's probably not worth asking.
Ask a variety of questions - don't focus solely on one topic.
Don't be afraid to ask questions throughout the interview - you don't have to wait until the end if there's an opportunity for you to ask a question during the conversation.
Don't ask questions that can easily be answered through a Google search or by looking at the company's website. And don't ask questions that will call into question your preparation for the interview, such as "What does this company do?"
Be as specific as possible.
These questions should be viewed as a jumping off point - you should tailor them based on what you know about the company and role going in, and what you learn about the position and business over the course of the interview. The most important tip of all is to be genuine.
Download Online Experience Guide
Learn what you can expect from your experience at Champlain College Online.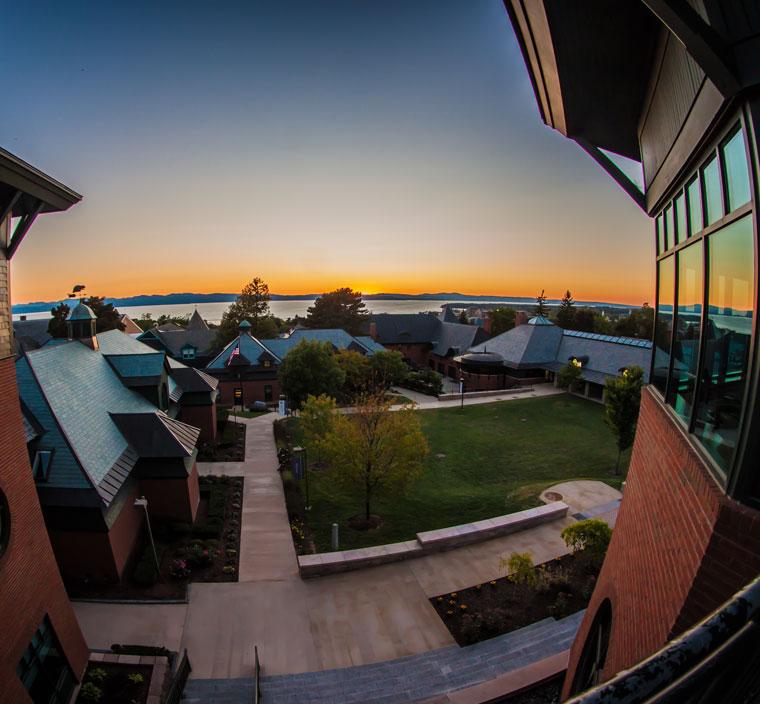 Online Experience Guide Download
Learn more about what you can expect from your online experience at Champlain.