When you imagine the 'typical' college student experience, images of young adults straight out of high school may come to mind. In reality, this vision only reflects a narrow subset of actual college students. According to the National Center for Education Statistics (NCES), over 6.4 million students over the age of 25 were enrolled in postsecondary institutions as of 2021.

It is increasingly common for experienced professionals to return to college in hopes of gaining valuable skills, boosting their earning potential, or making major career transitions. Many others enter college for the first time long after the 'expected' age. This is something to be celebrated — lifelong learning is an admirable goal.

No matter the reason, this transition can feel intimidating. To help, we've created a guide for how to go back to school as an adult — and how to make the most of this exciting opportunity. 
Identify Your Goals and Reasons for Going Back to School
College is always a commitment, but this becomes even more evident as a full-fledged adult with major responsibilities. Before you carve out room in your budget — and time in your busy schedule — you need to know what, exactly, you intend to accomplish and how college will help.

Begin by outlining your main objectives for college and your career. These goals should be compelling, but they should also be realistic. Write them down early on and feel free to adjust, as they may evolve throughout your college trajectory. 
Determine the Type of Degree You Want
The right degree is essential. While any form of learning can be beneficial, you'll find it a lot easier to stay motivated if you enroll in a program that reflects your interests and talents —especially if you can make a clear connection between that particular program and your preferred career track.

First, consider the level of the degree. A diploma or certificate could provide a solid start and may be especially helpful if you're short on time — but from a career perspective, you'll benefit much more from taking a deep dive with an associate or a bachelor's degree. Employer requirements will play heavily into this decision, as some jobs are simply more difficult to obtain without your bachelor's or even your master's degree.

This decision will also be influenced by how many credits you've earned and your highest level of education thus far. If you already have your bachelor's, for example, the natural next step is to strive for your master's. If you have yet to earn a degree and are unsure how much of a commitment you can make, aim for a highly transferable program that allows you to earn your associate degree and continue to get a bachelor's.

Your preferred area of study may also influence the level of degree you seek, as some fields are more likely to call for graduate-level education. Your degree may primarily be driven by your already outlined career goals, but other considerations must also be taken into account: which subjects you most enjoy studying and where you still need to develop skills.
Find a School That Fits Your Needs
Once you have a clear understanding of your long-term goals — and the types of degrees that will move you in the right direction — it's time to develop a list of colleges that fit your unique needs.

Begin by determining which factors matter most. Examples may include degree availability, online options, geographic location, or transfer-friendliness. Based on these caveats, you can narrow your list to a few top options.
Research Financial Aid Options
As an adult student, you want to be confident that you will get the best possible return on investment from your degree. To determine how you'll pay for college, start by completing the Free Application for Federal Student Aid (FAFSA). This will reveal your eligibility for various grants and loans. Other opportunities worth examining include the following:
Scholarships. Often awarded based on merit, scholarships can chip away significantly at tuition costs. Some may be available exclusively for your college of choice, while others may be open to students attending a variety of schools. Apply to several and don't be surprised if you come away with some impressive awards.
Employer assistance. Many degree programs are covered, at least to some extent, by employers, who stand to benefit when current employees gain new skills. Inquire about existing employer assistance opportunities and the specific degree programs that may be eligible for tuition assistance.
Preferred tuition rates. Select colleges and organizations make it possible for students to enroll in specific programs at reduced tuition rates. For example, truED agreements limit tuition costs for online students seeking degrees in areas such as healthcare, cybersecurity, business, or information technology. 
Gather Your Application Materials
By now, you should know which type of degree you want to seek and the level of financial commitment you can handle. At this point, it's time to get admitted to one of your preferred colleges. First, you will need to gather a variety of materials that reflect your history as a high school student, a college student, and a working professional. Essentials include:
Official transcripts from high school and college.
Letters of recommendation, ideally from supervisors or others who have recently observed your skills and passion.
An updated resume that reflects your latest accomplishments and goals for the future.
Test scores, if relevant. These may include your SAT or ACT. 
Decide When to Apply
Application timing matters. As an adult student with an interest in online coursework, this may be more flexible than you expect. Don't worry if you've already missed the deadline for the fall semester; it may be possible to start your degree program during the winter or even with a summer session. Class schedules and availability may influence ideal timing, so take a close look at the curriculum before you proceed.

No matter when you begin your first term, it's always in your best interest to apply early – this improves your odds of getting accepted. Deadlines can vary between schools, so be sure to add them to your calendar and send yourself notifications to ensure that all applications are submitted as early as possible. 
Register for Classes
You've been accepted into your dream college — congratulations! Take a moment to celebrate this major accomplishment before you move forward with the enrollment process.

Next up? Registration. This process will depend, to some extent, on whether you have eligible transfer credits or whether you have completed an Assessment of Prior Learning. Equipped with insight into how far you've come and which requirements you still need to satisfy, you can begin to register for classes that will move you toward your ultimate goal of graduation. 
Benefits of a College Degree
Throughout the process of applying to, enrolling in, and attending college, keep the benefits of your eventual degree at the forefront of your mind. This goal-oriented approach will help you persevere when the going gets tough. Benefits worth keeping in mind include:
Secure credentials and develop skills that are valued by employers. This could help you not only score your dream job but also command higher wages and better benefits.
Take advantage of excellent networking opportunities, including regular interactions with industry insiders and fellow students.
Enjoy the personal pride and satisfaction of completing your degree, which can improve your confidence and self-esteem. 
Tips for Adults Going Back to School
College is always a challenge, but this becomes even more evident when you add the daily difficulties of being an adult in the real world. You are capable of handling a full schedule and rigorous coursework, but it will take some extra strategizing. Follow these suggestions to ease this transition and make the most of your college career:
Manage Your Time and Workload
Adult learners are nearly always busier than the 'traditional' teenagers and early twenty-somethings who attend college full-time. Asan adult, part-time jobs, volunteering, and extracurriculars may be replaced by demanding full-time work obligations, plus, in many cases, parenting or other time-intensive family demands.

Online classes help, but it's still up to you to manage your time so you can complete all your coursework at a reasonable pace — and also keep up with the usual demands of work and family life. This begins with developing a schedule that mitigates the common temptation to procrastinate.

Your schedule should include at least a few hours set aside for studying every day. This might mean waking up an hour or two earlier or, perhaps, hitting the books at the end of your work day. Pencil in these times with a physical planner, or use a time management app to keep yourself on track. Don't forget to set aside an hour here or there for self-care, as it can otherwise be easy to feel burned out. 
Develop Study Skills
With personal and professional demands competing for your time, it's extra important that you make the most of every study session. This means studying smart rather than hard.

Creating an effective schedule is the first step, as everyday exposure to materials is far more impactful than cramming. Beyond this, you can implement strategic study hacks to help you absorb material faster. Top options include:
Take physical notes. As an online student, it's tempting to opt for strictly digital exposure to coursework. However, the physical act of writing has a documented positive effect on retention. Instead of simply reading material or letting audio content wash over you, break out that old-fashioned notebook and jot down the most important takeaways. Flash cards are also helpful for this reason; the act of creating them may be even more valuable than viewing individual cards on repeat.
Create — and answer — compelling questions. Enhance your understanding of crucial concepts by taking a question-and-answer approach to study sessions. Begin by using your notes, syllabus, or textbook descriptions to create basic questions that you can then answer while studying. This is a great strategy for class readings or online lectures. It can also be an excellent solution for test prep; anticipate which questions might be included in an exam and then answer them. 
Utilize Student Support Resources
As an online college student, you enjoy access to a wealth of resources. Academic advising, for example, is invaluable when you need insight into class selection. Once the term begins, you can count on online tutoring and academic accommodations to give you an edge. Outside of class, resources such as Career Collaborative help you leverage your academic experience as you expand your network and seek valuable hands-on opportunities.
Consider an Integrated Studies Degree
While many adult students enter programs with specific career goals in mind, some simply want the satisfaction of earning their degree. A bachelor's degree in integrated studies allows you to make the most of your previous experience and your current passions as you cultivate a college curriculum that may not neatly fit into other established degree programs.

As an integrated studies student, you will work closely with experienced faculty members who can help you develop and apply a range of critical skills. These may include technical skills tailored to your intended career field, as well as valuable core competencies, such as problem-solving, empathy, and collaboration. 
Benefits of a Liberal Arts Education
In an age of career-focused degree programs, there is still great value in a classic liberal arts education. This is an amazing option when you want to improve core competencies while also expanding your horizons through exposure to new perspectives. As a liberal arts student, you may discover new topics or concepts that challenge and excite you. 
Benefits of an Online Education
Students from all walks of life can benefit greatly from completing college coursework online, but this setup is especially helpful if you are already employed. Juggling college and full-time work can be tricky, but a flexible schedule allows you to complete course requirements at your own pace. This also removes a significant time barrier: the need to commute to a traditional campus. Instead, you can log in when needed — and without sacrificing work or school-life balance. 
Choose a College Designed for Working Adults
Going back to school as an adult can be exciting, but it will take careful planning to ensure you make the most of this commitment. Your journey as an adult learner will be much more enjoyable and rewarding if you select a program tailored to the unique needs of working adults.

Champlain College Online is an excellent option at any age and during any stage of your career. Whether you're just starting out or looking to advance in your field, we provide the resources and guidance you need to succeed. Reach out today to learn more about our online offerings and our integrated studies program.
Download Online Experience Guide
Learn what you can expect from your experience at Champlain College Online.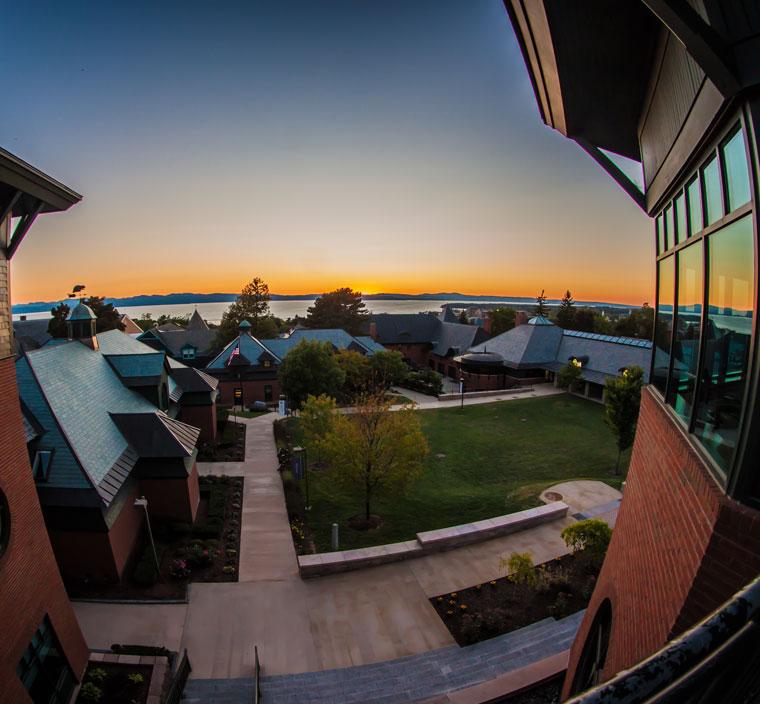 Online Experience Guide Download
Learn more about what you can expect from your online experience at Champlain.