Explore Integrated Studies
Take the next step in your career through an individualized, expedited course of study. Designed to help adult students maximize transfer credit opportunities and reach completion quickly, Champlain's online integrated studies bachelor's degree is your chance to customize a degree based on your professional experiences and educational background. This degree is ideal for those who have significant prior academic experience and professional training in a particular area, and want to leverage these experiences in pursuit of a degree.
Build Your Career Future
Increasing numbers of jobs - across all industries - now require a minimum of a bachelor's degree for hiring. Our integrated studies degree helps you gain the competencies today's employers are looking for, with an emphasis on key business and soft skills (such as critical thinking and communication) that are applicable to a variety of fields, and that you can carry through your career. You'll also be able to differentiate your degree through a focused area of specialization based on your previous academic and professional experience.
Prospective students interested in the BS in Integrated Studies online program must have completed 40 credits (between prior college experience; alternative credit providers, such as Study.com; NCCRS and ACE-evaluated training; and other certifications Champlain evaluates for college credit) in a "focus area" prior to attending Champlain.
Examples of past focus areas include, but are not limited to: 
- Business management
- Criminal justice
- Emergency management 
- Fire and rescue studies 
- Military studies
- Paralegal studies
- Technology management 
Academic Excellence and Recognition

Regionally accredited by the New England Commission of Higher Education

Ranked among the Best Online Bachelor's Programs by U.S. News & World Report

Designated as a Military Friendly School for our commitment to the military community

Named the Best Private Online College by Intelligent.com
What Can You Do With A Degree In Integrated Studies?
Business and financial occupations are expected to grow 7% from 2018 to 2028 faster than the average growth for all fields, as a result of an increasingly complex global business landscape. The median annual wage for these roles is over $68,000.
In our online integrated studies degree program, you will create a focus area that is tailored to your academic background and professional experiences, and will gain the competencies today's employers are looking for. This degree will prepare you for a variety of career paths in the business world, including human resources, business management, information technology, administrative services, operations, and sales.
*Sources: Bureau of Labor Statistics (BLS), 2019; job titles: Study.com, 2019
Top Jobs for Bachelor's in Integrated Studies Graduates
Accountant
Business Development Specialist
Financial Analyst
Information Technology Specialist
Management Consultant
Office Manager
Operations Manager
Sales Representative
Program Details
Learn more about Champlain's 100% online integrated studies bachelor's degree, designed for working professionals.
Champlain's online integrated studies courses encompass the top skills needed by today's business professionals. Graduates of the program are required to complete the following courses.
Area of Study (from prior college experience. 40 credits required) 
Professional Courses (18 credits):
General Education Courses (24 credits)
Math Electives (6 credits)
Science Literacy (4 credits)
Human Thought & Creative Expression (3 credits)
Human Behavior & Social Institutions (3 credits)
Historical Perspectives (3 credits)
General Electives (19 credits)
Professional Courses
There are two ways to view behavior in organizations: cultural/interpretive and technical/rational. Students will explore both views, how they explain and predict organizational behavior and the management approaches they inform. Within these contexts, students will explore team and individual behaviors, ethical and diversity issues in the workplace, and how to foster success in the face of significant change. Students will apply course concepts to real-world scenarios and their personal experiences.
Students will learn about the financial operations and analysis tools of any business or organization and their role in the success of the enterprise. Students will learn how to read and interpret financial statements and how to apply cost accounting theories and methods. They will gain a general knowledge about operational and capital budgeting processes and how to apply financial goals to departments and units and monitor financial performance against those goals.
Students will apply communication theory and research to address the particular challenges to communicating effectively in organizations. Students will learn how to identify organizational communication problems, analyze those problems, and generate effective solutions. Students will examine the relationship between organizational structure and specific communicative practices, and how communication practices by organizational members establish, maintain, or change organizational culture. They will also learn how to anticipate communication deficiencies in organizations, and use communication as a means to facilitate organizational development and innovation.
Prerequisites
Complete COMM-130 or COM-100.
Provides an overview of the entire legal system, with an emphasis on contract rights. Discusses the essential elements of a contract, the breach of contracts and the remedies for breach. Presents business and consumer laws, including white-collar crime, landlord-tenant rights, real property interests and administrative law.
Choose One
Organizations value project management skills for all employees because these skills make everyone more effective and efficient. You will be introduced to skills that define a project's scope, specifications and assumptions. You will also learn to develop a work breakdown structure and task plan, and to schedule and control the, project. These skills can be used immediately, in work and home life.
Project Management II introduces students to the Project Management Institute's (PMI) Standards and Behaviors. You will explore the body of knowledge that forms the foundation for the field of project management, and begin to develop the competencies required to be eligible for the PMP examination. You will also reinforce competencies learned in Project Management I and focus on processes used in professional projects, including skills needed to define a project's scope, create a project charter, develop a work breakdown structure, task plan, schedule, and controlling the work. Finally, the project you begin in MGMT-262 will be completed in MGMT-265, allowing enough time to develop a comprehensively managed project.
Choose One
Discusses the nature and method of economics with emphasis on microeconomic theory. Focus is on demand, supply, market equilibrium, elasticity, costs of production and resource pricing. Examines the market structures of pure competition, oligopoly and monopoly.
A general survey course that covers theories and applications of macroeconomics. Business firms, international economics, labor and government are included. Also examines monetary policy, taxes, public finances, economic output and growth, and international trade in the world economy.
General Education Courses
This course draws on fundamental concepts of contemporary communication research to help students identify and develop strategies to become effective and versatile communicators across media and settings. Students will examine and respond to a range of interpersonal situations through the critical evaluation of the three essential components of all communication: its purpose, audience, and context. Students will leave the course with the ability to reflect on and adapt their strategies to successfully and consistently communicate for a range of purposes across diverse settings.
Students will learn to navigate the rapidly changing nature of communication in the digital age, deeply engaging with tools such as instant messaging, social networks, blogs and collaborative spaces online, all the while applying specific communication theories in order to determine best practices. Through reading, discussion and intensive hands-on projects, students will work to overcome online communication barriers and gain critical understanding of which tools are effective in which situations. Students will be required to download, access and utilize various online communication tools.
Prerequisites
COM-100 or COMM-130 and 30 completed credits or 60 completed credits
This course introduces students to the foundational concepts needed to communicate effectively in writing for academic study and professional development. Students will learn how to use the four stages of the writing process--prewriting, drafting, revising, and editing--to create written communication that meets its intended purpose for its intended audience. Students will also be introduced to rhetorical modes and their role in the development of written communication. A minimum grade of C is required for this course to meet a general education requirement.
This course builds on students' proficiency in the writing process and rhetorical modes to introduce the use of evidence from sources in written communication. Students will learn to determine the need for evidence from sources, identify types of information resources, develop effective search strategies, and incorporate evidence from sources in written communication legally and ethically. A minimum grade of C is required for this course to meet a general education requirement.
Prerequisites
Complete ENGL-100 with a minimum grade of C or better
Specific application of common tools for writing in the working world. Students will be instructed in rhetorical strategies of professional writing including style, report formats, editing, document design, and integration of visual aids. Students will complete a semester-long writing project; oral and written reports associated with the process of problem-solving within the project will be included.
Choose One:
This course builds on students' proficiency in using evidence from sources to support their own prior knowledge to using evidence from sources to develop persuasive communication for a range of purposes, including solving problems and pursuing opportunities in the workplace, in addition to academic study. Students will learn to articulate effective inquiry questions, recognize errors in logic, interpret the validity of persuasive communication created by others, and develop effective persuasive communication of their own using evidence from sources. The role of accurate citation of sources in persuasive communication will also be addressed. A minimum grade of C is required for this course to meet a general education requirement. Prerequisites: ENGL-100 The Writing Process & ENGL-110 Introduction to Using Evidence from Sources in Writing.
Prerequisites
Complete ENGL-100 and ENGL-110 with a minimum grade of C.
In this course, adult students demonstrate skills and knowledge from work and other life experiences in order to request credit for a specified degree requirement. Students use the conceptual framework of argumentation to make a logical case for credit in an e-portfolio. The portfolio will identify the context for the student's learning in the subject matter, trace its progression over time, and explain how the learning is equivalent to the specified CCO degree requirement. The student will then demonstrate proficiency in each course learning outcome and integrate the learning outcomes in a relevant case study. To achieve a course pass, the completed portfolio must demonstrate course outcome proficiency according to the framework and criteria described above. Portfolios meeting these criteria will be submitted to a faculty subject matter expert for evaluation.
Prerequisites
Full admission into a CCO degree program, ENGL 111, ENGL 112, and approved PLA plan. Students within 12 credits of degree completion are not eligible to take CRIT 200.
Choose One:
Specific application of common tools for writing in the working world. Students will be instructed in rhetorical strategies of professional writing including style, report formats, editing, document design, and integration of visual aids. Students will complete a semester-long writing project; oral and written reports associated with the process of problem-solving within the project will be included.
This course introduces students to the fundamental elements of technical writing (clear, concise, and targeted)that are common among seven forms of technical communication: email correspondence, editing,employment communication, proposals, long, formal reports,oral communication, and inventions. Through peer reviews and writing workshops, students develop the ability to write and edit text that precisely targets its audience. This course emphasizes deepening and broadening students' writing, speaking, and thinking abilities in a non-lecture-based, hands-on, discussion-centered classroom.
Choose One Science Literacy Course:
Introduces students to the biochemistry and physiology of nutrition and exercise. Emphasis will be placed on human body systems such as musculoskeletal, digestive, respiratory and circulatory, and their relationship to nutrition and fitness. Students will also study the biochemistry of energy conversion as it relates to exercise physiology. Laboratory sessions are designed to reinforce, by a hands-on approach, the principles discussed in lecture. Course includes two laboratory hours per week.
Students learn the biology, genetics, chemistry, and physics involved in the forensic investigation of crimes. A wide range of topics are studied including DNA, entomology, fingerprinting, trace evidence, serology (blood, saliva, and semen), blood spatter, and chemical analysis of drugs, alcohol, and other compounds. Students apply their new knowledge of forensic science through the use of case studies and laboratories. This course includes two laboratory hours per week.
Prerequisites
If you have taken FOR-110 you may not take this lab science course.
This lab course focuses on the structure and function of the human body and the mechanisms for maintaining homeostasis within it. This course includes: the study of human anatomical terminology and function, the structure and function of the skeletal, muscular, and nervous systems. It is recommended that students have a strong science background.
Prerequisites
Strong science background recommended
Choose One Human Thought & Creative Expression Course:
With pressure and release, a window opens and closes, recording light on a sensor. The simple action captures the instinct, judgement, and skill of the person behind the lens. This class will begin a study of the art and craft of photography. Students will develop their vision and their understanding of how to achieve it. Solid skills will be learned and many doors will be opened.
A survey of the continuing change experienced in art since the 15th century. Students will examine how an image is achieved as well as the significance of the subject represented. Individual inquiry concerning the nature of art is encouraged.
Students learn to appreciate films through the critical analysis of various elements of mise-en-scene, cinematography, editing and sound. The course introduces the conventions of classical Hollywood cinema, considers the work of one major director (auteur), and surveys selected international and independent films. Students view and discuss films each week.
Students will become familiar with arguments originating from the following schools of ethics: virtue ethics, deontology, and utilitarianism. Students will apply these ethical schools of thought to formulate arguments, practice deliberation and assess the implications of their decisions for various stakeholders in a professional context.
Prerequisites
Must have 75 completed credits or permission of Program Director.
A study of fiction of various lengths, with an emphasis on plot techniques, character development, style, point of view, setting, structure, theme, and artistic unity. Continued emphasis is placed on the improvement of writing skills.
An introduction to the major literary genres: poetry, drama and fiction. Selections are chosen from American, European and non-Western literature. The emphasis of this course is on improving the student's ability to read perceptively and write effectively . A continued emphasis is placed on the improvement of writing skills.
Prerequisites
ENG-110, ENGL-112 OR COR-125
Choose One Human Behavior & Social Institutions Course:
A survey of the science of psychology, including an overview of human behavior in various areas such as physiopsychology, development, learning social psychology, personality and abnormal behavior.
A study of human groups, culture, the self, and human interaction. The course focuses on contemporary American society and the influence of culture on our actions and beliefs, with the goal of fostering critical thinking about our social environment.
Historical Perspectives
Students will study important themes in the social history of the United States since the Civil War. This course allows students to expand their critical thinking skills through an examination of primary and secondary sources. Themes might include: the evolving status of women; the immigrant experience; the concept of the American dream; the paradox of freedom vs. slavery; the minority experience; the tensions between social classes. Students will be evaluated primarily on writing assignments.
Graduates of the integrated studies bachelor's online program will demonstrate the following skills, knowledge, and competencies:
Successfully manage and interpret actions with colleagues and team members.
Formulate goals and strategies to seek knowledge from multiple sources.
Prioritize and set goals based on objectives and the availability of limited resources.
Apply fundamental financial concepts to interpret and organization's financial performance.
Apply the concepts of supply and demand, markets, and pricing to an organization.
Systematically analyze available information to produce data-driven solutions to problems.
Explore the ethical aspects of a decision, evaluate relevant issues, and weigh the considerations that might impact the choice of a course of action.
Acquire in-demand technical, analytical and soft skills employers want - such as communication, creativity, critical thinking, and collaboration - in general education courses that are a part of this degree.
Champlain College Online's integrated studies faculty, led by Assistant Dean of Curriculum & Assessment Elizabeth Gauffreau, M.A., are expert practitioners in the field. Their industry expertise ensures that our curriculum is aligned with the needs of employers, and reflects the skills today's business professionals need for success. Classes led by our seasoned experts will give you real-world insight into the business world, and create a rich community of career-focused learning.
Alumni of the Champlain College Online bachelor's in integrated studies program work in corporations, small businesses, government organizations, and nonprofits nationwide, including:
AT&T 
Cisco Systems 
Dealer.com
Department of Homeland Security (DHS)
Department of Housing and Urban Development (HUD)
Department of the Navy
Department of Veteran's Affairs
GE Healthcare
Global Foundries
Keurig Dr. Pepper
Office of Personnel Management (OPM)
People's United Bank 
New England Federal Credit Union 
Social Security Administration
Sophos
Springfield Police Department 
State of Vermont
St. Luke's Hospital 
University of Vermont Medical Center 
U.S. Army
U.S. Postal Service
Vermont Air National Guard 
Titles our alumni hold include:
Account Manager
Advertising Sales Consultant 
Analyst
Associate Manager, Corporate Security
Biomedical Equipment Support Specialist
Chief of Police
Claims Technical Expert
Contract Compliance Manager
Data Analyst
Engineering Technician
Financial Manager
Health Technician
HR/Payroll Specialist 
Insurance Agent
IT Specialist
Medical Operations NCO
Mortgage Sales Consultant 
Program Assistant
Regional Coordinator
Registrar
Senior Software Quality Assurance Manager
Tuition & Costs
Continuing your education is an investment in your future. Learn more about our affordable tuition rates.
Affordability
Cost shouldn't be a barrier to going back to school. We provide a number of options to make your online education affordable.
Meet the Program Director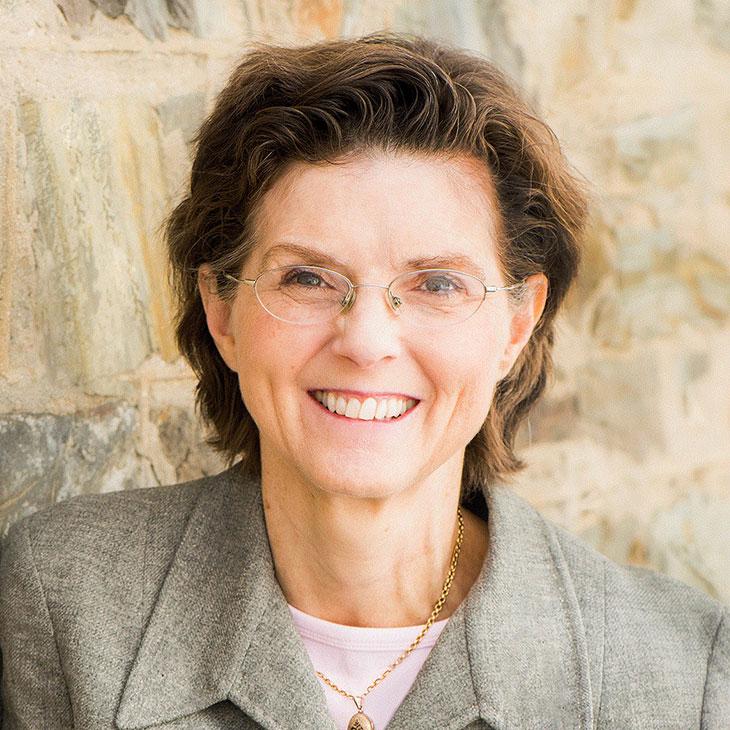 Elizabeth Gauffreau
MA
Assistant Dean of Curriculum & Assessment
Integrated Studies (B.S.)
About
Elizabeth Gauffreau is the Assistant Dean of Curriculum and Assessment at Champlain College, and the Program Director for the bachelor's in integrated studies program.
Ms. Gauffreau has worked extensively in higher education, including Saint Leo University and, prior to coming to Champlain, Granite State College, where she held a variety of roles, including, most recently, Director of Liberal Arts Programs and Writing & Communication Programs.
She holds a Master's in English/Writing from the University of New Hampshire, and has a Certificate of Mastery in Prior Learning Assessment from the Council for Adult & Experiential Learning.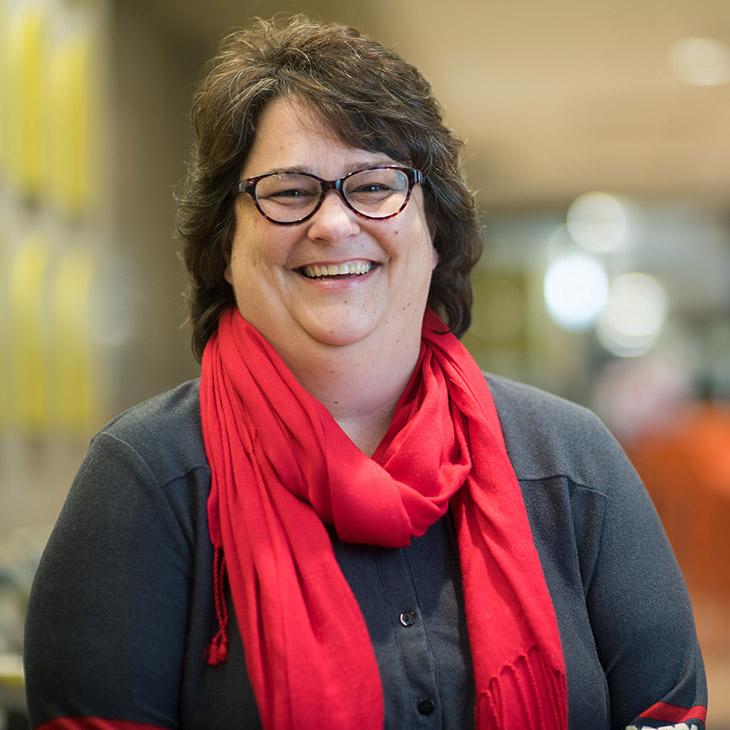 Affordability
"With Champlain's transfer credit policy, I was able to apply much of the education I had already received toward my bachelor's degree, making it much more affordable. I feel like the value I received from the program way outweighed the price I paid for it."
Kari Trudo Bachelor's Degree in Integrated Studies
Teacher, Green Mountain Montessori School
You may also be interested in
Download Program Guide
Learn what you can expect from our online integrated studies program.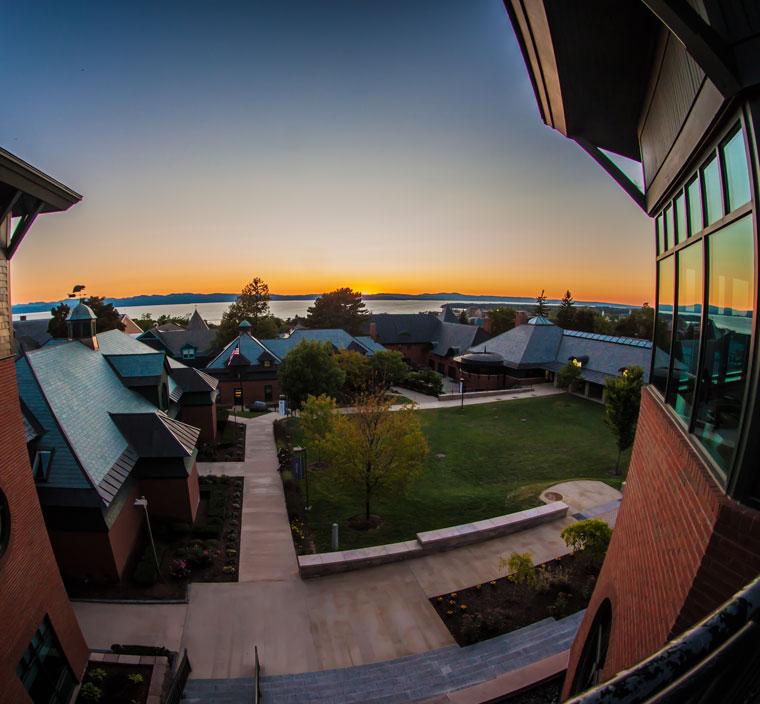 Download Program Guide
Champlain College will not share or sell personal information. Submitting this form constitutes your express written consent to agree to receive e-mails, texts, and phone messages from Champlain College at the phone number(s) and email address provided in this form.