Making the decision to enroll in a degree program can be intimidating for many adults. Oftentimes, adults are interested in pursuing their education - whether it's to finish a bachelor's degree after years in the workforce, or to advance through a graduate program - but find themselves overwhelmed by the logistics and challenges of doing so, especially after so much time away. However, overcoming these challenges is possible with some planning and smart decision making, and any adult looking to return to school can find a way to make it work.
If you're thinking about going back to college as an adult, here are some of the top tips you should keep in mind.
How to Prepare For Going Back to School
Determine Your Goals
The first thing you need to do in preparing to go back to school - before you even begin looking at programs or institutions - is to determine what your goals are. Are you looking to change careers, or advance in your current field? Do you want to strengthen your candidacy for an upcoming job search, or are you hoping to be promoted within your current company? Are you pursuing your education for career reasons, or is it based on personal fulfillment?
Once you've figured out what you hope to get out of your education, you should then think carefully about the kind of program you'd like to enroll in. Are you simply looking to take a few classes to brush up on the latest developments in your industry? Do you want a certificate that will build upon your existing knowledge in your field? Are you looking to finish your bachelor's degree, or pursue a second one? Or are you looking to take your career to the next level with a master's degree?
Really take the time to envision your future, and then pursue programs that will help you get there. And remember: you might not have all the answers right away, and the decision you make doesn't need to be set in stone. Students often find that once they have a conversation with an admissions representative at their institution of choice, their goals shift - and that's fine! It's just important that you set out with a sense of where you want to go, as this will give you something to work from (and work towards) from day one.
Find a School That Fits Your Needs
The next thing you'll need to do is to find the right program to meet your needs. There are a number of questions to consider when researching schools: Do you want to study on-campus or online? What degree level are you hoping to pursue? What kind of programs are you interested in? These are all critical questions to ask yourself before committing to any one institution.
Once you've found a few schools that interest you, have conversations with their admissions teams to get a feel for the school's culture and structure. This is your opportunity to learn as much as you can before you enroll, so don't be afraid to ask as many questions as you need to in order to feel good about your decision. You should also do some additional independent research regarding the school's accreditation, reputation, and experience with adult learners.
Get Your Application Materials in Order
For prospective adult students, the application process can be a bit more complicated than it is for traditional 18-year-old students. Many institutions offer generous transfer credit policies designed to maximize on the wealth of experience adult learners bring with them, from prior educational experiences to on-the-job trainings, and in order to take advantage of these, you'll need documentation. Collecting all the necessary documents - such as official transcripts, or details about trainings - can take longer than expected, so make sure you give yourself plenty of time to get them together.
And take some time to think carefully about any and all experiences that might qualify for transfer credit. Students are often surprised by the diversity of experiences that do qualify, so it's best to submit information about everything you think might be relevant so as to fully maximize your transfer credit potential.
You'll also want to make sure you fill out the school's official application, write any required admissions essays, and fully complete all requirements as set out by the individual institution.
Research Your Financial Options
Before you head back to school, it's important to look into your finances - you need to have a clear sense of approximately how much you'll owe, how much you can afford, and how much you can borrow, if needed.
While student loans should be kept as low as possible to avoid substantial debt, the reality is that most people will need to rely on some form of financial aid in order to pay for their education. Pursuing federal financial aid is generally the best option for most people, though other forms of aid - such as private loans and employer tuition assistance - may be available. Determining your eligibility for federal aid is a fairly simple process that can be completed by filling out and submitting the FAFSA.
However, adults going back to school can sometimes run into challenges with lifetime lending limits associated with federal financial aid. If you have gone back to school multiple times, or have pursued or completed multiple degrees at the same level (for example, two bachelor's degrees), you may be at or near your lending limit. If this does apply to you, reach out to your school's financial aid office - they will be able to help you come up with a workable solution.
Create a Plan
One of the biggest challenges adult learners face is that they have many responsibilities and commitments that can often make it difficult to focus on coursework. Full-time jobs and family lives take up a lot of time, so it's important to be realistic about how you're going to fit school into your schedule.
One of the keys to having a positive experience in going back to college as an adult is creating an individualized plan for success early on in the process. This might be a conversation you start with your admissions representative and then continue as you meet your academic advisor; it's also smart to spend some time thinking about strategies for success on your own.
This plan doesn't have to be particularly detailed or complex, but it should involve things like:
Your ideal (or anticipated) timeline for program completion
The number of courses you will take each semester
When you will make the time to do coursework (for example, in the morning before work, or at night once you've put your kids to bed)
The goal is to find a way to make your education work within your existing lifestyle, and not to overload yourself. Don't take on more than you can be successful with - it's better to start small and build from there if you find that you have additional capacity than to find yourself overwhelmed by too much on your plate.
These steps should help you create a strong foundation that will allow you to move forward with your decision to go back to school as an adult with confidence, and start out your new educational journey on the right foot.
Download Online Experience Guide
Learn what you can expect from your experience at Champlain College Online.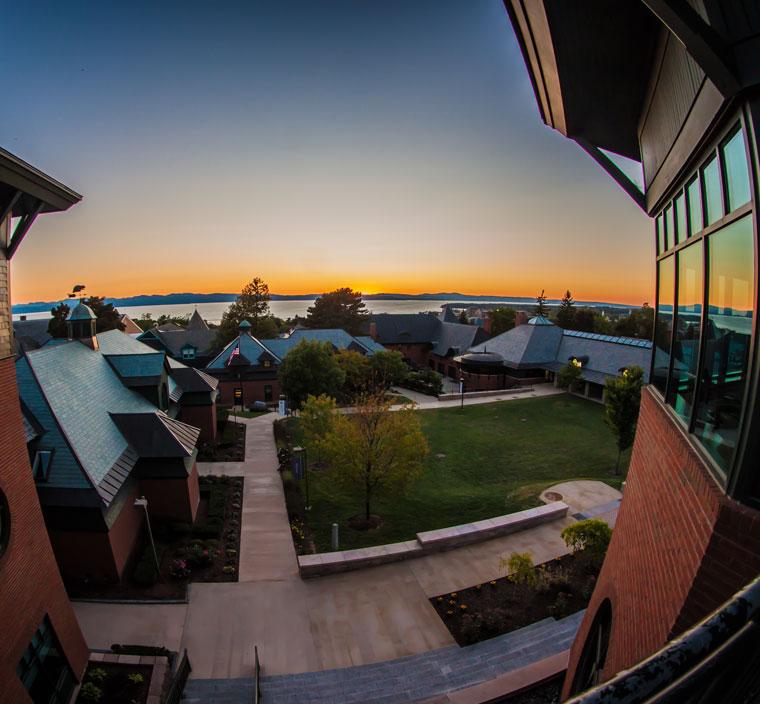 Online Experience Guide Download
Learn more about what you can expect from your online experience at Champlain.