We've all been there: you get to your desk in the morning, ready to tackle your to-do list...and then before you know it, the end of the day has arrived, and your list is longer than it was when you started. Today's working professionals face more competing demands than ever before, between last-minute requests from coworkers, new projects being assigned by managers, client crises, a never-ending stream of emails requiring responses, and the actual day-to-day responsibilities that are part of your job description. That's why so many of today's workers are struggling to find ways of improving productivity.
If you find yourself seeking new strategies for being more efficient, getting more done, and managing your task list more effectively, read on to find out how to increase productivity at work.
The 5 Best Ways to Be Productive at Work
1. Eliminate Distractions
The biggest enemy of productivity is distraction - and most modern offices are filled with it! That doesn't mean you should just give up and succumb to it, though. While you can't always control the environment around you, you do have the ability to make some changes to your own working space and process that can help minimize and even eliminate distractions.
Invest In a Good Pair of Headphones
With the rise of open office spaces, office noise is becoming a big obstacle to productivity. Noise-cancelling headphones are a good solution to this problem - even if your cubicle neighbors have a tendency to talk loudly, these can help you work through the noise without becoming distracted.
Limit Social Media Use
Studies show that the average American spends nearly an hour on Facebook per day - and we know from experience that at least some of that time occurs during the workday. While taking a break or two during the day to check your social media feeds isn't necessarily a problem, being constantly logged in (with notifications popping up frequently) can be a distraction. Limit your workday social media use to a few 5-minute breaks as rewards for completing difficult or intensive tasks.
Stop Checking Your Email
Or at least, don't check it as much! One of the best ways to be productive at work is to turn off automatic notifications for new, incoming emails. Your email will always be there, and unless you're in a highly time-sensitive role, scheduling time to check email once an hour (or more or less, depending on the needs of your role) will be fine. You want to avoid the allure of clicking away from whatever you're working on every time you see an email arrive in your inbox!
2. Don't Multitask
We live in a world where the ability to multitask is highly valued: we're expected to be able to do many things at once, and execute them all well. Unfortunately, this just isn't possible - and isn't even something to strive for! Studies show that "multitasking is less productive than doing a single thing at a time." This means that when you try to work on a big project, keep an eye on your email, respond to your text messages, research something on the internet, and chat with a coworker all at once, every single one of those actions will suffer, since you're not giving it your full attention and effort.
Try to do one thing at a time. Setting aside routine times for specific tasks can help with this - you can give a project your full attention if you know that in an hour you have fifteen minutes set aside specifically to take care of your inbox, and that you've told your coworker you can talk later, when you take a break. By simply giving each task its own block of time, you won't feel like you're missing out on it or only giving it half of your attention - you can fully dedicate yourself to whatever you're doing, knowing you'll have time to get to everything your list (and will be doing it better than ever).
3. Get Organized 
Organization is key to improving productivity at work. Unfortunately, getting organized is often easier said than done, despite our best efforts. How many times have you gone out to buy a new planner, invested in organizational tools for your desk, or decided to follow a new productivity routine and then realized weeks later you've abandoned your goal?
Getting organized is a highly personal task - everyone is different, so what works for one person won't necessarily work for you. However, there are a few building blocks to work from.
Keep Yourself On Track
Find a method of tracking tasks, deadlines, and meetings. The goal here is to find a system that works for you and your habits, needs, and lifestyle - there's no reason to go out and buy a structured planner if you know you'll never use it. Think about what you already do and use, and go from there. If you're always on your phone, maybe try to use the calendar and notes functions to keep track of everything on your plate. Do you like to use Post-It notes? You can still use them - just make sure you develop a system for making sure they don't get lost, and stay visible. Other people may like large desk calendars, apps such as Trello or Evernote, or notebooks (whether they're standard weekly planners or more in-depth, customized versions, such as a Bullet Journal).
Stay Organized
Find a system for keeping your space in order. Again, "order" can mean different things to different people. For example, many people have desks or offices that seem messy and disorganized to others, but don't be fooled - they have an internal system for keeping track of everything, and know exactly where to find every piece of paper, every pen, and every business card. Don't try to adhere to strict standards of neatness if those don't come naturally to you! It's simply important to eliminate unnecessary clutter and make sure you can find things easily, so you don't waste valuable time searching through piles instead of actually working.
4. Maintain a Schedule
Even those with unpredictable jobs, whose days are never the same and whose daily tasks could change at any minute, can develop some kind of schedule to help shape their days and, more importantly, their work. While everyone has a basic schedule, arriving and leaving the office at roughly the same time most days, it's important to create structure within your workday as well - for example, by blocking off regular times on your calendar to work on specific projects.
Creating a loose, basic framework to work from each day can be a good way to ensure you're getting things done and using your time as effectively as possible. Start each morning by prioritizing your task list, and choosing a few key projects or items to take on that day. It's also important to think about how you can work smarter, not just harder. Pick the time you're most alert and energetic to tackle your most difficult tasks (for example, working on a big project mid-morning, when you're fully awake and have gotten into the swing of the day) and save less intensive items for your lower-energy periods (for example, after lunch is a great time to sort through your inbox and respond to outstanding emails).
5. Take a Break
This might seem like a counterintuitive way to be more productive, but it's true: taking a 5- or 10-minute break during the workday will leave you more refreshed, recharged, and clear-headed, allowing you to come back to your work with renewed focus. It's important you use this time well, though. Some of the best ways to maximize your breaks include:
Going for a walk. Studies show that walking boosts positivity, reduces tension, increases creativity, and helps you cope with stress more effectively.

Reading an article or having a conversation. Taking a few minutes to do something non-work related, that helps you think differently or makes you laugh, will help you reset your mindset and come back to your tasks feeling re-inspired.

Meditating or stretching. Take a few minutes to do some deep breathing or some office-friendly yoga poses can help you feel calmer, more refreshed, and refocused.

Thinking big. Working towards long-term goals beyond your daily work, such as pursuing a degree, is a great way to keep yourself motivated and engaged. Taking a few minutes to stop and remember what you're working towards, and why, is a good motivator. And if you're getting your education online, you can even take a few minutes during the day to check in on your coursework, participate in a discussion, or email a professor to feel like you're continuing to make progress.
If you've found yourself wondering how to increase productivity at work, know that the solutions are simpler than you might imagine. Start by following our steps above, and you'll find yourself with renewed energy, getting more done - and doing it better - than ever before.
Download Online Experience Guide
Learn what you can expect from your experience at Champlain College Online.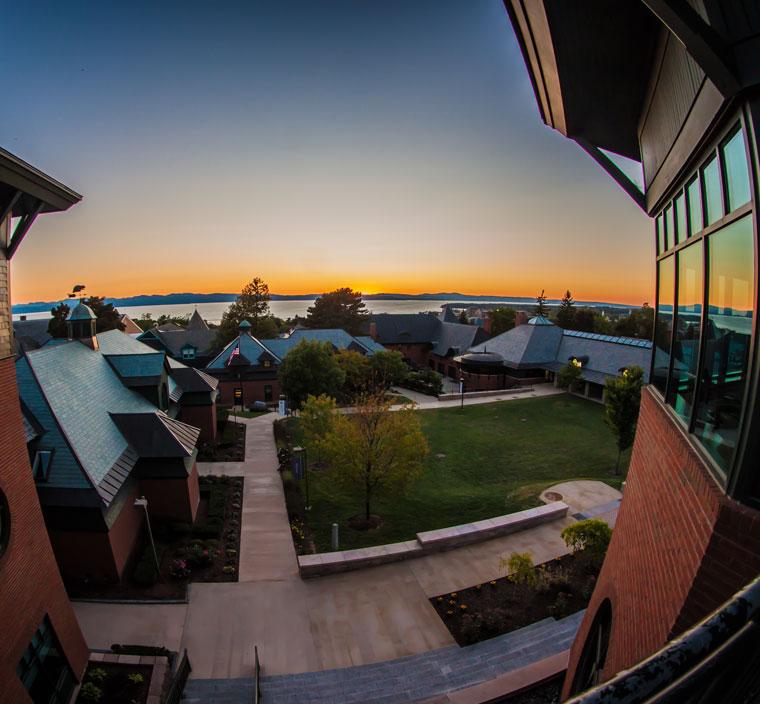 Online Experience Guide Download
Learn more about what you can expect from your online experience at Champlain.