If you've been considering going back to school to start or finish your degree, it might feel like it's never the right time: when you're busy with family commitments and work responsibilities, finding the time to fit school can seem like an impossible challenge. It's easier to keep putting it off until you have less on your plate - but that time never seems to arrive.
That's why there's no better time than right now to take the plunge! Need convincing? Here are the top reasons to go back to school.
Why You Should Go Back to School
1. It Will Advance Your Career
In today's competitive world, having a degree is no longer optional - it's a necessity for building a long, successful career. If you're looking to get a promotion, move into a more advanced role, or change career fields, getting a degree is the way to increase your career potential. You'll increase your qualifications, give yourself a competitive edge when it comes to hiring processes, and gain experience that will help you perform to the best of your abilities.
2. You Have Access to Flexible Options
In recent years, online education has emerged as a great way for busy adults to be able to pursue a degree on their own time, offering significantly more flexibility than on-campus classes without sacrificing quality, peer-to-peer interaction, and engagement with faculty. Attending classes on campus, which are often scheduled at inconvenient times and require travel time to get to and from, isn't feasible for many working professionals. Online education allows you to attend class whenever it's convenient for you.
3. You'll Learn Something New
If you're in a rut at work and are looking to expand your skillset into a new area, deepen your knowledge of your current field, or simply broaden your educational horizons, going back to school is the best way to learn something new. Maybe you've never been someone who likes school, and have found the subjects covered to be boring or not applicable to real life. Once you get to college, your options are endless when it comes to learning about subjects that you really care about! Whether you're interested in cybersecurity or business administration or even if you don't know what you want to study, there's a degree program out there just for you.
4. You Can Go at Your Own Pace
Today, because so many degree programs are designed to fit your individual educational goals and schedule constraints, you can take as long as you need to complete your degree - meaning there's no reason to wait to enroll! You can start off slow with just one class a semester, or dive right in (and take advantage of options like transfer credits from other educational experiences to help you move through your program more quickly) and finish as quickly as you can, depending on your schedule and other commitments. Even if your fall looks busy, an online undergraduate course is estimated to only take about 10-15 hours per week, and can be completed any time - whether that's at night, on the weekends, or during your lunch break at work.
5. You Can Increase Your Earning Potential
Studies show that the higher your education level is, the higher your earning potential will be. Over an adult's working life, high school graduates can expect to earn, on average, approximately $1.2 million, and those with a master's will earn more than double that amount. The sooner you begin your journey towards obtaining your degree, whether it's an associate, bachelor's, or master's, the quicker you'll be able to reap the financial benefits.
6. It's More Affordable Than Ever
Education is often synonymous with expensive in people's minds, but that's not necessarily true. While pursuing a degree is a financial commitment, today's students have access to more affordable options than ever, in addition to many systems, processes, and programs designed to help students complete their education for less money (such as financial aid or employer tuition assistance).
7. You Will Set a Positive Challenge For Yourself
Sometimes, it's good to introduce new, positive challenges into our lives to keep us on our toes and put our determination and perseverance to the test. If you've been looking for a new challenge or simply want a chance to experience some personal growth in a new area, going back to school is a great way to do so.
8. Applying is Easy
One of the biggest excuses for not getting started on your degree is that the application process is too intensive, and you don't have enough time to get your materials together. That couldn't be further from the truth! Most colleges have streamlined their admissions processes to make it simple for prospective students to apply. Admissions requirements vary from institution to institution, but you can easily find schools that will work with you on GPA requirements, that do not require standardized tests, and that will take your entire background - not just your grades - into consideration.
9. You Can Apply Any Time
You might think that it's too late to apply, and that you'll need to wait for the next admissions cycle for your chance to enroll. However, while traditional schools have limited application periods (typically one or two a year) more and more colleges are moving towards alternatives, such as rolling admissions or multiple admissions cycles per year, to make it more convenient for students. This means that no matter what time of year it is, you don't have to wait long for the next admissions cycle.
10. It's Not Too Late
Adults often think it's too late for them to make a change - they're too old, too advanced in their careers, or have to many other things going on to truly consider going back to school. But higher education is for everyone, no matter what you do or how old you are, and a degree is important for both personal and professional growth. It's never too late to explore your options and take the next step towards achieving your goals.
Download Online Experience Guide
Learn what you can expect from your experience at Champlain College Online.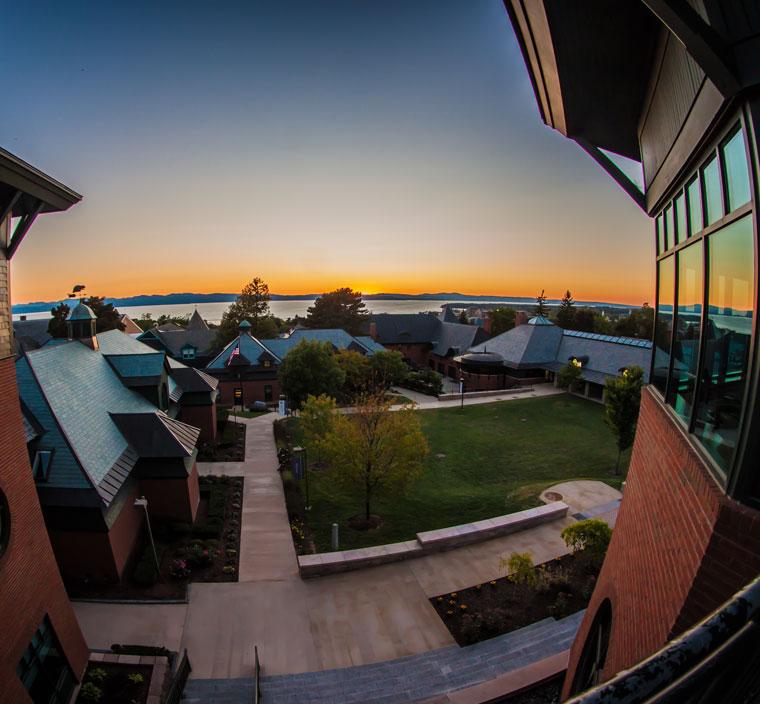 Online Experience Guide Download
Learn more about what you can expect from your online experience at Champlain.