As businesses and organizations move to remote work amid the COVID-19 pandemic, many managers - used to working with their teams face-to-face - must learn to adapt their existing leadership styles to new circumstances in order to effectively manage their teams. Managing a distributed workforce will require you to think creatively and intentionally; things that may have come easily to you before (such as communication and connection) might now feel more challenging.
I've highlighted some of the top strategies I've found to be successful in leading a remote team to help others as they transition to working from home.
Tips for Managing a Remote Team
Establish Communication
Communicating can be more difficult when you aren't able to interact with your team in-person - you have to be much more intentional when you're working with a distributed team. Although you can't stop by someone's desk or catch up with them before a meeting, making use of tools such as Google chat and Zoom - in addition to phone calls and email - can help you communicate with your team members with ease. The most important thing is to create clear pathways to allow for communication to happen often and easily.
Maintain Consistency
During uncertain times, consistency is key to helping your employees maintain their workflow and get used to their changing circumstances. Keep team meetings on the calendar and hold regular check-ins with individual team members to establish regular communication and to help a sense of normalcy in this new environment.
Create Clarity
While your team likely has group norms and expectations that they instinctively follow when they're in their normal work environment, things will naturally shift as they adjust to remote work. It's important that you, as a manager, make sure to create as much clarity as possible for your team, so they fully understand what's expected of them. It's important for you to establish guidelines to help your team create a new rhythm for communication and workflow; you'll also want to lead by example in creating a healthy sense of work/life balance within your team.
Build Connections
While leading a remote team, taking advantage of opportunities for relationship-building is more important than ever. Although the thought of building and maintaining relationships virtually may seem daunting, it's entirely possible - just ask anyone who's met a partner on Match.com!
In these uncertain times, people are seeking connection more than they usually might. Find ways to intentionally build time for connection into the workweek for your team - for example, a virtual coffee or lunch break, or ten minutes of personal check-in time prior to the start of team meetings. Even if it means taking longer to get through a meeting or another slot filled up on the calendar, it's essential that you find the time to incorporate these things.
Demonstrate Compassion and Caring
As your team adjusts to working in a new setting, remember that it will take time. These are stressful times for many of us, and your employees are likely dealing with outside issues and pressures in addition to the challenges of adapting to a new way of working, so allow time for that learning process to happen. And most importantly, make sure you are consistently present and regularly reaching out to your team.  
If, like me, you work in a higher education institution, it's even more important to create that kind of supportive learning environment for your team. Remember to be kind and caring as a leader, and to encourage that kind of thinking among your team members. Anticipate mistakes, and let your team know you're there to support them.
Be Creative
As we build this new remote work environment, we all will need to think swiftly and creatively to find ways to work together effectively. Be flexible and creative when approaching the challenges posed by a remote workforce, and be open to new ways of doing things.
Building a New Kind of Workforce
While leading a remote team holds some challenges, particularly for those used to more traditional ways of managing, it can also present new opportunities. In many ways, remote work allows us to be more thoughtful and intentional about how we approach our work and our relationships with others; this often allows us to create more connected communities than those we see in an office environment. Not only can remote work foster inter- and intra-team connections, it can also build highly desirable multi-generational connections; for the first time, we're seeing vast numbers of workers of all ages working online, together.
Embrace these new kinds of engagement and work to incorporate them into your leadership approach. Even if this period of fully remote work is only temporary, it offers many lessons you can carry forward as a manager - whether your team is in the same physical space as you or not. 
Download Online Experience Guide
Learn more about the online learning experience at Champlain College.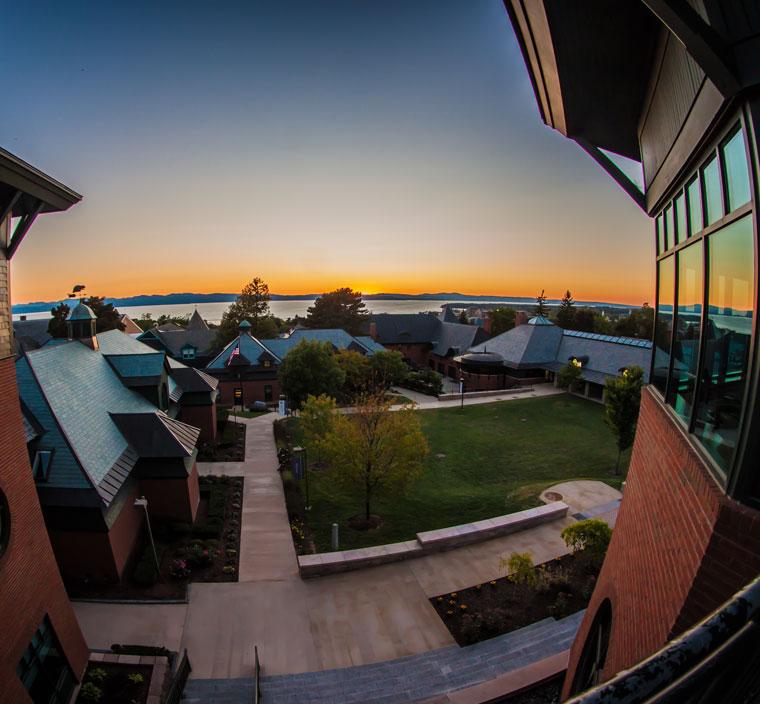 Online Experience Guide Download
Learn more about what you can expect from your online experience at Champlain.