Champlain College Online Forms truED Partnership with Hula, Making Tech-Focused Degrees & Certificates More Affordable for the Hula Community
Champlain College Online (CCO) is excited to announce a new truED Partnership with Hula, Burlington's technology-driven co-working campus located on the shores of Lake Champlain in Vermont. Through this partnership, eligible Hula tenants and their family members, as well as Hula staff, qualify for reduced tuition for more than 60 degree and certificate programs offered 100% online by the regionally accredited college.
CCO's career-focused undergraduate and graduate programs in healthcare administration, business, IT, and cybersecurity are well-matched with the tech-focused members Hula hosts in its Burlington-based workspace. With Hula's focus on emerging technology companies, their goal to accelerate small and high-tech businesses is a natural fit with CCO's goal to continue the growth of knowledge and careers of employees.
"Champlain delivers a competitive level of education at an accelerated pace," said Russ Scully, founder of Hula. "We work with an array of companies at the forefront of technology and their industries, workforce development, and talent retention are vital for supporting innovation in the state of Vermont."
As part of Champlain's truED network, Hula joins 80+ corporations, nonprofits, and public sector organizations across the country that choose Champlain to further educate their workforce. Qualifying Hula community members, or those with annual membership contracts with Hula, will receive preferred tuition for any of the college's 100% online undergraduate and graduate certificate programs, associate degrees, bachelor's degrees, and master's degrees. CCO's degree and certificate programs are led by industry experts that maximize personal attention, emphasize sought-after soft skills like critical thinking and problem-solving and foster collaboration and communication with classmates from around the world.
"Champlain College Online has a long history of offering innovative, career-focused degree and certificate programs to adult learners. In fact, our legacy is rooted in innovation, making this new partnership with Hula a natural fit," said Dr. David F. Finney, Interim President of Champlain College. "Providing Hula's tenants and employees access to highly relevant programs, especially our technology courses, all at a reduced rate is an incredible opportunity for both of our communities."
Together, CCO and Hula form a unique partnership in the heart of Burlington giving Vermont professionals, companies and their qualifying relatives access to a highly relevant and accredited education at a reduced tuition rate.
About Hula
Hula is a technology-driven coworking campus, business accelerator, and venture capital fund focused on elevating Vermont-based startups and entrepreneurs. Hula supports innovative ideas and disruptive technologies through seed and early-stage funding, mentorship, and connectivity. The Hula campus spans 14-acres along the shores of Lake Champlain, offering the most idyllic setting to recruit the top talent, maximize productivity, and foster a healthy and active company culture with plenty of space to work and play.
Request Information
Connect with our admissions team to learn more about Champlain College Online.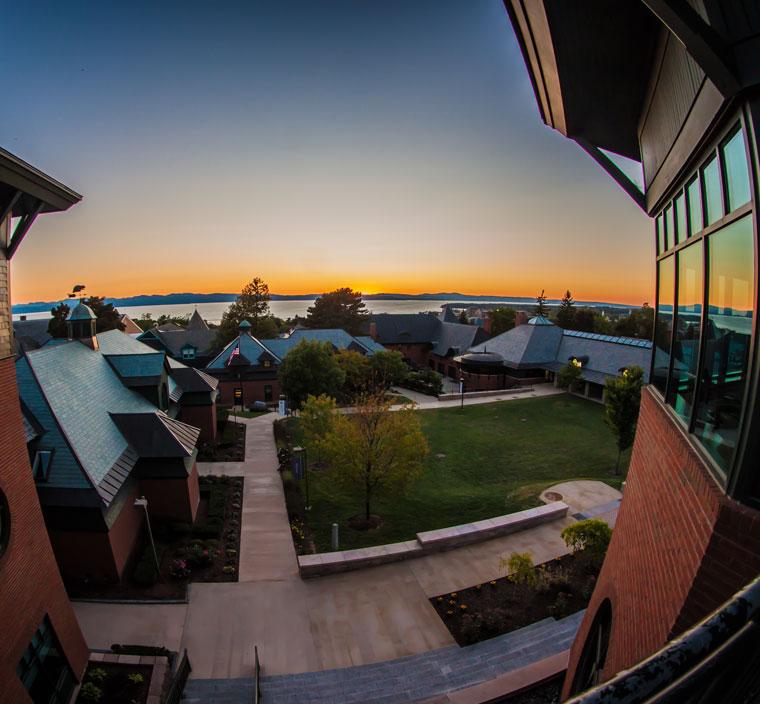 Request Information
Your growth is our purpose. Let's work together to uncover the strengths and experiences you already possess that will help you succeed in your academic and professional pursuits so you'll be ready for your next opportunity.