What Can You Do with a Master's in Information Technology?
Degrees in technology are becoming some of the most popular choices for students entering college or adults returning to school, and it is understandable as to why. In today's competitive business landscape, innovation is the key to growth and success. This means companies are seeking the most cutting-edge digital solutions to optimize efficiency, improve their day-to-day operations, and help align their technological systems with their overall strategic goals.
With demand for sophisticated technological solutions comes an increased need for highly qualified information technology (IT) professionals. According to the U.S. Bureau of Labor Statistics, employment opportunities in computer and information technology are expected to grow 13% through 2030, which is a much faster pace than in other occupations. This growth will include approximately 667,600 new job openings in information technology and related tech fields. The median annual wage for computer and information technology occupations was $91,250 in May 2020, which was higher than the median annual wage for all occupations of $41,950.
Before diving into the job opportunities, it is important to understand what exactly information technology means and what IT professionals do in today's workplace.
What is Information Technology and Why is IT a Good Career?
Information technology is a versatile field that deals with the application of technology to solve business problems or innovate new growth opportunities. While the career paths within IT can vary greatly, professionals in this field are generally responsible for making sure that the technology in place at an organization is optimized to its fullest potential.
For years, the information technology profession has colloquially been narrowed to the team you reach out to when you're experiencing complications with your computer or information systems. However, information technology has grown significantly from basic information systems, such as computing hardware and operating systems, to incorporate more sophisticated methodologies and the ever-growing subsets of the latest technology.
As technology continues to advance and evolve, so too will the daily responsibilities, qualifications, and requirements of those working in information technology. Employers are looking for IT professionals who have deep technical expertise and advanced problem-solving skills. Information technology workers are often tasked with identifying new solutions or troubleshooting existing issues and roadblocks. A master's degree is a lifelong credential that can help students advance in this increasingly complex field by gaining deep technical expertise and interdisciplinary skills.
A master's in information technology can be a pivotal step to career advancement, especially if you have limited professional IT experience, want to shift careers, or even if you've been in the IT field for a while and want to get to the next level.
Is a Master's Degree in Information Technology Worth It?
Information technology may be a solid career choice for individuals with a high technical aptitude who are interested in entering a fast-growing industry with plenty of job opportunities. However, you might be wondering if a master's degree is the right next step for your academic, personal, and career goals.
If you are contemplating whether or not a master's in information technology is worth it, consider your professional goals. For many, the pursuit of a master's degree is motivated by the desire to advance in their career or to break into a field. Increasing earning potential, gaining leadership and management skills, upgrading industry knowledge, and increasing job prospects are common goals for master's in information technology candidates.
If you have an academic background in information technology or have professional experience working in IT but are looking to advance or broaden your career opportunities, earning a master's degree is an ideal way to gain the knowledge and technical qualifications needed to apply for executive-level positions.
For individuals interested in pivoting careers to enter the information technology sector, even if you have a different academic and professional background, a master's degree in IT is a great way to earn the in-demand skills needed to succeed in the field.
Another aspect to consider when asking if a master's degree in information technology is worth it is earning potential. The average salary for those holding a bachelor's degree is $73,307, while those with a master's degree earn an average salary of $87,798.
Information Technology: Jobs and Salaries
Information technology is an in-demand and versatile field, with a range of opportunities that could appeal to different academic and professional backgrounds, interests, and career goals. IT positions are available in nearly every industry, from healthcare and retail to education and entertainment.
If you have a technical background or are excited about the opportunity to enter this high-demand field, then you have likely considered what you can do with a master's degree in information technology. Below, we've highlighted some of the most common IT jobs, along with their respective salaries, for information technology professionals that have received their master's degrees.
The daily responsibilities and activities in these positions will vary based on your role and the type of organization you are working at. It is important to note that there are a number of variables that will affect the exact job title, responsibilities, and salary of these positions. The circumstances and structural organization of every company will be different, meaning that the responsibilities, qualifications, and salaries of these positions will vary.
Earning a Master's Degree in Information Technology
As the IT job landscape continues to become more advanced and competitive, earning a degree from an accredited institution is one of the best ways to further your information technology expertise and set yourself apart from the competition. Champlain College Online's master's in information technology program prepares students for this ever-changing industry by focusing on the real-world application of coursework and incorporating today's best IT practices and business challenges into the program curriculum.
Students can expect to advance their technical expertise and emerge from the program with the leadership and management skills necessary to qualify for and succeed in senior-level information technology positions.
100 percent online, the master's in information technology program is flexible to fit the busy schedules of working professionals and adults returning to school - which makes it an ideal option for career changers and career advancers. Ready to take the next step in your career?
Request Information
Connect with our admissions team to learn more about Champlain College Online.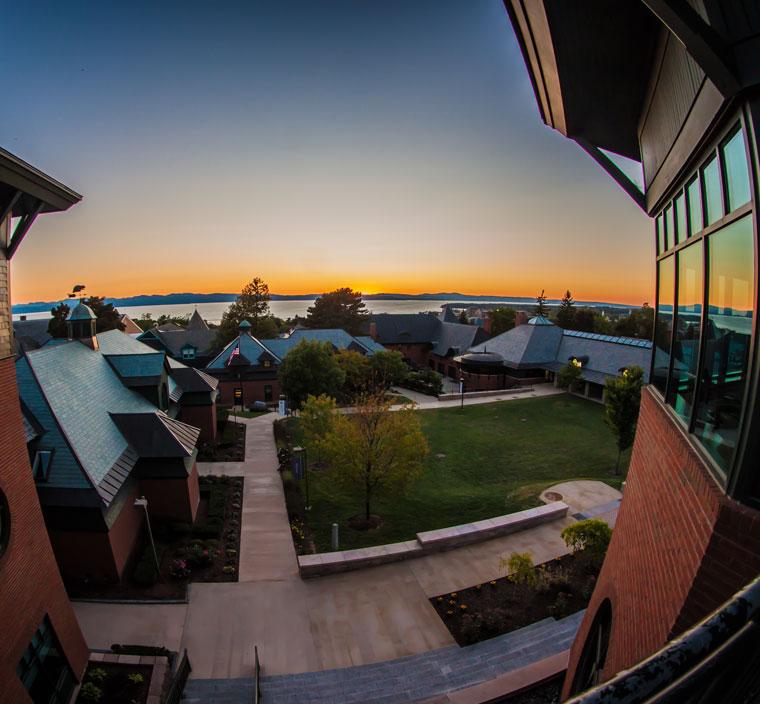 Request Information
Your growth is our purpose. Let's work together to uncover the strengths and experiences you already possess that will help you succeed in your academic and professional pursuits so you'll be ready for your next opportunity.