Explore Information Technology
Take your technical expertise to the next level with a master's in information technology graduate program designed for professionals with technical backgrounds in various fields of study including computer and information systems, software development, web design and development, and more. This unique master's in information technology degree was developed in response to industry demand to provide a path for professionals - like computer network architects, software developers, web developers, and more - to master their crafts to demonstrate they are technically focused and disciplined to be compatible with today's long-term technological workforce needs.
Differentiate Your Online Master's in Information Technology
Set yourself apart from the competition and round out your IT master's degree with a certificate in a specialized area of focus. Choose from:
Build Your Career Future
Champlain's online master's degree in information technology combines the design, development, implementation, and management of systems organizations use in their operations to store, protect, and make use of information. In this advanced graduate degree program, you will learn to develop classifications of systems and information, design a database, develop reports according to stakeholder requirements, determine the feasibility and appropriate models for software development projects, and develop practical programming/scripting skills.
You'll emerge from the IT master's degree program with a strategic, integrated view of information technology that will provide a robust framework for today's technical professionals to think more critically and approach complex organization challenges more innovatively. You'll also gain essential soft skills, such as communication, critical thinking, and leadership, that will be key assets for future career advancement as technology evolves.
Take the next step
Apply (It's FREE & FAST!)
Academic Excellence and Recognition

Regionally accredited by the New England Commission of Higher Education.

Ranked among the Best MBA Programs in Vermont by University Headquarters
Designated as a Military Friendly School for our commitment to the military community

Named the Best Online Bachelor's Programs by U.S. News & World Report
As technology evolves and changes, the industry need for highly skilled and qualified technical professionals is fast-growing across all sectors. With a valuable combination of technical acumen, subject matter expertise, and critical soft skills, graduates of Champlain's master's in information technology program will be prepared to pursue advanced roles in the information technology field.
Master's degrees are in high demand in the vast and varied world of information technology, and employment in master's-level occupations is projected to grow by 13% from 2020 to 2030 - much faster than the average for all occupations. Additionally, the median annual salary for computer and information technology occupations is $91,250.
* *Sources: Bureau of Labor Statistics (BLS), 2020
Master's in Information Technology Careers
Computer Network Architect
Computer Programmer
Computer Support Specialist
Computer Systems Analyst
Computer and Information Research Scientist
Data Scientist
Database Administrator
IT Manager
Network and Computer Systems Administrator
Software Developer
Web Developer and Digital Designer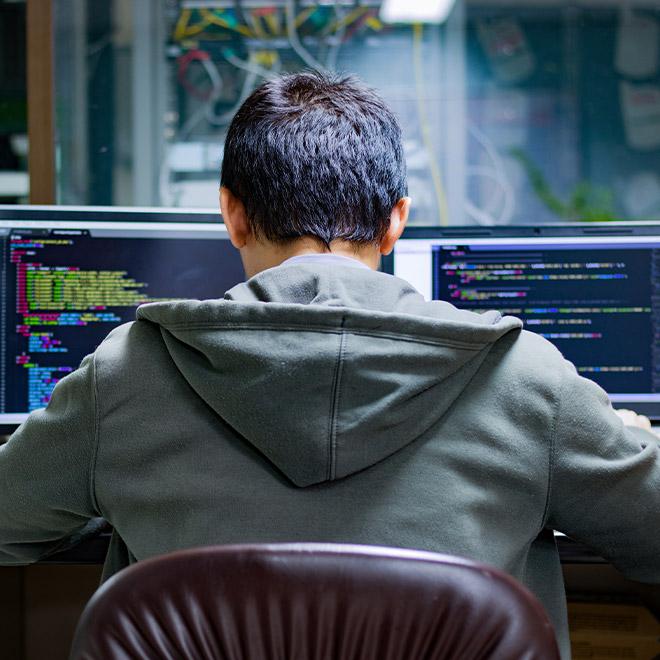 Program Details
Learn more about Champlain's 100% online master's in information technology, designed for working professionals. 
MS Information Technology Courses
Required Courses (21 credits)*
Electives (3 credits)
Graduate Certificate (9-12 credits)
* For admission to this program, students must demonstrate previous coursework and/or experience in information technology (IT) and Digital Forensics. Students who do not display sufficient IT knowledge and skills will need to complete CMIT-500 and those without the necessary level of digital forensics experience or skills will be required to complete DFS-500 before starting the program.
Required Courses
Students will be using FTK Imager, Magnet Encrypted Disk Detector, OS Forensics Volatility Workbench, Kali Linux, Reg Ripper, Network Miner, and Wireshark to develop a foundation framework for the practice of Digital investigations, including technical and managerial issues.
Understanding risk and identifying the threats organizations face are essential skills for today's information security professionals. In this course that introduces students to the graduate degree program, students learn to compute impact scores for vulnerabilities, classify data, and use Champlain College Online's virtual environment to explore how to use IOCs (Indicators of Compromise).
In this course students learn to differentiate relational and non-relational databases, and to design a database to an organization's requirements. Preparing raw data for import into a database, using queries to manipulate data, and developing reports to meet stakeholder needs, and database integrity and security are also covered.
Students will gain an understanding and respect for emerging technology by exploring current trends in security and examining topics such as artificial intelligence, machine learning, blockchain and behavior analytics. Students will analyze the science behind these technologies as well as the ethical and privacy concerns and implications that may hinder their widespread adoption.
This course is designed to introduce a systematic process for planning, organizing and controlling projects. The course will present a practical methodology for completing projects more quickly with fewer problems. Student work will consist of readings, research, class special-topic presentations, group activities, a project management journal, and participation in a real world IT business project. Students will be encouraged to apply project-management techniques to solve existing real-world technology-related business problems.
In SDEV-520, Software Engineering, students learn about the field of software engineering, including project management methodologies applied to the field of Software Development, economic factors that affect development decisions and product life cycle, requirement gathering and assessment, and modelling languages. Disruptive technologies and methodologies and their impact on this field are also covered in this course.
In this course students demonstrate mastery of the information technology concepts and skills learned and acquired through the Master of Science in Information Technology degree program via successful completion of a Capstone project. Students are required to complete a reflection assignment to produce additional insight.
Prerequisites
Successful completion of 30 credits in the degree Information Technology MS program.
Choose One of the Following (Data Science requires CMIT 510, therefore there is no elective choice for that program)
Students learn to create and use scripts to access, acquire, prepare, and transform data, including structured and semi-structured data, and to define and detect patterns in unstructured data to demonstrate how real world problems can be answered with data.
Scripting languages like Python can help security professionals extend available tools but also create new tools to address specific needs. Extensive labs in this course have students attacking MD5 hashes, web scraping, parsing security logs and breaking a cipher.
Students will develop the ability to write basic python scripts (WIngIDE) to help in digital investigations. Students will also interpret scripts written in other languages, like EnCase Enscript or Perl or Microsoft Powershell or UNIX Shell Script.
Business Management Graduate Certificate
Self-leadership is defined by a developed sense of who you are, what you can do, and where you are going, coupled with the ability to affect your behavior and emotions and to communicate effectively through the process. Students will develop a sense of self-awareness to include the values and habits of mind that drive one's practie as an innovative and creative leader, in a global and diverse workplace.
Prerequisites
Complete MGMT-525 or have equivalent knowledge or coursework.
The world is increasingly characterized by diversity and an integrated economy. Balancing the business opportunities and risks associated with dynamic and uncertain global changes is critical to effective leadership in this global economy. Leaders must learn how to integrate their understanding of culture, ethics, economic and policial issues into their decision making and strategy development.
During a firm's planning, operations, and control cycles, many choices and decisions must be made. We introduce you to financial information within an orgranization that supports decision making and performance measurement in addition to how to use this information to make a business case to various stakeholders. Students will also consider how weigh both qualitative and quantitative factors when making decisions.
Prerequisites
Complete MBA-524 or HCMT-527
Decision-making in any organization cannot be separated from financial considerations, and those involved with strategic planning and operations need to understand the impact their work has on the organization's financial performance. Managers must understand the organization's financial models in order to make a meaningful contribution to the overall success of the organization. Students will focus on using financial information rather than creating it and will use case studies and simulations to experience low-risk financial decision-making.
Prerequisites
Complete MBA-516 or take concurrently.
Data Science Graduate Certificate
Students learn to create and use scripts to access, acquire, prepare, and transform data, including structured and semi-structured data, and to define and detect patterns in unstructured data to demonstrate how real world problems can be answered with data.
In this course students learn about deep learning, machine learning, and artificial intelligence, and compare supervised and unsupervised learning. Machine learning workflows and the challenges associated with machine learning, such as bias and heteroscedasticity, are considered. Students evaluate models, and examine uses for machine learning and artificial intelligence. Natural Language Processing is also addressed.
In this course students learn about different types of data and methods of visualization so they can select appropriate visualization techniques, and prepare and visualize data for specific audience(s). The role of human perception and its impact on the design and communication of graphical representations of information is also examined.
In this course students learn about data types and how to perform pre-processing activities including cleaning, integration, reduction, and transformation. Use of appropriate techniques to analyze and model data, such as classification, decision trees, association rules, and clustering, and the causes and methods of detecting outliers are also covered. Students propose additional applications for data mining based on current trends/research.
Digital Forensics & Incident Response Graduate Certificate
Students will be using FTK Imager, Magnet Encrypted Disk Detector, OS Forensics Volatility Workbench, Kali Linux, Reg Ripper, Network Miner, and Wireshark to develop a foundation framework for the practice of Digital investigations, including technical and managerial issues.
Hands-on labs and assignments using Kali Linux, Metasploitable, Nessus and Armitage build on previously acquired knowledge of threat and vulnerability classification in this course that allows students to use the knowledge of a vulnerability to perform threat analysis. Vulnerability and patch management processes are also addressed.
Students will use tools such as The Sleuth Kit and Volatility to conduct forensic analysis of PC & server operating systems and software running on those systems, while gaining a knowledge set of forensic relevant information about operating systems, including those used in mobile devices. Finally, students will look at the challenges of virtualization, including those that come with the growth of Cloud systems.
In this class, students use tools like nfdump, Snort and Wireshark for network forensic analysis in the context of the role of an incident response team.
Software Engineering & Project Management Graduate Certificate
In SDEV-530, students will use software modelling techniques and formal representation, including Unified Modelling Language (UML), to represent and design software systems.
In this course students study the specificity of managing software development projects, covering all areas identified by the Project Management Institute in the PMBoK? Software Extension. The application of these concepts to alternative forms of project management are also covered in this course.
In this course, students study Agile project management methodologies, in the context of software development, as a way of achieving Software Engineering quality goals. Students will learn what projects lend themselves to an agile approach, and how the agile approach relates to traditional project management, while learning the tools and techniques of Agile.
In this course, students will learn how to plan and implement software testing using quality assurance frameworks.
In addition to developing advanced analytical skills, and a strategic mindset, graduates of the MS in Information Technology online program will demonstrate a mastery of the following industry-specific competencies:
Develop classifications of systems and information to determine priorities based on importance or sensitivity
Relate market, organizational, and operational factors to innovation and the development of new technology
Plan, implement, and conclude a project with appropriate management of requirements and change, applying critical thinking and reasoned decision making to achieve project objectives.
Design a database and develop reports to meet stakeholder requirements, and use queries to manipulate data while acknowledging the need to maintain data integrity and security.
Use objective measures to determine the feasibility of software development projects, summarize objective ways of collecting functional and nonfunctional requirements, decide the most appropriate modeling language for a variety of software projects, and categorize software verification and validation techniques.
Develop practical, in context, programming/scripting skills.
Compare public and private sector, and criminal and civil digital investigations and processes for preparing digital evidence, within a moral, legal, and ethical framework.
In addition to the admission requirements for all graduate program applicants, our online MS in Information Technology program has specific requirements that must be met. 
Admission to this program is open to students from diverse backgrounds, including the several fields of information technology (IT) and career changers looking to combine their skills with IT. Students who demonstrate, through coursework and/or professional experience, sufficient IT knowledge and skills might not be required to complete CMIT-500,  those who similarly demonstrate sufficient digital forensics knowledge and skills might not be required to complete DFS-500.
Champlain College Online's IT faculty, led by Program Director Kathleen Hyde, are expert practitioners in the field. Their industry expertise ensures that our curriculum is aligned with the needs of employers, and reflects the skills today's IT professionals need for success. Classes led by our seasoned experts will give you real-world insight into the field and create a rich community of career-focused learning.
Increasing your career mobility is at the center of everything we do. As an online master's degree student, you get free access to the Fast Start Formula Career Bundle for getting noticed and getting hired, taught by Jen Morris, a leading executive career coach that partners with us to support our students in their job search journeys. 
Tuition & Costs
Graduate Tuition Fall '23 - Summer '24
$450
per credit military service members (family members see truED tuition)
$150
One-time graduation fee
*Based on a 3-credit course; cost will vary if course is a different number of credits
Affordability
Cost shouldn't be a barrier to going back to school. We provide a number of options to make your online education affordable.
Meet the Program Director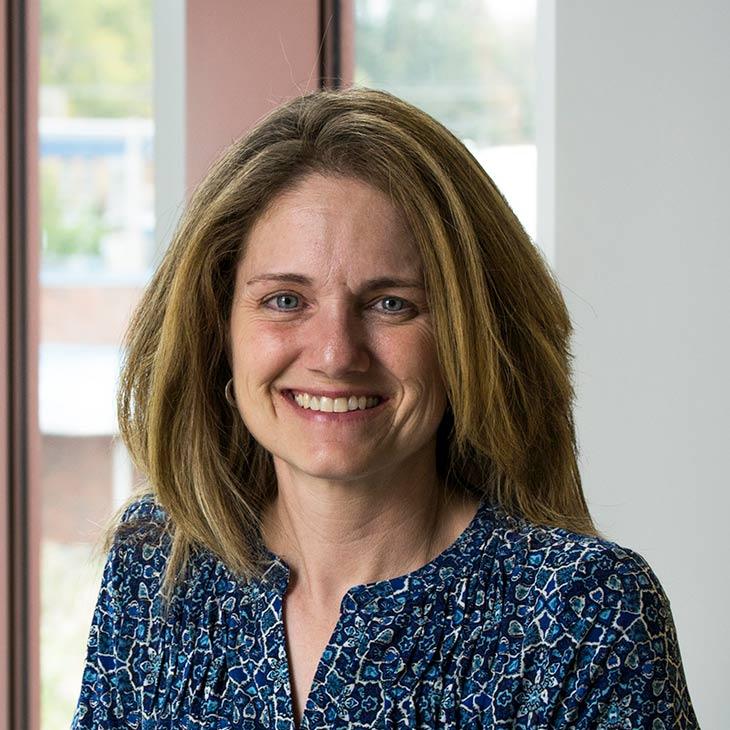 Chair, Cybersecurity Programs
Computer Forensics & Digital Investigations (B.S., Certificate)
Computer Information Systems (B.S.)
Information Security (M.S., Certificate)
Management Information Systems (B.S.)
Web Design & Development (A.S., B.S., Certificates)
About
Kathleen Hyde, MCIS, MBA, is the Chair of Cybersecurity Programs for Champlain College Online. She is responsible for the online cybersecurity and computer forensics and digital investigations undergraduate programs, as well as the M.S. in digital forensic science program.
As program director, Ms. Hyde maintains the cybersecurity and digital forensic programs' competitive and relevant edge, promotes the growth of the nation's cybersecurity workforce, and shares her passion for lifelong learning by teaching several online classes.
For more than 20 years, Ms. Hyde has provided consulting services in cybersecurity, data recovery, business continuity, and digital forensics to government, retail, finance, professional, and residential customers. She has also served as an instructor for Champlain's cybersecurity program and a subject-matter expert for course development for the past three years. Her areas of expertise and interest include insider threat detection, emerging threats and defenses, digital privacy and surveillance, and cybersecurity for educators.
Ms. Hyde holds both an MBA and an M.S. in Computer Information Studies from the University of Phoenix.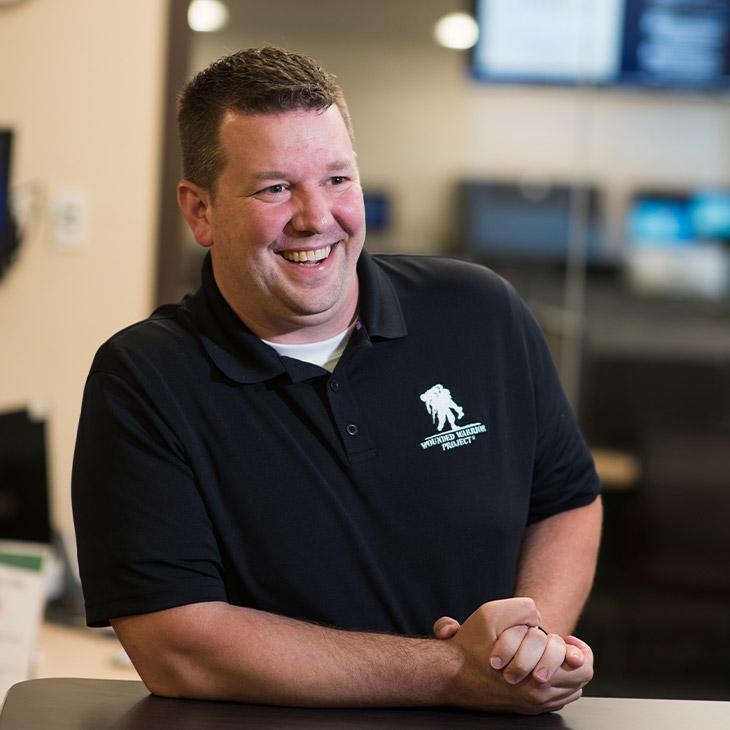 Flexibility
"I chose Champlain because it gave me the flexibility I needed. The accelerated format offers a great way to reach your goals faster, and makes earning your degree or certificate a realistic achievement that truly is obtainable."
Shane Dalziel
Bachelor Degree in Computer & Information Systems
Director of Operations, VIP Media Co.
You may also be interested in
Request More Information
Learn more about what you can expect from our master of science in information technology, including the certificates you can you choose from.