Elizabeth Calabrese graduated with her associate degree in business science in May 2020. She currently works at Comcast as an Executive Customer Experience Supervisor and enrolled in Champlain by way of her company's partnership within Champlain's truED Alliance.
What was your motivation for going back to school? What made you choose Champlain?
To be quite frank, I despised school when I was younger. I started attending a community college and made it through two months of my first semester before deciding college wasn't for me. My step-mom really wanted to give it another try and pushed me to reconsider.
While working at Comcast, I remember we had a lunch-and-learn session in our cafeteria one day. Duncan, the director of Champlain's truED Program, presented Champlain College Online as one of Comcast's educational partners. I learned about the tuition benefits I would receive since I worked as a full-time Comcast employee and Duncan ended up getting me to apply.
I have to say, Duncan went above and beyond in helping me. I kept insisting that college wasn't for me but he followed up with me and reminded me to apply, answered my questions, and actually kept track of my progress during my entire program. He congratulated me when I graduated, which was so kind of him. To have him keep in touch from start to finish was so incredible.
Tell us about your experience with your advisor, instructors, and/or classmates.
My advisor, Emily, was absolutely amazing! Having someone in my corner rooting for me, checking in on me, and keeping tabs on my progress was exactly what I needed to succeed in my program. At one point, as I was approaching graduation, Emily pointed out that I was one course short of graduating on time. I don't think I would have picked up on this if not for Emily reaching out to me and helping me get back on track. She was superb in helping me schedule my courses so I did graduate on time.
In terms of classmates, it was really nice to know I was not alone. Going to school with people all around the world was a huge benefit. I learned a lot from my peers and the range of time zones made it so convenient to log online and talk to anyone literally at any time of day.
Finally, my instructors were all really helpful. I can't pick just one who made a difference in my time at Champlain because they truly all did. They were all good about encouraging me and rooting for me. Having those reminders reassured me that I was going to make it to the finish line. That sort of level-setting attitude was everything to me.
What, in your opinion, makes Champlain unique?
Champlain College Online is a 100% online school but its physical campus for traditional students is right there in Vermont. I had to visit Comcast's Vermont call center one time for work and decided to drive by to see the campus. It was so cool to see my school had a "real" campus. That made me feel like I was part of something bigger.
Additionally, I loved that no one talked at me. I felt like people knew who I was and I was part of the community. We were all one. I don't think you get that feeling from many other schools.
What impact do you envision your degree having on your long-term career path?
My associate degree definitely gives me the ability to advance my career and will likely open doors for me in the future. For now, I feel like my education has really helped me be a stronger employee and leader at work. I have been a Comcast employee for 13 years and worked in my current role as an Executive Customer Experience Supervisor for nearly six years now. In my position I lead a team of 12 employees, which comes with a great deal of responsibility. My degree has taught me how to handle difficult conversations, how to work with people across various generations, and how to lead a team effectively.
What advice would you give to someone considering going back to school at Champlain?
I would say you need to learn to be comfortable with being uncomfortable. Hesitation is natural, but if you put your mind to going back to school, you'll conquer it. As a supervisor, I work 60 hours per week and still made room for school in my schedule. Just remember that people with your responsibilities and challenges are in the same shoes as you.
While it feels nervous to commit to something so big, you can absolutely make it work if you want it badly enough. Learn to manage your time effectively and you can absolutely do it. I like to tell others that if I could redo my degree, I would do it all again in a heartbeat! Who knows – now that I have my associate degree, I may even continue on with my education. Champlain would be my first choice if I do!
About truED
Are you curious about Champlain's truED program? Our online college degrees are designed in partnership with workforce development professionals and talent and recruitment experts, with a laser focus on skills gaps, workforce trends, and market demand. truED offers affordable, career-focused learning that enables employees to flourish and organizations to grow. truED students can earn an accredited college degree from a nonprofit college committed to helping them achieve their career goals quickly. Expect more, pay less with truED and Champlain College Online. Learn more.
Request Information
Connect with our admissions team to learn more about Champlain College Online.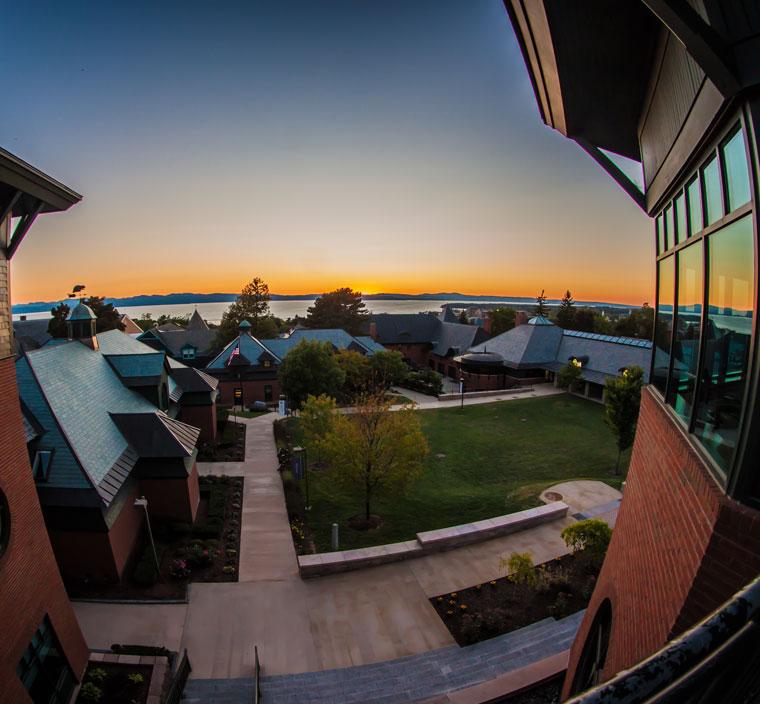 Request Information
Your growth is our purpose. Let's work together to uncover the strengths and experiences you already possess that will help you succeed in your academic and professional pursuits so you'll be ready for your next opportunity.