Explore Business Management
Whether you're changing careers or seeking to advance in your field, an online associate degree in business management can help you reach your goals. Designed for working adults, our business degree program is directly applicable to the business challenges you face every day, and can increase your value to your organization from your first day of classes.
Build Your Career Future
In today's complex business landscape, individuals who can effectively work in day-to-day business operations are in high demand. Our business management associate degree online program arms you with the business acumen necessary to succeed in a variety of career paths in the business world, providing you with both foundational business skills and in-demand soft skills that you can carry throughout your career. Plus, it's a solid stepping stone toward a full bachelor's degree in business management for those who are returning to school after time away, or embarking on their first degree. 
Fast Start Formula Career Offerings
Increasing the career mobility of our students is at the center of everything we do. As an associate degree student, you get free access to the Fast Start Formula Career Course for getting noticed and getting hired, taught by Jen Morris, a leading executive career coach that partners with us to support our students in their job search journeys. This course is online, self-paced and full of tips and tricks to land a job you'll love. Jen also hosts ongoing live webinars to answer specific questions, share additional insights, and do live "hot seat" coaching with CCO students. 
Take the next step
Apply (It's FREE & FAST!)
Academic Excellence and Recognition

Regionally accredited by the New England Commission of Higher Education

Ranked among the Best Online Bachelor's Programs by U.S. News & World Report

Designated as a Military Friendly School for our commitment to the military community

Named the Best Private Online College by Intelligent.com
Move Your Business Career Forward
Business and financial occupations are expected to grow 8% from 2020 to 2030, which is faster than the average growth for all fields⁠, as a result of an increasingly complex global business landscape. The median annual wage for these roles is $72,250.*
Graduates of Champlain's online business management associate degree program will be prepared to succeed in a variety of career paths across many fields and industries, including human resources, business analysis, administrative services, operations, and sales.
*Source: Bureau of Labor Statistics (BLS), 2020; jobs titles: Payscale, 2020
Top Jobs for Associate in Business Management Graduates
Administrative Assistant
Executive Assistant
HR Assistant
Office Manager
Operations Support Specialist
Payroll Administrator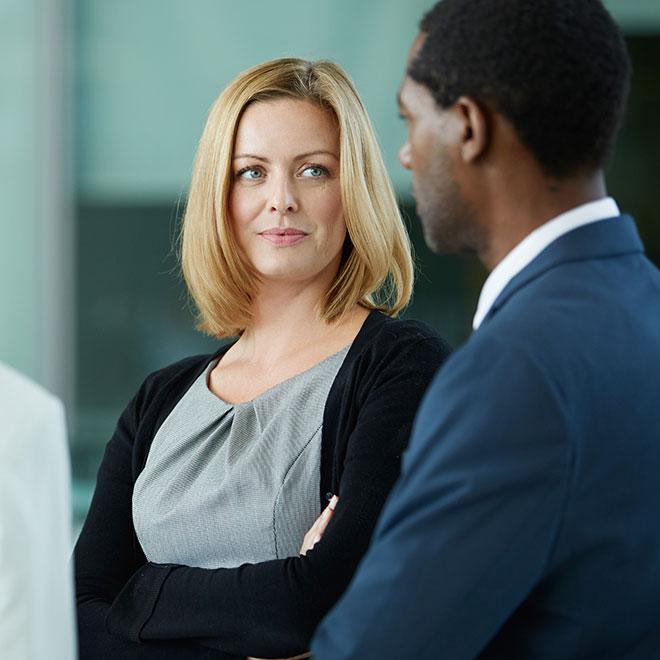 Program Details
Learn more about Champlain's 100% online business management associate degree, designed for working professionals.
Champlain's online business management courses encompass the top skills needed by today's business professionals. Graduates of the program are required to complete the following courses.
Professional Courses (33 credits)
General Education Courses (15 credits)
Human Behavior & Social Institutions (3 Credits)
Science Literacy (4 Credits)
General Electives (5 Credits)
Professional Courses (27 Credits):
The perspectives, beliefs, and preferences of employees in today's workplace are more diverse than perhaps ever before. Today's high-performing managers are those who foster inclusive, positive, and responsive organizational cultures for their people. But with such varied perspectives, what cultural considerations make the most sense for an organization? Management in the 21st Century will teach students how to foster a workplace environment where people can flourish and are motivated to meet objectives and ambitions for the organization.
The American Marketing Association defines Marketing as the activity, set of institutions, and processes for creating, communicating, delivering, and exchanging offerings that have value for customers, clients, partners, and society at large. In this course, students will learn marketing terminology and principles including the marketing mix, marketing segmentation and how external forces impact marketing strategy as well as how marketing fits into the organization.The impact of ethical issues, diversity, globalization and social responsibility on marketing decisions will also be examined.
Accounting is the language of business. This course introduces the student to accounting from the point of view of the user of financial reports and is appropriate for personal as well as business applications. Students explore the impact of transactions on the financial position and profitability of a business, and analyze financial reports of real-world corporations.
Managerial accounting focuses on the needs of management for accounting information to make informed decisions in the internal operations of a company. Topics include decision-making, accounting for planning and control, cost-volume-profit relationships, and budgeting.
Finding and utilizing the right data and information to help with business decision-making - this skill is indispensable to any business professional, no matter the field or discipline of business. Students learn how to find data - the right data - efficiently and accurately, using advanced search methods. Students will harness major resources and utilize databases, government resources, and financial websites. Students will also learn to utilize a system for developing research questions, choosing the right resources to substantiate a research plan and evaluate and organize business data into useful forms.
There are two ways to view behavior in organizations: cultural/interpretive and technical/rational. Students will explore both views, how they explain and predict organizational behavior and the management approaches they inform. Within these contexts, students will explore team and individual behaviors, ethical and diversity issues in the workplace, and how to foster success in the face of significant change. Students will apply course concepts to real-world scenarios and their personal experiences.
Project Management is the formal application of knowledge, skills, tools, and techniques to project-based activities to meet organizational requirements. Project management is accomplished through the use of processes such as Initiating, Planning, Executing, Monitoring and Controlling, and Closing. Project managers can divide projects into these phases to provide better management control with appropriate links to the ongoing operations of the organization. Collectively, these phases, known as the project life cycle, form the foundation for the practice of project management and are guided by the Body of Knowledge from the Project Management Institute (PMI).
Business managers must have an understanding of how organizations are financed in order to make more informed decisions. Managers must also recognize and assess the role of investment to business operations. By exploring the Time Value of Money and applying this principle to borrowing and lending decisions, students will learn how certain financial, capital budgeting and resource allocation decisions are made. Students also will learn how business forecasting assists business managers in developing longer-term strategic plans.
All businesses have information systems, and the vast majority of them are computerized. Students will study the development and use of information systems to achieve organizational goals. From a management perspective, students will learn how information systems enhance business processes, how to use information systems as a competitive advantage and their usefulness in integrating across organizations. Other topics include IS security, ethical issues surrounding information systems and the consequences of its international reach.
Business analytics and data visualization transform data into business insights to allow for better decision-making. This course utilizes a combination of existing datasets and common analytics tools to teach new and emerging managers, without backgrounds in data science, how to evaluate data, consider available options, and present a graphical representation of data outcomes for decision-makers.
Principles of Economics introduces the fundamental concepts of economics - the study of how people manage resources, and how they react to scarcity. This course focuses on both microeconomics (the behavior of consumers and companies) and macroeconomics (large-scale economic factors such as employment and interest rates), so that you'll gain a broad understanding of how a modern market economy functions, how decisions in business settings are informed by economics, and how economics applies to your everyday life.
General Education Courses (15 Credits):
This course draws on fundamental concepts of contemporary communication research to help students identify and develop strategies to become effective and versatile communicators across media and settings. Students will examine and respond to a range of interpersonal situations through the critical evaluation of the three essential components of all communication: its purpose, audience, and context. Students will leave the course with the ability to reflect on and adapt their strategies to successfully and consistently communicate for a range of purposes across diverse settings.
This course introduces students to the foundational concepts needed to communicate effectively in writing for academic study and professional development. Students will learn how to use the four stages of the writing process--prewriting, drafting, revising, and editing--to create written communication that meets its intended purpose for its intended audience. Students will also be introduced to rhetorical modes and their role in the development of written communication. A minimum grade of C is required for this course to meet a general education requirement.
This course builds on students' proficiency in the writing process and rhetorical modes to introduce the use of evidence from sources in written communication. Students will learn to determine the need for evidence from sources, identify types of information resources, develop effective search strategies, and incorporate evidence from sources in written communication legally and ethically. A minimum grade of C is required for this course to meet a general education requirement.
Prerequisites
Complete ENGL-100 with a minimum grade of C or better
Mathematical reasoning, when applied to everyday and professional lives, has two dimensions: logic for deterministic situations and probabilities for non-deterministic situations. This course aims to help students develop these mathematical reasoning skills.
Choose One:
This course builds on students' proficiency in using evidence from sources to support their own prior knowledge to using evidence from sources to develop persuasive communication for a range of purposes, including solving problems and pursuing opportunities in the workplace, in addition to academic study. Students will learn to articulate effective inquiry questions, recognize errors in logic, interpret the validity of persuasive communication created by others, and develop effective persuasive communication of their own using evidence from sources. The role of accurate citation of sources in persuasive communication will also be addressed. A minimum grade of C is required for this course to meet a general education requirement. Prerequisites: ENGL-100 The Writing Process & ENGL-110 Introduction to Using Evidence from Sources in Writing.
Prerequisites
Complete ENGL-100 and ENGL-110 with a minimum grade of C.
In this course, adult students demonstrate skills and knowledge from work and other life experiences in order to request credit for a specified degree requirement. Students use the conceptual framework of argumentation to make a logical case for credit in an e-portfolio. The portfolio will identify the context for the student's learning in the subject matter, trace its progression over time, and explain how the learning is equivalent to the specified CCO degree requirement. The student will then demonstrate proficiency in each course learning outcome and integrate the learning outcomes in a relevant case study. To achieve a course pass, the completed portfolio must demonstrate course outcome proficiency according to the framework and criteria described above. Portfolios meeting these criteria will be submitted to a faculty subject matter expert for evaluation.
Prerequisites
Full admission into a CCO degree program, ENGL 111, ENGL 112, and approved PLA plan. Students within 12 credits of degree completion are not eligible to take CRIT 200.
Choose One Human Behavior & Social Institutions Course (3 Credits):
A survey of the science of psychology, including an overview of human behavior in various areas such as physiopsychology, development, learning social psychology, personality and abnormal behavior.
A study of human groups, culture, the self, and human interaction. The course focuses on contemporary American society and the influence of culture on our actions and beliefs, with the goal of fostering critical thinking about our social environment.
Choose One Science Literacy Course (4 Credits):
Introduces students to the biochemistry and physiology of nutrition and exercise. Emphasis will be placed on human body systems such as musculoskeletal, digestive, respiratory and circulatory, and their relationship to nutrition and fitness. Students will also study the biochemistry of energy conversion as it relates to exercise physiology. Laboratory sessions are designed to reinforce, by a hands-on approach, the principles discussed in lecture. Course includes two laboratory hours per week.
Students learn the biology, genetics, chemistry, and physics involved in the forensic investigation of crimes. A wide range of topics are studied including DNA, entomology, fingerprinting, trace evidence, serology (blood, saliva, and semen), blood spatter, and chemical analysis of drugs, alcohol, and other compounds. Students apply their new knowledge of forensic science through the use of case studies and laboratories. This course includes two laboratory hours per week.
Prerequisites
If you have taken FOR-110 you may not take this lab science course.
Graduates of the business management associate online program will demonstrate the following skills, knowledge, and competencies:
Interpret strengths-based approaches to management and leadership and how they support organizational success.

Comprehend how successful communications and interactions in organizations are achieved through timely, purposeful, clear, respectful, and confident written and verbal means.

Translate financial and economic information and understand its role in informing business decisions.

Use technology to capture, analyze, and share organizational data in order to support the creation of business value.
Champlain College Online's business management faculty, led by Program Director Dr. Albert Orbinati, are expert practitioners in the field. Their industry expertise ensures that our business management curriculum is aligned with the needs of employers, and reflects the skills today's business professionals need for success. Classes led by our seasoned experts will give you real-world insight into the business world, and create a rich community of career-focused learning.
Alumni of the Champlain College Online associate in business management program work in corporations, small businesses, government organizations, and non-profits nationwide, including:
Comcast Communications
Defense Travel Management Office
Forrester Research
Fresh Tracks Capital
IBM Corporation
Keurig Dr. Pepper
Liberty Mutual 
UVM Health Network Home Health & Hospice
Titles our alumni hold include:
Assistant Manager, Receivables
Bookkeeper
Client Success Specialist
HR Business Partner
Officer Manager
Practice Supervisor
Production Coordinator
Resource Specialist
Tuition & Costs
Continuing your education is an investment in your future. Learn more about our affordable tuition rates.
Affordability
Cost shouldn't be a barrier to going back to school. We provide a number of options to make your online education affordable.
Upcoming Information Sessions
ET
The Online Learning Experience Information Session
Are you curious about online education? Have you taken online classes before, but want to see what online learning is like at Champlain College? Join us for an informational webinar with an admissions representative, who will show you what that experience is like! You'll get a tour of the online classroom, learn about who we are, who are students are, and discover resources and support. The webinar will conclude with a question and answer session.
Register Now
Meet the Program Director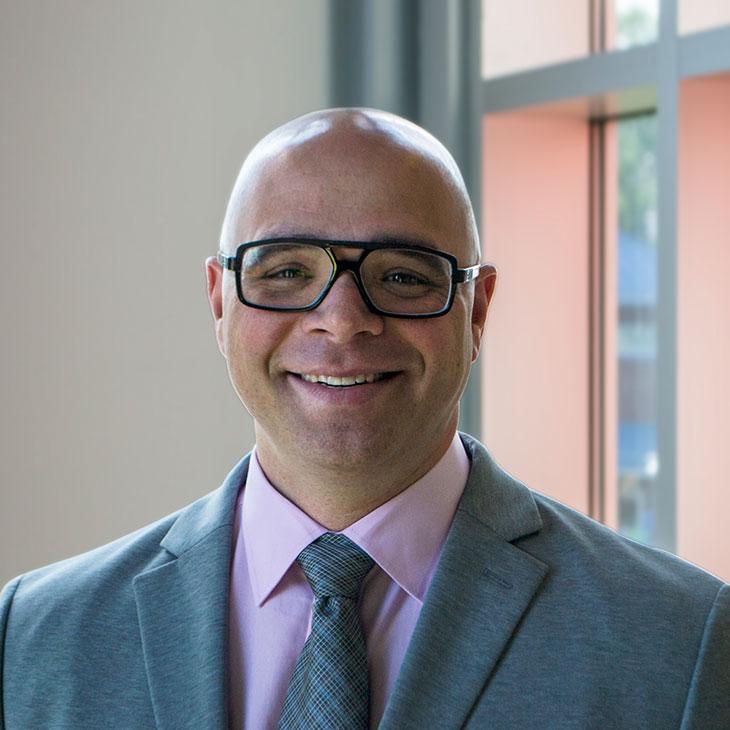 Albert Orbinati
PhD
Program Director
Business (A.S., B.S., Certificates)
Economic Crime Investigation (B.S.)
About
Albert Orbinati, PhD, is Assistant Professor and Program Director for the undergraduate business administration programs at Champlain College Online.
He has worked in various roles within the higher education and military arenas for over 15 years. Prior to Champlain, Dr. Orbinati's roles have included Assistant Vice President of Online Learning and Continuing Education at Medaille College in Buffalo, NY, Dean of the School of Professional and Continuing Education at The Sage Colleges in Albany, NY, and Director of Online and Non-Traditional Programs at Utica College in Utica, NY. He has also been an adjunct professor for the past eight years in Utica College's cybersecurity program.
In addition to his career in higher education, Dr. Orbinati is a member of the U.S. military, and currently holds the rank of Major in the Vermont Air National Guard and is the lead for marketing efforts in the State of Vermont.
Dr. Orbinati holds a B.A. in Urban Planning from Binghamton University, an M.A. in Adult Education from Central Michigan University, an M.B.A from Champlain College, and a Ph.D. in Adult Education from Capella University.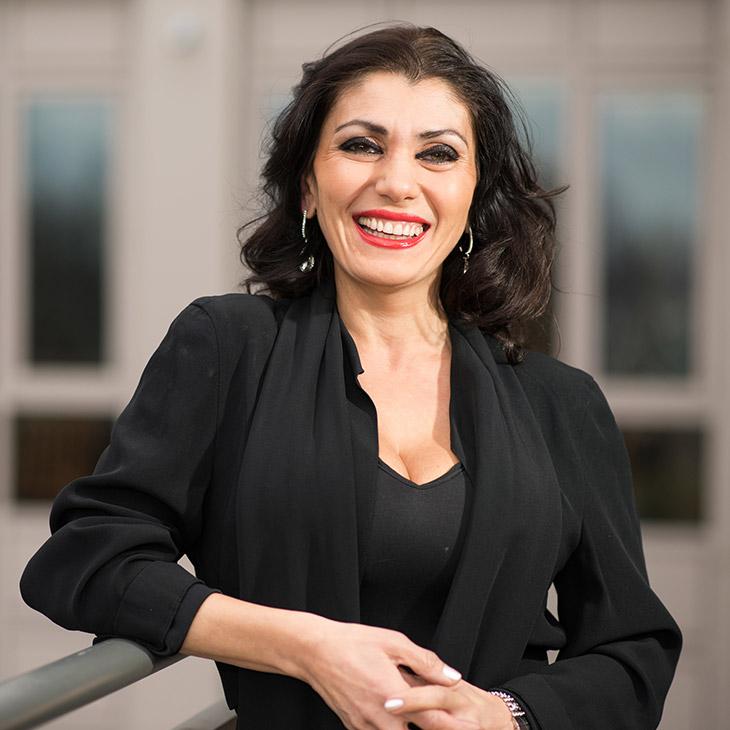 Affordability & Flexibility
"The affordability and flexibility I found at Champlain made obtaining my degree an achievable goal. The programs are rigorous, and the combination of the educational material with soft skills was invaluable and directly applicable to my workplace."
Inna Aydinyan Bachelor's Degree in Business Management
Hardware, IBM
You may also be interested in
Download Program Guide
Learn what you can expect from our associate in business management program.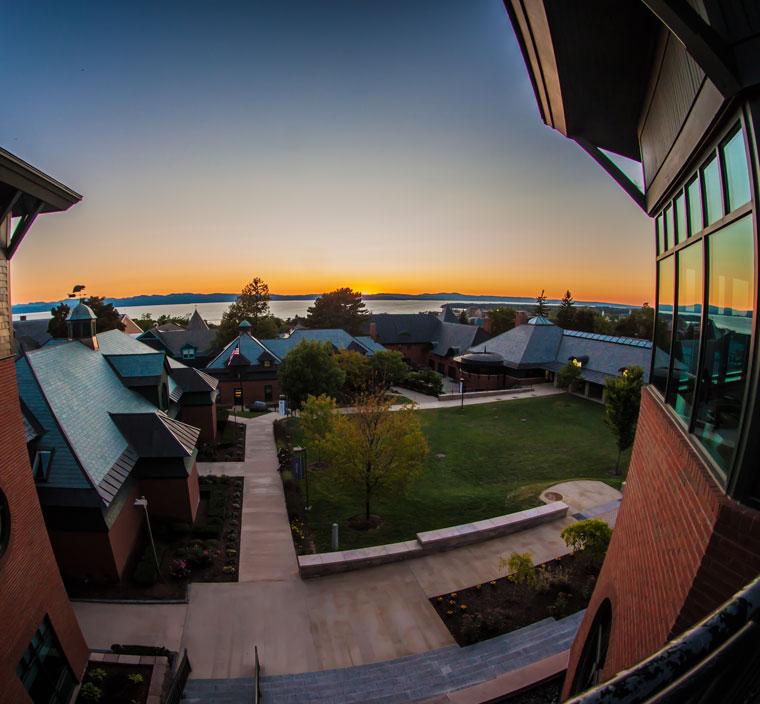 Download Program Guide
Champlain College will not share or sell personal information. Submitting this form constitutes your express written consent to agree to receive e-mails, texts, and phone messages from Champlain College at the phone number(s) and email address provided in this form.