A job seeker in today's competitive market needs several things: a comprehensive and polished resume, interview skills (for both phone interviews and in-person interviews), a well-written cover letter, and, increasingly, an up-to-date LinkedIn profile.
You might think that, being a relative newcomer to the job-search toolkit, LinkedIn is unnecessary - if you have all of the other items on the list above, why add one more thing to your plate? The reality is that LinkedIn is one of the first places many hiring managers and human resource professionals look to learn more about an individual, meaning you'll be at a disadvantage in some hiring processes if you don't have one.
Beyond that, LinkedIn is an excellent way to find new job opportunities (or to be sought out for them - many recruiters reach out to potential applicants through LinkedIn), and to build a professional network that could help you out, whether it's by connecting to you to someone who works for your dream company or by giving you a lead on a resource for a difficult project.
Many people simply set up a LinkedIn account, add in their basic work information, and never check the site again, which defeats the purpose of the site. Spending some time to set up a robust, professional LinkedIn profile, and then maintaining it regularly, will pay off! So if you're wondering how to make a good LinkedIn profile, read on for our top tips.
LinkedIn Profile Optimization Tips
Upload a Profile Picture
One of the first things you'll want to do is add a picture of yourself. LinkedIn is all about making connections, and having a face to associate with your name will help people get a better sense of who you are. So what makes a good LinkedIn profile? Stay away from the pictures you might use on Facebook or other social networks - remember, LinkedIn is a professional website!
Generally, pictures featuring other people (such as your spouse or children) should be avoided, as should very casual pictures. A simple headshot is usually a good choice - make sure your hair is neat, your outfit (if visible) is professional and office-appropriate, and the background is neutral and not distracting.
Build Out Your Work History
One of the things many people wonder about LinkedIn is how it differs from a resume, and how to determine which information to include. On the surface, they have a lot in common: both are, essentially, summaries of who you are in a work context, and should convey the information you'd like coworkers, hiring managers, and professional contacts to know about you. However, in most cases, a resume should be kept short, with a maximum of two pages being a good rule of thumb. This means you have to be very selective about the information you include.
On the other hand, one of the best things about LinkedIn is that it gives you the opportunity to tell a story about yourself and expand on the key details you've included on your official resume. Most people drop very old positions off of their resumes at a certain point in time (if you're a mid-career professional, chances are you're not still including your accomplishments from the internship you had during your junior year of college). However, because there are no space restrictions with LinkedIn, you can feel free to include your complete work history - you never know when an old workplace will spark a new connection.
You can also give more detail on your current and most recent roles, beyond the short bullet points used on a resume. While most people tailor their resume to the role they're applying for, you can be much more general on your LinkedIn profile, talking about your skills, background, and accomplishments overall, and not just how they apply to a specific role. LinkedIn can help you paint the full portrait of yourself as a working professional, and add more depth or context to your job application.
Add Your Education Information and Any Other Affiliations
While it's important to include your work details, it's just as important to add information about where you went to school (and any credentials you have earned), as well as your other affiliations, both personal and professional. This could include nonprofit organizations you volunteer for, academic and honor societies (such as Phi Beta Kappa), professional associations around your industry, sororities or fraternities (especially if you held a leadership position), or other groups with widespread membership. While these are not necessarily directly related to your career, they can absolutely you help you in the professional world.
For example, alumni of your college who work in your industry might be willing to provide you with career advice, or pass along your resume to the HR department at their company. A hiring manager might be a member of one of the same groups as you, or have volunteered for the same organization, giving you immediate common ground to build a rapport from in an interview.
Write a Comprehensive Summary
The summary section of a LinkedIn profile is often overlooked as being unimportant, but it's actually one of the most useful components of the site. This is because there's no hard-and-fast rule for how to use it - it can be whatever you want it to be. This is where you can tell visitors to your profile who you are and how you got there, what your professional and personal interests are, what your short-term and long-term goals might be, and any other details that will give people relevant insight into your professional life.
If you're looking for a new job, this would be a good place to include information on the types of roles you're looking for (similar to an "objective" section on a resume). If you're in sales, business development, or other people-facing professions, you could  use your summary as a tool to pitch your business or service. Or, if you currently work in a role or industry outside of your true field of interest, and are hoping to make a career change, this would be a great place to highlight the things that you're passionate about.
Update Your Headline
By default, LinkedIn displays your current role as your headline - for example, "HR Manager at [Company Name]." Depending on your role, it might make sense for you to keep it this way, but because the headline is such valuable real estate, being the first thing people see when they come across your profile, it's often a good idea to optimize it to be more of a general reflection of your professional status, skills, and interests.
For example, if you work in human resources, incorporate more detail into your headline, such as: "Human Resources Professional | Interpersonal Communication Specialist |  Passionate About Workplace Culture and Community." This is a really great way to build your brand, and to show who you are beyond your specific role within your organization.
Add Examples of Your Work
LinkedIn makes it easy for you to showcase your work, whether it's a group project, an article in an industry publication, or a portfolio. Make sure you add links, images, and samples where relevant - this is another example of how LinkedIn can be seen as a more in-depth, fleshed-out version of a resume, allowing you to create a thorough overview of your professional experience. If there's a piece of work you're particularly proud of, it belongs on your profile (though make sure to clear it with employers and clients beforehand to avoid confidentiality issues).
Build Your Network
The main purpose of having a LinkedIn profile is to network! You can start off by linking your profile to your email accounts (both personal and professional) to find connections from your contacts, and then continue to build from there. Connections could be from all parts of your professional life: current and former colleagues, vendors, potential clients, interviewers, or contacts you meet at networking events.
Be careful about sending out random requests - when you're connecting to someone you don't know, send them a thoughtful message explaining why you feel like it would be valuable to be a part of each other's professional networks.
Ask for Recommendations
One of LinkedIn's most useful features is the "recommendations" section. This is where you can request recommendations or testimonials from former managers, employees, or clients, which will then be displayed on your profile for others to see. It's a great way to give some external validation to the things you're saying in the rest of your profile - a positive comment from a third party, especially one you worked closely with, can go a long way.
That being said, the usual rules for recommendations apply here. Make sure that when you ask someone for a recommendation that they will have positive things to say - if you had a tense relationship with your former boss, they might not be the best person to ask! You also want to make sure that you're asking people who can actually speak to the quality of your work, and who you are as a professional in your field - friends and family members should usually be avoided for this reason.
Use Your Account
Once you've built out your profile, it's easy to "set it and forget it" - many people never log back in to their accounts once they've created them. But if you've invested all this time into optimizing your LinkedIn profile, you should put it to use! This doesn't have to be a huge time investment, but find ways to incorporate it into part of your daily or weekly routine. Go through the "People You May Know" feature and add one or two new connections. Scroll through your homepage news feed and comment or "like" updates from your network. Share a professional update or observation. Keep your profile up-to-date with promotions, projects, and affiliations. Spending an hour or two maintaining your profile and establishing an active presence can absolutely pay off, whether through seeing a job opening posted by a former colleague, getting a message from a recruiter at your dream company, or learning of an opportunity to contribute to an article on your area of expertise.
Download Online Experience Guide
Learn what you can expect from your experience at Champlain College Online.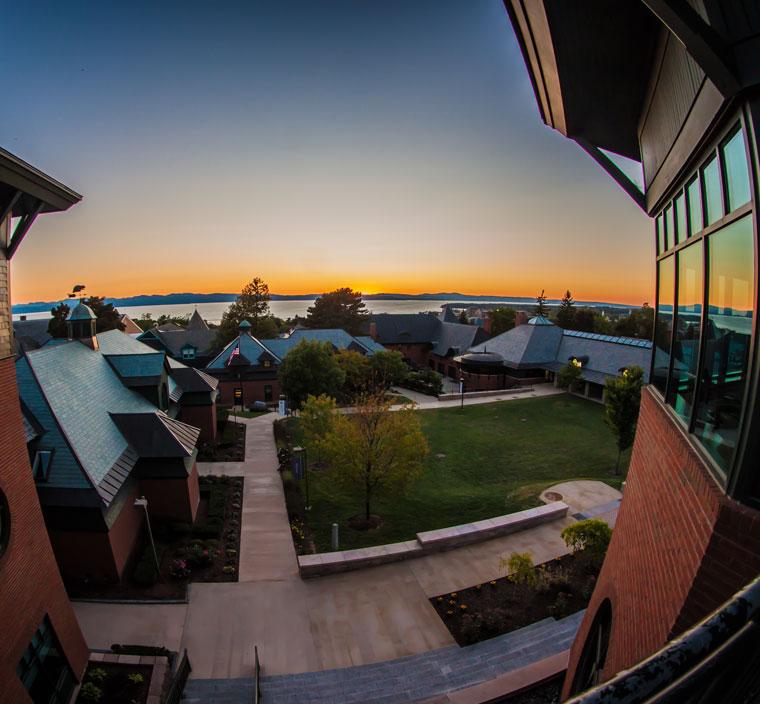 Online Experience Guide Download
Learn more about what you can expect from your online experience at Champlain.