Once you've completed your degree program - or even if you're partway through - there's a good chance you'll begin thinking about finding a new job that reflects your new credentials, experience, and field of study. While every industry and company has different hiring practices, there are some factors in the job search process that tend to be consistent across the board. After brushing up your resume and updating your LinkedIn profile, writing a compelling cover letter, and applying to a job that seems to be a good fit for your qualifications, most applicants will move on to the next step: the phone interview.
Despite how common phone interviews are, they can be a daunting prospect for many individuals, who might not be comfortable talking on the phone and don't know what to expect. There's nothing to be worried about, though - with a little preparation and our phone interview tips, you'll know how to ace a phone interview every time.
A phone interview is, simply, a screening tool that many employers use to narrow down their pool of applicants and help them decide who to move forward with in the hiring process, with the next step being one or more in-person interviews. Phone interviews are also used in situations where the applicant lives in another part of the country or the world, or for remote jobs.
However, just because an interview takes place over the phone doesn't mean it should be dismissed as unimportant or easy. You should prepare for a phone interview as thoroughly as you would for an in-person interview, keeping in mind some of the differentiating factors (and the challenges they pose).
The Most Common Phone Interview Questions
One of the biggest things people wonder about a phone interview is what kind of questions they'll be asked. Unfortunately, there is no set answer to this, as the length, content, and types of questions in a phone interview can vary greatly from one employer to another. Some companies will only ask a few basic questions, while others might conduct a full-blown interview over the phone. Because you have no way of knowing what to expect, it's always better to be fully prepared for any question you might be asked.
Some typical phone interview questions you should be able to respond to are:
Tell me about yourself.

What interests you about this position?

Tell me about your responsibilities in your current/last role.

Why do you think you would be a good fit for this position?

Why are you leaving your current job? (Or, why did you leave your last job?)

What is your biggest strength and your biggest weakness?

Why do you want to work here?

Name a challenge you recently faced, and tell me how you handled it.

What do you know about our company and what we do?

What is your applicable experience for this position?

What kind of environment do you work best in?

How do you handle pressure?

What are your career goals, and how does this position fit into them?

How would a friend describe you in three words?

What are your salary expectations?
For each of these questions, come up with a clear, concise answer that touches on the highlights of your background and experience, clearly connects with the key qualifications listed in the job description, and differentiates you from other candidates. Talk about what you've learned in your most recent jobs, your unique credentials, experiences that demonstrate your tenacity and hard work (maybe, for example, you're getting a degree while working full-time), and your goals.
Your objective is to present yourself in the best possible light, but also to be honest about both your areas of strength and those that could be improved upon. Don't pretend you can speak a foreign language or have expertise in a certain program - chances are, you will be tested on this knowledge later on down the road.
You should also have a list of your own questions prepared - this shows that you are engaged, curious, and have done your research. These should feel genuine, and not asked out of obligation. This is a good time to bring up questions that arose while researching their website, clarify items in the job description that weren't covered in the rest of the conversation, or simply find out other things you'd like to know about the organization and what it's like to be an employee there. Some ideas for questions you might want to ask include:
Can you describe what a typical day or week would look like in this role?

How many people are on the team?

What would be the day-to-day responsibilities of the person in this role?

What would be the first thing you would want the person in this role to tackle after coming onboard?

Is this a new role? If not, why did the previous person in the role leave?

Can you describe the culture or work environment of the organization?

What's one of the biggest challenges the person in this role will face?

Who will my direct manager be? If I move forward in the interview process, will I have the opportunity to meet with them?
 
Preparing for a Phone Interview
One of the most challenging parts of a phone interview is that you must make a good impression without the benefit of facial expressions and body language. Removing these factors makes natural dialogue and rapport with your interviewer more difficult, but not impossible - you will simply need to spend some time getting prepared.
One of the best ways to make sure that you'll come across well is to practice! Even if you've had phone interviews before, your skills might be a bit rusty, so it's important to spend some time rehearsing what you're going to say. Here are the steps you'll need to follow:
Read through the list of the most common phone interview questions and come up with your answers. You can write these down or just take notes - it is sometimes more helpful to work from bullet points rather than a set script, as it helps you sound more natural and avoids awkward pauses if you lose your place during the conversation.

Review your resume and cover letter to refresh your memory of how you framed your experience, responsibilities, and qualifications in your application.

Review the job description, focusing specifically on the list of duties and skills necessary for the role. You'll want to try and find ways to directly connect your experience with the things they are looking for in a candidate. This could be straightforward, especially if you have worked in the field before, or it might require some creativity - for example, the waitressing job you worked in college could make a case for your customer service abilities, or your knack for learning how to use new technologies could compensate for the fact that you don't have experience in a specific computer program.

Spend some time browsing the organization's website. You don't need to memorize the content, but you should try and learn enough that you can to what they do, who they serve or sell to, and their overall mission. Some key places to look would be the "About Us" page and any product or program pages. This is also a good opportunity to note any areas you have questions about - maybe you want to learn more about one of their specific programs, or a line in their mission statement caught your eye. Keep track of these observations and incorporate them into the conversation.

Record yourself talking. Most people don't really know how they actually sound until they hear themselves on tape. This is a great way to discover any vocal tics you might have, such using filler phrases like "um" or "like," speaking too loudly or quietly, or talking too quickly and not enunciating. Being aware of these habits can help you avoid them in important conversations.

Role play the interview with a trusted friend or family member. Give them a list of questions (or, to keep you on your toes, ask them to come up with their own) and practice the interview as though it were the real thing. This will help you identify places where you need to think through your answers more thoroughly, or even help you form responses you hadn't thought of before.

Create your elevator pitch. If you had 30 seconds to tell someone about yourself, what would you say? It's important be able to talk about yourself in a succinct, compelling way, so spending a little time on coming up with a few lines that encapsulate your background, your current role, and where you see yourself heading will serve you well - both in your next phone interview and in any future networking situation.
 
Top Tips for Phone Interviews
Once you've spent some time coming up with your list of phone interview questions and answers and getting prepared, it's time for the actual interview! Here are some additional phone interview tips you can use before, during, and after the conversation.
Find a quiet spot. Ideally, this is a place where you can shut the door and won't be disturbed. Try to minimize external noise as much as possible (such as barking dogs or traffic), as this will be a distraction and might affect how well the person on the other end of the line can hear you.

Prepare your space. Make sure you have printed versions of your resume, your cover letter, and the job description, with any relevant notes (or key information highlighted). Find a clean notepad and a working pen or pencil, so you can take notes during the conversation. Keep a water bottle nearby - talking makes you thirsty!

Stand up. You want to stay comfortable, so if sitting is best for you, that's fine. But standing is a great way to help you release any nervous energy and help you project your voice better.

Smile. Even if no one can see you, try to smile while you talk! Studies show that we can "hear" smiles in others' voices, so this will make you come across as friendlier and happier.

Speak clearly. This means talking slowly, remember to avoid any verbal habits you might have identified during your preparation process, and enunciating.

Be friendly. Establishing a rapport is one of the best ways to overcome your nerves and set yourself apart from other applicants. Just be yourself - try to speak naturally (but still professionally) and don't feel the need to be overly formal. Ask them how their day is going, or what the weather is like where they are.

Find out what the next steps in the process will be. Rather than ending the conversation and immediately beginning to wonder when you'll hear back from the company, just ask your interviewer what the next steps will be. They will usually be able to give you a rough timeline of their hiring process and can describe what the next stage would look like (for example, an in-person interview, a meeting with the team you would be working on, or an assignment to complete).

Collect your thoughts and evaluate your performance. After the phone interview ends, take a few moments to reflect on the conversation and jot down some notes. How did you do? What did you feel you excelled at, and what could have been better? Write down questions you had difficulty answering, things you forgot to mention and want to bring up at a later date, and anything that came up over the course of the interview that you would like further clarification on.

Follow up. Send an email to the interviewer within 24 hours to thank them for their time, reiterate your interest, and express your excitement to hear from them about the next steps in the process.
Phone interviews don't have to be scary. Just follow our tips, practice answering the most common interview questions, and spend some time preparing, and you'll be well on your way to acing your next one!
Download Online Experience Guide
Learn what you can expect from your experience at Champlain College Online.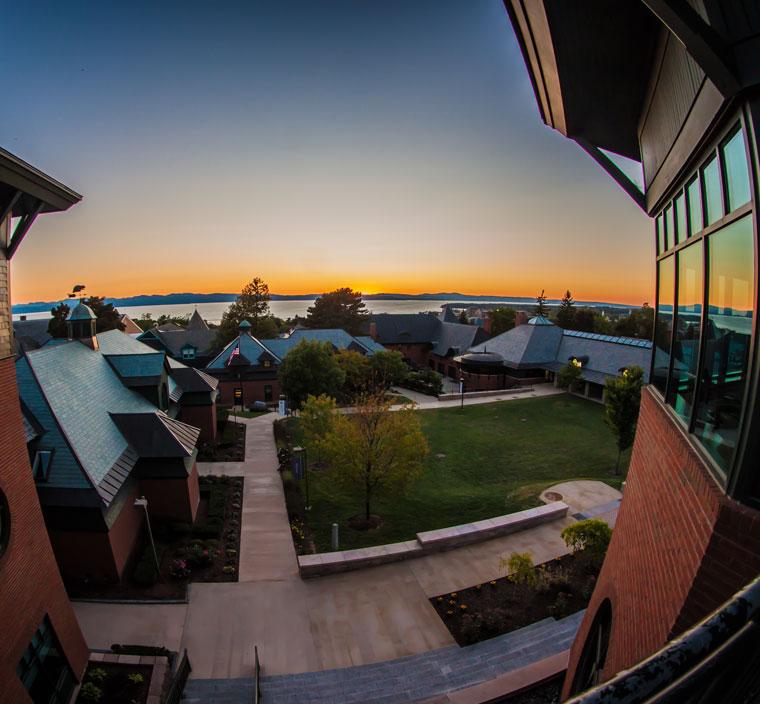 Online Experience Guide Download
Learn more about what you can expect from your online experience at Champlain.