I work for Champlain College, where it's my job to ensure adults seeking to advance their careers and pursue a higher education are aware of our online education offerings, and understand what makes our small school so special. It helps that I know this place really well, having earned both my bachelor's and master's degrees here, and being the third in my family to graduate from Champlain!
Here at Champlain College Online (CCO), I manage a small team of mission-driven folks who are busy communicating to all of you, and we are all here because a Champlain degree - and the career it enables - literally changes lives. Much of the population we market to on a daily basis is similar to me - in age and perhaps even life circumstances. But let's be clear: I don't have the pressure of being an online student on top of my roles as mom, employee, teacher/daycare provider (thanks to COVID-19 and social distancing), team leader, spouse, small business owner, community volunteer, and social butterfly.
Given that, I want to send a huge shout-out to the adult online learners sticking it out through these challenging times and recognizing that earning a degree is a long game, and more often than not, a game worth playing.
It is with the knowledge and experience of the kinds of pressures our students face - now more than ever - that I sit here, both terrified and grateful that my husband's small business went from busy and successful to nonexistent overnight, because at least he's home to help as my toddler and kindergartener run amok, needing constant care and now, education. It's no small feat to homeschool, work, and parent all at once, but I'm picking myself up by my boot (slipper?) straps and doing the best I can. I'm learning a lot about going with the flow.
While my week one of isolation under COVID-19 was the most stressful week I may have ever had - in my entire life - it's also been beautifully slow, reflective, humbling, exciting, creative, spontaneous, and flexible. And honestly, this pandemic is making me better at my job.
I have found myself agonizing over what we're saying and how we're saying it in new ways. Is this the right message? Is it the right time? Why? What does my user need right now? WHY ON EARTH WOULD WE SAY THAT??? My newfound sensitivity to our collective circumstances has made me hyper aware of our brand voice, which is among the most important parts of my work. So when I saw a simple and darling social media post from a local illustrator sharing a virtual hug this week, I decided that I wanted to make people feel the warm sweetness that I felt at that moment. Our small team quickly stood up a communication plan, we bought rights to the hug artwork I so adored, and we sent some virtual hugs around the Internet and via snail mail. The aim was to remind our community that we're here for them and ready to support them in any way we're able to, as the entire CCO team gains a whole new appreciation for the challenges our students face every single day.
So I'm sending a hug and some hope to whoever is reading this, from a chilly basement in Moretown, Vermont where I'm hiding from the chaos swirling around me. Earlier today my husband and children accidentally locked me down here for a couple of hours when they went outside to play. Things got pretty desperate. How desperate? I don't want to overshare, so I'll leave that up to your imagination, but let's just say that all of my practice going with the flow is already paying off.
We'll get through this together, stronger than ever. You aren't alone. Get in touch if I can help.
Download Online Experience Guide
Learn what you can expect from your experience at Champlain College Online.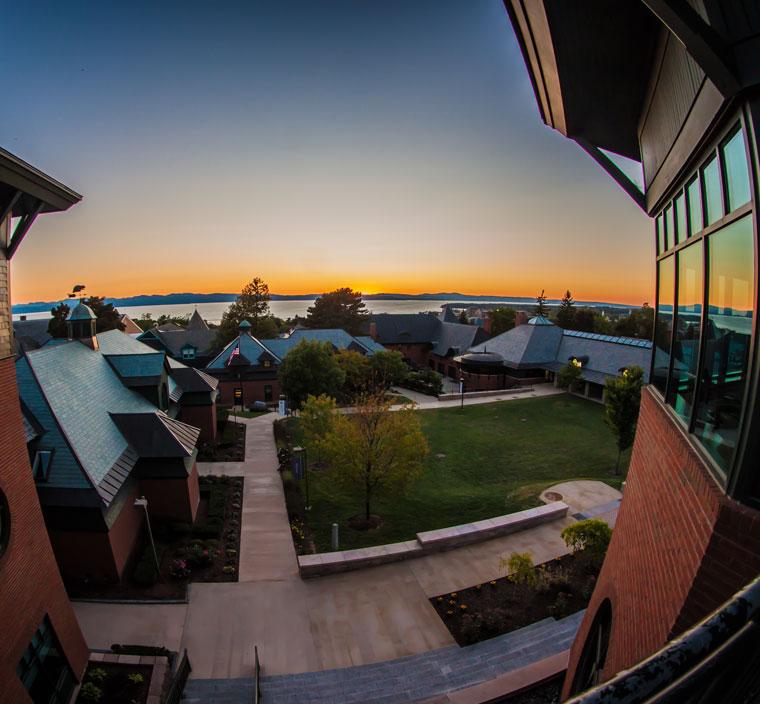 Online Experience Guide Download
Learn more about what you can expect from your online experience at Champlain.