Life Considerations When Choosing a College as an Adult Learner
More and more adults are making the decision to return to school and enroll in a degree program. There are many motivators that influence this decision, however the most common is the evolving job market and increasingly complex qualifications necessary for employment.
As new technologies continue to impact different industries, the in-demand skills employers are looking for will also evolve. This leaves many working professionals looking for ways to achieve new qualifications and advance their expertise to either accelerate their career, increase their earning potential, or set out on a new career path altogether.
Enrolling in a career advancement program, whether that means earning an additional bachelor's degree, pursuing a master's, or completing a certificate program, will help prepare you to navigate these unpredictable changes in the workforce.
While returning to school is an exciting endeavor, it can also be a daunting decision. For starters, adult learners have a unique set of challenges a typical college-aged student will not have to consider, including the logistical details of earning a degree while working and/or caring for family.
So while there are plenty of exceptional higher education institutions out there, you must find one that best aligns with your specific needs. To help guide you through this process, we've highlighted some of the most important life considerations you should weigh when researching where to advance your education.
How to Find the Right School as an Adult Learner
What are your aspirations?
It is important to enter your experience as an adult learner with a clear plan for success. As you consider the idea of returning to school, ask yourself why. What is your motivation for returning to school? Are you looking to enhance your qualifications for career advancement opportunities? Do you want to pivot from your current profession and embark on a new career endeavor? Maybe you're simply looking to fulfill a personal goal. Take the time to sit down and assess your primary goals and desired outcomes from an education advancement experience; it will be extremely beneficial in making the right decision.
As you assess your primary motivators for returning to college, begin thinking about which type of program and field of study will help you achieve your professional and personal aspirations. Will you be getting a bachelor's degree for the first time, or returning to college to complete an additional bachelor's program? Do you want to refine your skills and advance your current expertise with a master's degree? Or, are you looking to advance your credentials in a more time-efficient manner through an undergraduate or graduate certificate program?
Once you determine which type of program is best suited for your needs, you can  assess which field of study best aligns with your goals and aspirations. Extensive research around your desired academic program, including specific courses and learning outcomes, will be instrumental in narrowing your school and program choices and, ultimately, in helping you map out your educational journey.
What financial assistance is available?
While obtaining additional education experience is an effective, proven way to further your career, it's also a significant investment. As an adult with plenty of financial obligations already - such as housing, insurance, utilities, and existing loans, it's certainly easy to understand the challenge of taking on additional financial responsibilities.
While you may find plenty of higher education institutions that offer your academic program of choice, the tuition and financial aid programs will vary from school to school.  As an adult learner, it might be important for you to find a school that offers resources and support programs that can help you manage tuition payments along with your other financial responsibilities.
When looking for the right financial fit, there's more to consider than tuition. Also consider how schools might make a degree more accessible and affordable for adult learners, such as offering generous transfer credit policies or waiving certain requirements, both of which can reduce your out-of-pocket cost.
How to balance work/home with education?
Most working professionals aren't able to put their careers on hold to go back to school, especially if their routines involve a strict time and place. Thankfully, you can find learning formats and environments that are more suitable for your lifestyle these days. When looking at schools and academic programs, be sure to consider all of your options, more specifically, online learning.
Online programs are typically offered in two formats: synchronous and asynchronous. In synchronous learning, students "attend" class at a specific time, just as they would on campus. Conversely, asynchronous learning does not adhere to a set schedule, which gives students more flexibility to choose when and how they complete work.
For adult learners, the flexibility and self-pacing of asynchronous online programs make it possible to continue full-time employment while obtaining a degree. Online learning provides the additional benefit of removing geographical barriers, which allows students to access learning opportunities at institutions beyond commuting distance.
Going Back to School at Champlain College Online
Highly ranked by U.S. News and World Report and regionally accredited by NECHE (New England Commission of Higher Education), Champlain College Online (CCO) is prepared to help you embark on the next chapter of your career advancement and academic journey. CCO's 100% online career-focused bachelor's degrees, master's degrees, and certificate programs - available in four primary areas of study, including business, cybersecurity, healthcare, and information technology - are specifically designed to align with the unique needs of adult learners and working professionals looking to advance their education.
Committed to helping students manage the financial commitment of returning to school, CCO offers robust financial assistance programs and resources, including opportunities to waive requirements through transfer credits, professional experience, and exams.
Learn more about CCO's expertise in remote learning and explore which highly-ranked academic program is right for you as you.
Download Online Experience Guide
Learn more about the online learning experience at Champlain College.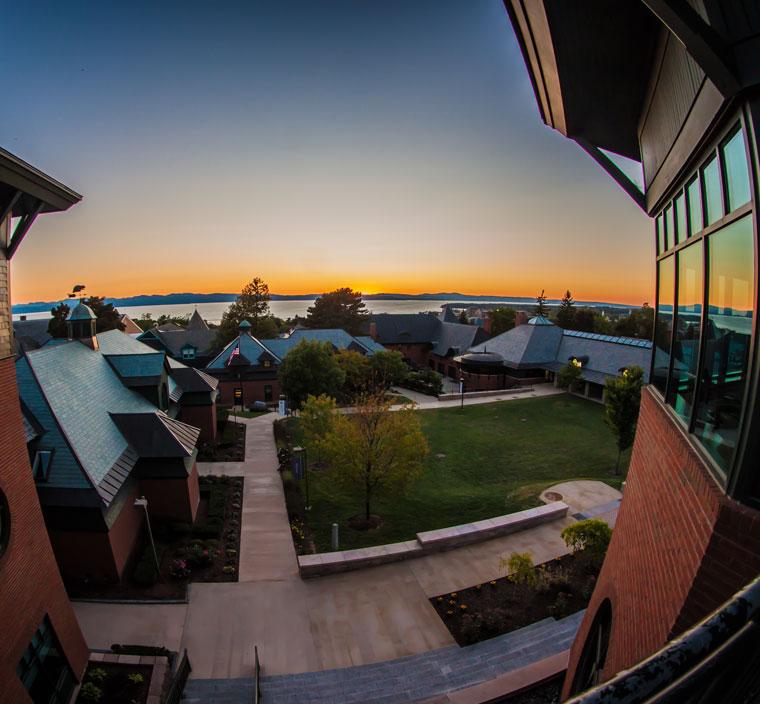 Online Experience Guide Download
Learn more about what you can expect from your online experience at Champlain.