As education paths shift and change, many people have college experiences that span multiple institutions, or are made up of multiple tenures at one institution. This is increasingly true for adult or non-traditional students, who perhaps began a degree program, and then left to start a family, pursue a career, or simply, did not enjoy what they were studying, and who might now be returning to college after some time. These students tend to have less of a linear trajectory in their education, and rather "swirl" among different institutions.
According to the National Student Clearinghouse, the longer it takes students to complete their degree, the less likely they are to complete it. This is an issue for individuals who've been enrolled in multiple programs and universities: when they return to school, they often find themselves with a set of seemingly disparate credits that don't clearly apply to a specific major. In many cases, students feel like they must start from scratch, which translates to a longer time to completion and more money spent on tuition.
However, what many of these students don't know is that most higher education institutions, especially those that cater to adult learners, will work closely with them to find ways to maximize transfer credits from other institutions (and even find ways to get students credit for non-academic experiences). Making sure you get the most out of your transfer credits can be one of the best ways to reduce the time it takes to complete a program and obtain  a degree, and will also save you money, as you'll have to take fewer classes to reach completion. Here are some helpful tips to consider when bringing transfer credit to a college you're applying to.
Submit All Transcripts
While this may seem like an obvious suggestion, especially because submitting transcripts is often a requirement for admission to a higher education institution, make sure you are submitting ALL transcripts. Some students are reluctant to submit transcripts from a previous college experience because it might reflect poor grade performance that they feel is not representative of who they are now. However, many schools will accept grades of C- or higher, so even if your transcript is not all As, you might still get credit for some courses.
Others might be hesitant to submit transcripts because their prior college experience happened a number of years ago, and they feel that the credits won't count anymore. But it is still important to submit these transcripts because many  courses don't "expire" after a number of years. For example, while a typing class is no longer relevant in college programs and is therefore not likely to get you transfer credit, English literature or composition is still often a degree requirement and a course that remains relatively consistent over time, and you will likely be able to get credit for it.
Send in Military or Law Enforcement Transcripts and Career Certifications
If you are a veteran or active duty service member, don't forget to send your Joint Services Transcript (JST) to colleges you are applying to. Many schools will give you credit for courses and trainings you have completed as part of your military training. Additionally, some schools will give credit for law enforcement trainings as well! In many cases, these kinds of credit will fulfill general elective requirements, but depending on the program, you might also fulfill program requirements.
Similarly, many jobs, like those in the healthcare field, require completion of certifications for training and development purposes. In some cases, documentation of these "on-the-job" certifications can be reviewed for transfer credit. It is likely that some institutions might combine multiple trainings or certifications you have received to fulfill one requirement; this is often due to both the number of hours needed and the level of learning. Documentation of trainings or certifications that show both college-level learning and education beyond just skills training is a good option to submit for academic credit. If you have participated in many certifications and trainings throughout your career, these can certainly add up quickly and translate to multiple college credits that will reduce your time to degree completion.
Take Advantage of Non-Traditional Course Offerings
Here at Champlain College, we have a unique  option called C-KET which is designed to give you credit for knowledge, competencies, and skills you already have.
Many colleges have course options like this, which are great for those seeking to reduce their time to completion and get credit for their experience. For example, a student who has worked in an accounting position for a number of years and is now seeking to complete their Bachelor's in Accounting is a good candidate for these options: they have the accounting knowledge from their experience, but don't have a formal education or credential in the subject. .
Another form of non-traditional credit is what is often referred to as an Assessment of Prior Learning (sometimes Prior Learning Assessment). APL is another course option that is designed to give you credit for what you already know. These kinds of courses function like a portfolio course; students work closely with an advisor to develop a portfolio of assessments or exams that represent the knowledge and skills they have gained in their field. Many colleges will accept this kind of credit, even if they don't offer the actual assessment themselves.
The biggest takeaway with maximizing transfer credit is to make sure you are not selling yourself short. Ask admissions representatives to clarify transfer credit policies to make sure you know what a college will accept. Submit any and all materials you have for review. Be empowered in advocating for yourself. Upon receiving your transfer credit evaluation, sometimes it is worth reaching out to admissions staff, or your advisor once you are enrolled, if you feel like a course or training you have completed might be good for transfer credit. You might be surprised by what you are awarded!
Download Online Experience Guide
Learn what you can expect from your experience at Champlain College Online.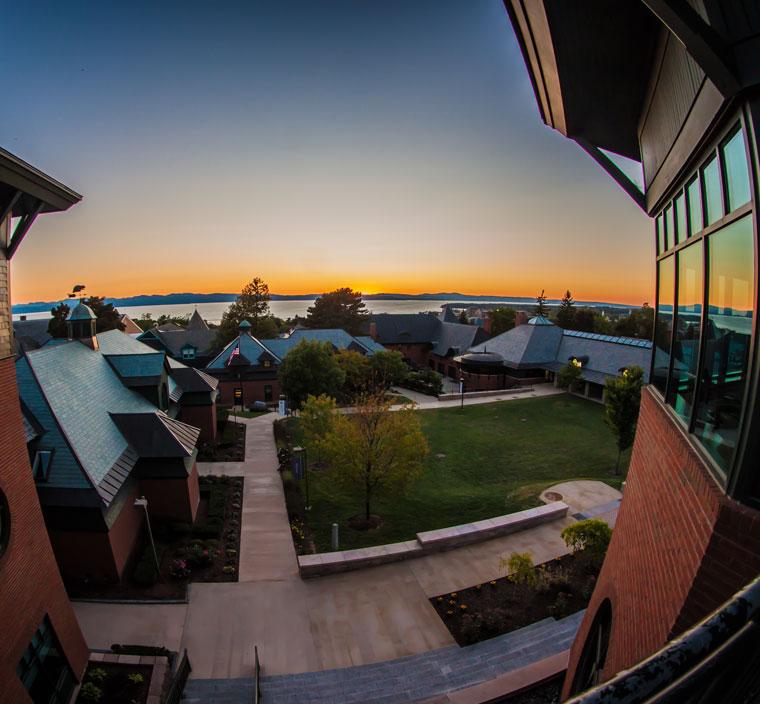 Online Experience Guide Download
Learn more about what you can expect from your online experience at Champlain.