So you've decided to enroll in a degree program: congratulations! Going back to school, whether to complete a bachelor's degree or pursue a master's degree, is a significant undertaking, and a journey that you should feel proud to be starting. Completing a college degree can be transformative, not only for your earning potential but also for broadening your knowledge and skillset to help you achieve your goals.
However, the process of applying to college can leave many adult students with questions; here are some of the most common, with answers to help guide you through the admissions process.
Where Do I Begin?
Applying to college can be a daunting and overwhelming process, but we have some helpful tips to help your admissions process flow seamlessly. Once you have identified a school and a program to which you want to apply, a great first step is connecting with an admissions representative from that school via phone or email. This person can answer many of your initial questions, such as:
"How much is tuition?"
"Are classes 100% online?"
"When is the application deadline?"
While it is important to research schools and programs to find the best fit for you, connecting with an admissions representative early on is an especially important initial step. They are equipped to know the ins and outs of programs and the admissions process, including nuances and complexities that may not be on a school's website. They are also there to guide you through the admissions process, especially in finding a program that is right for you, connecting you with other college departments, and supporting you with any questions that arise along the way.
How Do I Apply, and What Do I Need to Submit?
Many institutions will list this information on their websites, detailing a list of the required materials to apply for their programs. The first piece of your application is usually the application itself, which is usually found on the school's website and takes approximately 15 to 20 minutes to complete. Traditional college students applying to campus programs when they finish high school generally use the Common Application to apply to many schools at once. However, adult students are more likely to find one or two schools that best fit their needs and goals, and will apply directly to the schools themselves.
A typical application will ask basic information, such as the program you are applying to, your anticipated start term, your name, and your contact and demographic information.
In addition to the online application, you will also likely be asked to submit official transcripts from all prior college experiences, high school transcripts (if you have not yet received an associate or bachelor's degree), an admissions essay (or multiple short answer questions), and sometimes a resume or portfolio depending on the school and the program.
What Do Colleges Look For in an Admissions Essay?
Admissions staff want to get to know you! For online programs especially, your admissions essay serves as the best insight into who you are as a student, a professional, and a person. An admissions team  looks at your essay to get a sense of how their program aligns with your professional or personal goals and your experience. The admissions essay also serves as a writing sample, especially for graduate-level programs that require significant writing as a part of the coursework to help ensure that you will be successful in the program itself.
Will There Be an Interview?
This will depend on the school, and you will most likely find this information in a college's listed admissions requirements. Interviews are less prevalent for online programs, simply because our students live all over the world. However, some colleges for adult students will begin the admissions process with an informal phone or email conversation to get to know applicants. At Champlain College Online, our admissions representatives have a phone conversation with each applicant to learn about their lives, motivations, and goals, to help get a sense of whether the program and Champlain College are a good fit for them. Many schools that serve adult students utilize this "interview" to get to know applicants and make sure their  program of interest will serve them and their needs.
Do I Need to Take the SAT or GMAT/GRE?
Much like the college interview, this depends on the school. While traditionally seen as a requirement for getting into college, standardized testing is becoming less common as institutions begin to realize that is not always a good measure of how successful a student will be in a degree program. For this reason, online degree programs for adult students are less likely to require the SAT or GMAT/GRE, and many on-campus programs are also beginning to do away with these tests. Here at Champlain College Online, instead of requiring standardized testing, we ask you to submit a resume as a part of your application. This, like your essay, allows us to gauge how you will be successful in our programs and if it is a good fit with your experience.
Can I Transfer Credit From a Previous College Experience?
If you are applying to an undergraduate program, you will most likely be able to transfer credits from a regionally-accredited prior college; however, the number of credits you will be able to transfer will vary from school to school. Online programs for adult students will typically accept a higher number of transfer credits to help students reach program completion faster. Most graduate programs do not accept transfer credits; this is because graduate programs often have a more structured curriculum, with a set of courses designed to be completed together. Similarly, some programs use a cohort model, in which you move through the set curriculum with the same group of classmates, to learn, grow and develop with and from one another; in these programs, you will likely be required to take each class in the curriculum in a specific order and within a certain time frame, making it difficult to apply transfer credit.
Who's Reviewing My Application?
As the admissions process has multiple steps, there will generally be several different people reviewing your application before you receive your admissions decision. At most colleges, your application is first going to be seen by an admissions or enrollment representative, who will be  your primary liaison with the school while you are completing the application process. Their role is to first make sure you have submitted all necessary materials prior to the application deadline. They will support you in tracking down transcripts, completing essays, submitting your application, and more.
Once your application is complete and has been submitted, it is reviewed by a professional at the college, either an enrollment operations professional, or, for graduate programs, a program director. It is also during this process that a transfer coordinator will review your transcripts from prior colleges to see if they can transfer any of your credits.
When and How Will I Know I've Been Accepted?
The traditional college model sees students applying to many schools in the fall, and waiting to hear back from them  until the spring. For adult online programs, which typically follow a rolling admissions process, applicants will often receive a response much sooner than this.
Many colleges, especially those online, have multiple start terms per year; at Champlain, we have six terms per year, giving you plenty of chances to start a program. Since online colleges have more terms in which students can begin a program, you will most likely hear back between a couple of days to a couple of weeks. Once you receive an acceptance notification, usually via email, from your college of choice, you can accept your offer of admission and enroll shortly thereafter - and will be well on your way to transforming your life through education.
Although we've done our best to answer some of the most frequently asked admissions questions, there are many other aspects of the admissions process we haven't covered. If you have additional questions, or simply want to learn more about applying to Champlain College's 100% online degree programs, contact our admissions team for more information.
Download Online Experience Guide
Learn what you can expect from your online experience at Champlain College Online.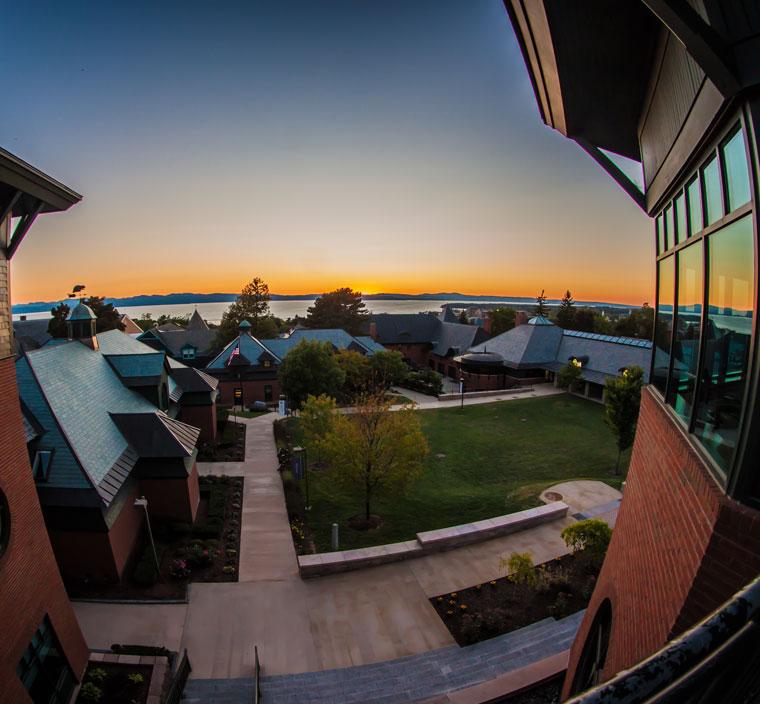 Online Experience Guide Download
Learn more about what you can expect from your online experience at Champlain.