Networking: it's something that we all know we should be doing, but it's often unclear why, what the benefit will be, or even how to go about doing it. But there's a reason that networking comes up so frequently in career discussions - it works! No matter what stage of your career you're in, whether you're looking for a new job or are happy in your current organization, networking is an incredibly useful tool that can, and should, be practiced by just about everyone.
Most people associate networking with a job search, and while looking for a new job is an excellent reason to leverage your career network and build new connections with others in your industry, networking has a multitude of other benefits that can prove useful at any point in your career. In fact, the most effective networking is done consistently, over time - not just when you're a position where you need help.
Top Reasons to Network
It Can Help You Find Your Next Job
When it comes to looking for a new job, the single most impactful thing you can do to increase your chances of success is networking. Many organizations do not advertise open positions, so having contacts in your industry - or in a field you're interested in entering - who might be able to tell you about relevant roles is key. Contacts in your network can also provide invaluable entry points to big companies, by giving you a referral or connecting you with a hiring manager directly.
It Will Set You Up For Future Growth
One of the biggest mistakes people make when it comes to networking is viewing it as a fall-back option, something that's only done when you're looking for a new job. While networking can be one of the biggest factors in a job search, it's just as important to do it while you're not looking for new work. The reason? Building your career network slowly and sustainably over time will help you have the resources you need in place when and if a time comes that you do want to make a job or career change. Starting early on and continuing to nurture your network throughout your career means that you'll have a robust group of connections to reach out to when you need to - and if you've cultivated those relationships effectively, they'll think positively of you and won't hesitate to lend a hand.
It Will Give You a Network of Resources
People tend to forget that having a robust career network of talented individuals in your field can be an essential resource for the work you do on a day to day basis. If you're working on a difficult project and need some advice on a particular aspect of it, are trying to fill a role on your team, are looking for feedback on potential vendors, or need someone with a different skillset to collaborate with, you can - and should - look to people in your network for help.
It Will Help You Grow as a Professional
An underrated benefit of networking is that it can help you grow as a professional, largely by helping you find mentorship opportunities. There is so much to be learned from seasoned professionals in your field who have built careers you admire, and most of them are more than willing to share their perspectives, give you advice, and help you develop professionally. Having one or more mentors is an essential part of growing your career - if you identify someone who could be a potential mentor to you and cultivate a genuine relationship with them, chances are they'll be invested in your success, and can offer much-needed guidance as someone who has "seen it all."
It Will Help You Meet New People
Although networking is primarily career-oriented, it's also about connecting with people who have something in common with you. Sometimes that's a shared field or industry, but oftentimes it's something broader: an interest in promoting a certain kind of mission across workplaces (for example, sustainability or diversity), belonging to a specific group of people (such as being a woman or minority in a particular industry, or being a young professional), or being affiliated with the same institution, such as a college alumni network. Building relationships with these individuals might not help you get ahead career-wise (although you never know what might come of these connections), but it will help you meet people that you might not otherwise get to know, and broaden both your personal and professional perspectives.
It's Easier Than Ever
When people think of networking, they often picture walking into a big event with a stack of business cards, and having to make small talk with strangers. While there are still many networking events like this - and some people prefer them - many people would rather network on their own time, in lower-pressure scenarios. To meet this preference, over the past few years a multitude of online networking platforms have been created, allowing folks to network digitally. These networking sites can be cross-industry (such as LinkedIn) or specific to certain groups or institutions, and offer a way to stay connected - and connect with new people - in a digital format.
Download Online Experience Guide
Learn what you can expect from your experience at Champlain College Online.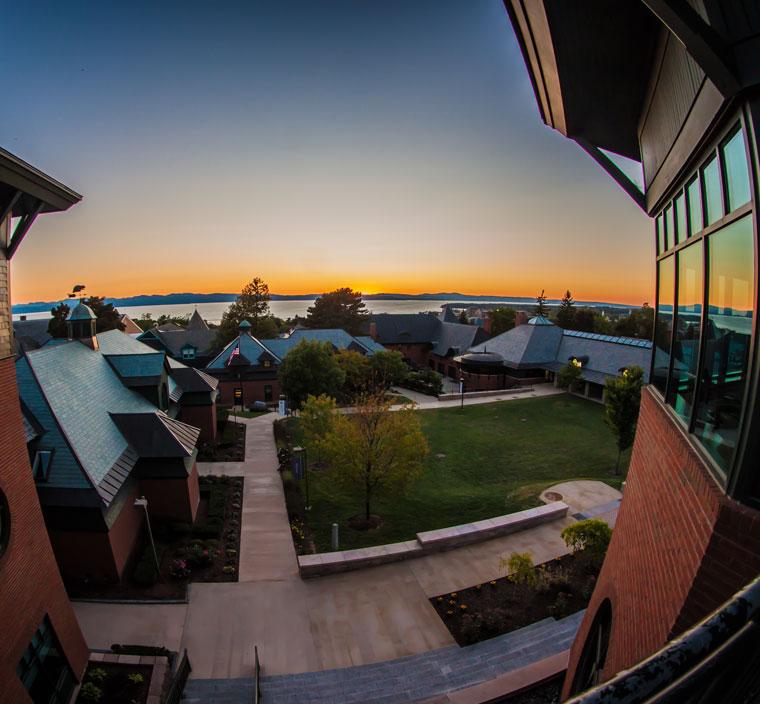 Online Experience Guide Download
Learn more about what you can expect from your online experience at Champlain.