As we celebrate the Champlain College Online class of 2019, we want to highlight the diversity of experiences among our graduates. Each one of our students comes to us with a story to share, a goal to fulfill, and challenges to overcome - and every single person graduating this year has persevered to accomplish what they set out to do, and has obtained their degree.
Here are stories from a few of this year's graduates - stay tuned for more to come!
Academic Accomplishments
"My major accomplishment is to be able to graduate with Honors, and being inducted into the Alpha Sigma Lambda National Honor Society (Xi Beta Chapter)."
"My top academic accomplishment at Champlain College was building relationships with instructors and fellow students. The pace of each course was brisk, being only eight weeks. Add to that the fact that the courses were completely online, the program could lend itself to depersonalization and anonymization. However, I enjoyed the opportunity of meeting people in the online classrooms from both near and far, who brought a wide range of professional and personal experiences to the coursework."
"The GPA I received completing my degree program. The professionals throughout Champlain (from a terrific Advisor to very knowledgeable instructors) played a role in ensuring my academic success."
"The instructors in the program helped me to become (no, discover) the writer within. This is one of the benefits I loved most about my academic growth at Champlain, it was just as much about discovering what is already within you as it was about discovering what's new to you."
"With still being a father, husband to my family, and working full time I was able to keep an almost 4.0 GPA at Champlain. It took a lot of sacrifice and hours of school work to do that."
"My top academic accomplishments included genuinely enjoying every class and every subject matter that I learned about. I was never into the idea of school throughout my life because it felt forced and uninteresting. When I signed up for Champlain's online program, I was actually inspired by my cohort as well as the professors. We know we all were striving for something better. I was shocked with how dedicated I was to the program to not only prove to those who did not support my academic process, but most of all prove to myself I was more than capable of learning these subject matters. I took every course seriously and appreciated those around me who did as well. I have never gotten such great grades in my life and it was all because I wanted to be there and I felt as though I had a spectacular support group from my advisor to my classmates that I started the program with, as well as those who I met along the way."
Professional Accomplishments
"During the course of the M.B.A. program I went from being a Technical Expert in a field office, to a member of management after year one. Two months after completion of the M.B.A. program, I then made a big leap and got promoted again to the role of Product Owner at agency headquarters where I am working on development of my agency's next generation retirement application that will be used by millions nationwide for years to come."
"While earning my degree at Champlain College, I was promoted into a new position which requires me to travel at least 1 week a month. I was able to remain successful at my new job, while traveling, and still found time to balance my academic workload. I finished my courses at Champlain with a 4.0 GPA."
"Before finishing the program a professor gave advice to not wait to seek new opportunities. I did just that and received a new position and promotion in an area where I had no experience. I credit the MBA program with helping me get the job."
"My experience and growth in Champlain's MBA program has proven to be paramount to me becoming a change agent in my professional environment. I've learned to appreciate and leverage my gifts, strengths, and weaknesses. Understanding how to use them all to create a space of appreciation, awareness, and growth within my professional sphere of influence; thus, not only encouraging change within others but serving as a role model for what the practice looks. I'm often asked about the change seen in me since I've been in the program, how encouraging and inspiring it is, how appreciative my perspective is of others."
"The research I have used within my classes, I have been able to use at my current job. My boss has been amazed at how much more understanding and insight I have become and have been able to increase productivity in many areas."
"I learned how to align my values with the organization I worked for. I learned that if they do not align, it may be time to move on, and that I did. I had the courage and strength to move on from my organization because I had developed the skills academically to apply professionally. Everything I learned can be applied to organizations, each organization may have a special interest focus for how it can successfully thrive with what they do and who is involved."
"About 6 months after I started my Master's, I was promoted and given a raise, specifically due to my knowledge. It really inspired me and gave me more confidence in myself."
"While taking courses and working full time I received an award from my company for outstanding achievement. I feel as though the coursework through Champlain enabled me to perform at a high level in my current position with my company."
Personal Accomplishments
"Finishing the program, while parenting, moving, getting married, and blending families with my husband."
"The confidence and personal growth in myself has been one of my biggest takeaways from my time at Champlain. I am more confident at work and in my personal life. I feel I can attribute some of that confidence to the lessons I have learned here."
"Graduating with my bachelor's degree has been a personal goal of mine for the last 10 years. I'm so proud my 3 sons get to watch their mom graduate from college in May."
"The perspective gained from fellow students supplemented the curriculum in a manner I would not have achieved from any other college."
"My experience in the Champlain Graduate program has completely transformed how I want to show up in the world (work, home & socially). My experience with the diversity of instructors and students has helped me to earnestly appreciate the differences in our world and practice the patience necessary to fully engage in the opportunities that allow those differences to shine through."
"My top personal accomplishment while at Champlain College was racing in the US Open Mountain Bike Race."
"Understanding that I have no limits. Despite having open heart surgery towards the end of my second to the last class and recovering from surgery during my last class, I still achieved a perfect score. I can do anything if I truly desire it."
"Through a very supportive family, I was able to achieve my degree and be a good role model for my children. It showed them that education should not end and should be a lifetime goal to always better themselves in whatever career path they choose."
Download Online Experience Guide
Learn what you can expect from your experience at Champlain College Online.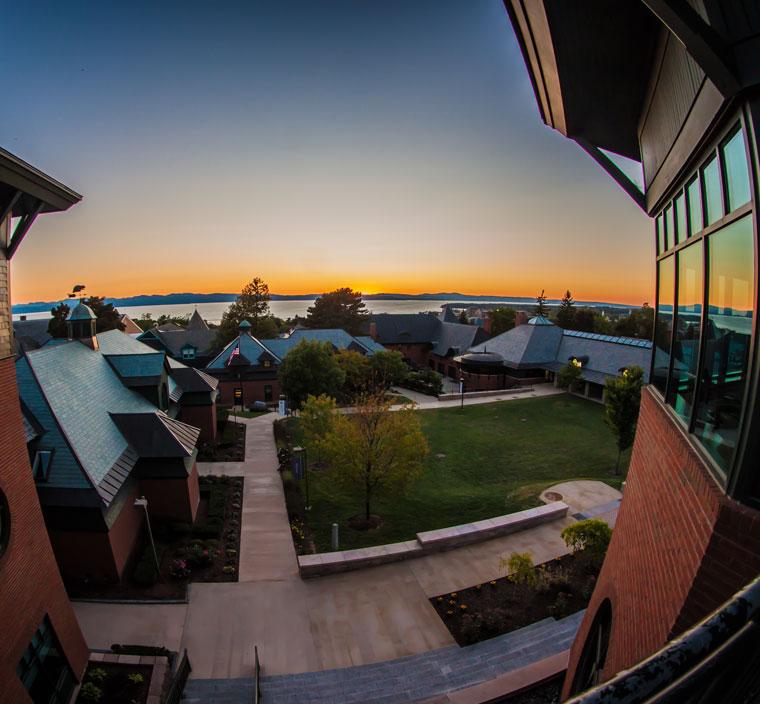 Online Experience Guide Download
Learn more about what you can expect from your online experience at Champlain.