Explore Software Engineering & Project Management
Advance your technical skills and successfully manage the development of high-quality software products by earning a graduate software engineering and project management certificate online. This multidisciplinary program teaches students how to specify, model, and manage the delivery of software products that satisfy functional and non-functional requirements. Learn how to use the latest technologies to specify software products, apply industry-standard project management principles and best practices to software development projects, and use software testing techniques to develop strategies that ensure the quality of software products.
This graduate certificate can be taken as a stand-alone credential, or embedded in Champlain's online master's in information technology, should you wish to continue your education and earn a master's degree. 
Build Your Career Future
We understand how important it is for busy working adults to gain knowledge and expertise quickly, which is why the courses in our software engineering certificate are applicable to the workplace from day one. Whether you're upskilling an existing technical undergraduate degree or you're currently pursuing your master's degree, advancing your expertise with a certificate is a great way to earn a credential in the field, get your resume noticed, and demonstrate proficiency in a focused area of knowledge.
Fast Start Formula Career Bundle
Propel your career even further by upgrading your certificate with our Fast Start Formula Career Bundle designed to get you noticed and get you hired. Gain access to the Fast Start Formula Career Course, the Landing A Job You'll Love Ebook, and live webinars with "hot seat" coaching by Executive Career Coach Jen Morris.
Take the next step
Apply (It's FREE & FAST!)
Academic Excellence and Recognition

Regionally accredited by the New England Commission of Higher Education

Ranked among the Best Online Bachelor's Programs by U.S. News & World Report

Designated as a Military Friendly School for our commitment to the military community

Named the among the best schools with accelerated bachelor's degrees by Intelligent.com
Accomplish More with a Graduate Software Engineering and Project Management Certificate Online
Occupations in software development and quality assurance are projected to grow 22% between 2020 to 2030, much faster than the average for all new occupations.* Professionals in these roles earn a median annual salary of 110,140.* Additionally, professionals working in project management and business operations occupations earn an average of $84,290 per year.* 
*Source: Bureau of Labor Statistics (BLS), 2020
TOP REASONS TO EARN A GRADUATE CERTIFICATE
Climb the career ladder
Build new skills
Earn a recognized credential
Differentiate your resume
Test a new field
Pursue a passion
Demonstrate subject matter expertise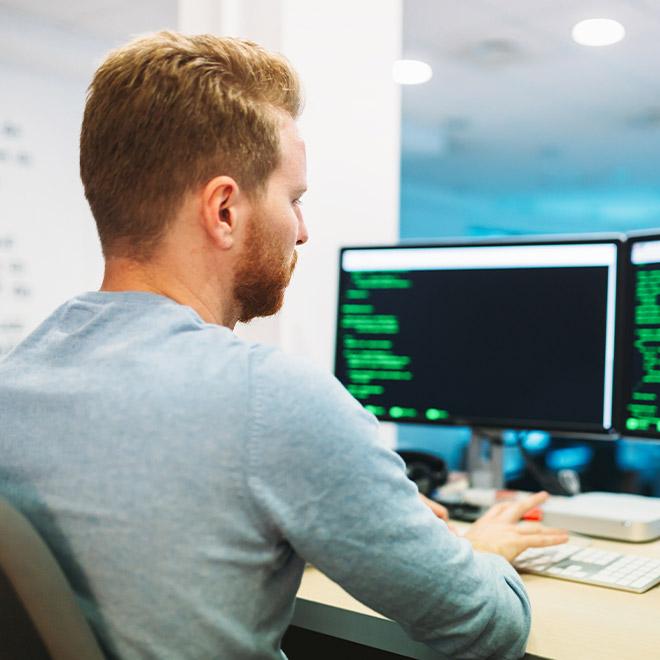 Program Details
Learn more about Champlain's 100% online software engineering & project management graduate certificate.
Champlain's online software engineering & project management courses encompass the top skills needed by today's IT professionals.
Students must demonstrate previous coursework and/or experience in information technology (IT). Students who do not display sufficient IT knowledge and skills will need to complete CMIT-500 before starting the program.
Courses
This course is designed to introduce a systematic process for planning, organizing and controlling projects. The course will present a practical methodology for completing projects more quickly with fewer problems. Student work will consist of readings, research, class special-topic presentations, group activities, a project management journal, and participation in a real world IT business project. Students will be encouraged to apply project-management techniques to solve existing real-world technology-related business problems.
In SDEV-520, Software Engineering, students learn about the field of software engineering, including project management methodologies applied to the field of Software Development, economic factors that affect development decisions and product life cycle, requirement gathering and assessment, and modelling languages. Disruptive technologies and methodologies and their impact on this field are also covered in this course.
In SDEV-530, students will use software modelling techniques and formal representation, including Unified Modelling Language (UML), to represent and design software systems.
In this course students study the specificity of managing software development projects, covering all areas identified by the Project Management Institute in the PMBoK? Software Extension. The application of these concepts to alternative forms of project management are also covered in this course.
In this course, students study Agile project management methodologies, in the context of software development, as a way of achieving Software Engineering quality goals. Students will learn what projects lend themselves to an agile approach, and how the agile approach relates to traditional project management, while learning the tools and techniques of Agile.
In this course, students will learn how to plan and implement software testing using quality assurance frameworks.
Previous coursework and/or experience in Information Technology (IT) is required for admission to the certificate. Students who are unable to demonstrate prior acquisition of knowledge and skills related to IT will be required to complete CMIT-500 before beginning the required certificate courses. 
Specify software products, using the latest techniques for requirements analysis, and systems modeling
Apply industry-standard Project Management principles and best practices to software development projects, to develop products that fully satisfy functional and non-functional requirements
Apply software testing techniques and develop strategies to ensure the quality of software products
Champlain College Online's cybersecurity and computer forensics faculty, led by Kathleen Hyde, are expert practitioners in the field. Their industry expertise ensures that our digital forensics curriculum is aligned with the needs of employers, and reflects the skills today's digital forensics professionals need for success. Classes led by our seasoned experts will give you real-world insight into the field and create a rich community of career-focused learning.
Many certificate students come to us seeking ways to get noticed at their current employers or to get hired in a new field. Given that, we are hyper focused on increasing the career mobility of our students and that's why we developed the Fast Start Formula Career Bundle, a suite of career offerings designed to help our students get noticed, get hired and land jobs they'll love.
Valued at over $1,000, the career bundle is offered to Champlain College Online certificate students for only $162 and includes: 
Fast Start Formula Course: The Fast Start Formula Course for getting noticed and getting hired is taught by Jen Morris, an executive career coach that we've developed a partnership with to support our students in their job search journeys. This course is online, self-paced and full of tips and tricks to land a job you'll love.
Live Webinars: Log-on to ask your specific job search questions, get live "hot seat" coaching and gain valuable insights from leading career coach, Jen Morris.
Landing A Job You'll Love Ebook: Download this ebook full of tips and tricks for standing out from the competition. From how to optimize your LinkedIn profile, to insider information on how recruiters work and bypassing the automated application websites, you'll be sure to learn how rise to the top. 
Upon enrollment in a degree or certificate, your access to the Fast Start Formula Career Bundle will made available to you. 
Tuition & Costs
Graduate Tuition Fall '23 - Summer '24
$450
per credit military service members (family members see truED tuition)
$150
One-time graduation fee
*Based on a 3-credit course; cost will vary if course is a different number of credits
Affordability
Cost shouldn't be a barrier to going back to school. We provide a number of options to make your online education affordable.
Meet the Program Director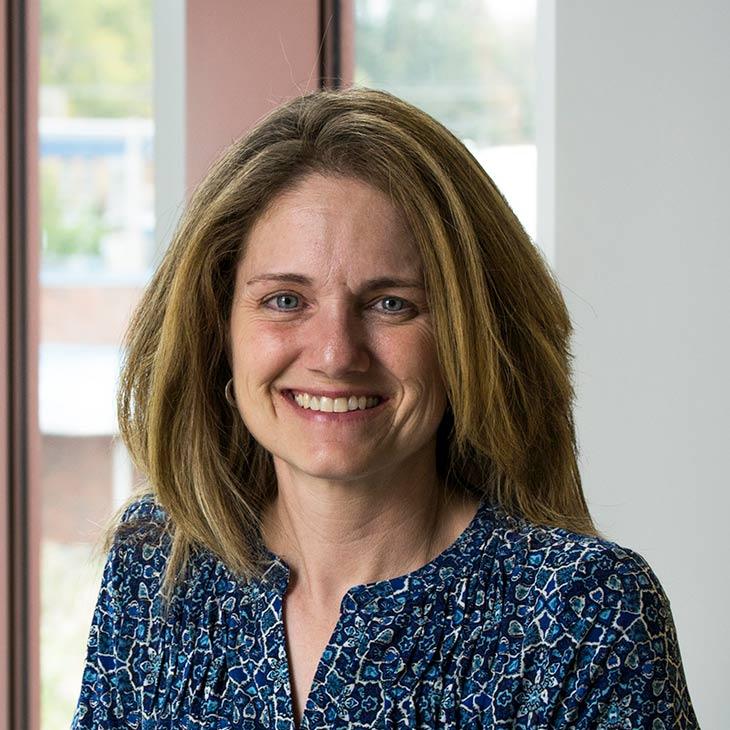 Chair, Cybersecurity Programs
Computer Forensics & Digital Investigations (B.S., Certificate)
Computer Information Systems (B.S.)
Information Security (M.S., Certificate)
Management Information Systems (B.S.)
Web Design & Development (A.S., B.S., Certificates)
About
Kathleen Hyde, MCIS, MBA, is the Chair of Cybersecurity Programs for Champlain College Online. She is responsible for the online cybersecurity and computer forensics and digital investigations undergraduate programs, as well as the M.S. in digital forensic science program.
As program director, Ms. Hyde maintains the cybersecurity and digital forensic programs' competitive and relevant edge, promotes the growth of the nation's cybersecurity workforce, and shares her passion for lifelong learning by teaching several online classes.
For more than 20 years, Ms. Hyde has provided consulting services in cybersecurity, data recovery, business continuity, and digital forensics to government, retail, finance, professional, and residential customers. She has also served as an instructor for Champlain's cybersecurity program and a subject-matter expert for course development for the past three years. Her areas of expertise and interest include insider threat detection, emerging threats and defenses, digital privacy and surveillance, and cybersecurity for educators.
Ms. Hyde holds both an MBA and an M.S. in Computer Information Studies from the University of Phoenix.
You may also be interested in
Request Information
Learn what you can expect from your experience at Champlain College Online.