Explore MBA with Positive Organization Development Specialization
As the pace and complexity of modern business environments grow, employers recognize the need for a new type of business professional: one who is more agile, reflective, can leverage one's own strengths and those of the team, and uses systems thinking to inform organizational decisions. Take the next step in your career and learn how to strategically affect change and drive organizational results with Champlain's online master's in business administration (MBA) with a concentration in positive organization development.
This positive organization development master's degree program will train you to become a more effective champion of positive change within your organization and gain a foundation in the philosophies, theories, applications, and practices of positive organization development. This online MBA in positive organization development program was developed in partnership with Champlain College's internationally renowned David L. Cooperrider Center for Appreciative Inquiry.
Build Your Career Future
As the business world becomes increasingly complex, today's business professionals must have a diverse skill set. These new business professionals must be agile and approach challenges with a systems-thinking mindset and, increasingly, must have a focused area of specialization.
A concentration in positive change development is a great way to highlight these in-demand skills and showcase subject matter expertise, as well as gain knowledge that can be applied to your workplace from day one.
Take the next step
Apply (It's FREE & FAST!)
Academic Excellence and Recognition

Regionally accredited by the New England Commission of Higher Education.

Ranked among the Best MBA Programs in Vermont by University Headquarters

Designated as a Military Friendly School for our commitment to the military community

Named the Best Online Bachelor's Programs by U.S. News & World Report
What Can You Do With an MBA?
Master's degrees from accredited online MBA programs are in high demand in the business world, and employment in master's-level occupations is projected to grow by 15% from 2019 to 2029. A master's degree also pays off: the median salary for professionals with a master's degree is $78,210.*
Additionally, the median salary for training and development professionals is $115,640 with roles of this nature expected to grow 7% from 2019 to 2029.*
*Sources: Bureau of Labor Statistics (BLS), 2020; job titles: Monster, 2020
Top Organizational Development Occupations
Change Management Specialist
Training and Development Manager
Training and Development Specialist
Program Details
Learn more about Champlain's 100% online MBA program with a specialization in healthcare administration, designed for working professionals.
MBA Course Descriptions
Champlain's online MBA courses encompass the top skills needed by today's business professionals.
MBA Required Courses (24-30 Credits)*
Positive Organization Development Specialization Courses (12 Credits)
* Some essential knowledge is required prior to admission to the MBA program. During your application process it will be determined if you meet all prerequisites; Students who already meet those prerequisites will be waived from MBA 507 and MGMT 525 and will earn a 36 credit MBA. Those who do not meet all the prerequisites will be required to complete one or both of the prerequisite classes to acquire the foundational knowledge necessary to be successful in core classes. Those who need the additional courses will earn a 39-42 credit MBA depending on which prerequisites they need.
MBA Required Courses
This course introduces MBA students to the theories, context, and managerial value of financial and management accounting. The role of accountants, the accounting equation, the accounting cycle, and financial reporting will be presented. The use of relevant accounting data to analyze internal operating decisions, allocate scare resources, and assess overall firm health will be emphasized. This course is designed to provide specific skills for the workplace as well as showcase the accounting function as an important foundational framework for the pursuit of advanced business education.
Organizations use the word risk in many contexts. Using an integrative perspective, students investigate operational, geopolitical and reputational risks, as well as those from the vagaries of nature and how the willingness to take risks can vary across both organizations and geography. Students consider how to minimize internal risks and how to prepare for external ones. Through the lens of organizational culture, students also explore the impact on organizations when employees are encouraged to be innovative and creative by taking risks.
Self-leadership is defined by a developed sense of who you are, what you can do, and where you are going, coupled with the ability to affect your behavior and emotions and to communicate effectively through the process. Students will develop a sense of self-awareness to include the values and habits of mind that drive one's practie as an innovative and creative leader, in a global and diverse workplace.
Prerequisites
Complete MGMT-525 or have equivalent knowledge or coursework.
The world is increasingly characterized by diversity and an integrated economy. Balancing the business opportunities and risks associated with dynamic and uncertain global changes is critical to effective leadership in this global economy. Leaders must learn how to integrate their understanding of culture, ethics, economic and politicial issues into their decision making and strategy development.
Prerequisites
Complete MBA-512 or take concurrently
Decision-making in any organization cannot be separated from financial considerations, and those involved with strategic planning and operations need to understand the impact their work has on the organization's financial performance. Managers must understand the organization's financial models in order to make a meaningful contribution to the overall success of the organization. Students will focus on using financial information rather than creating it and will use case studies and simulations to experience low-risk financial decision-making.
Prerequisites
Complete MBA-516 or take concurrently.
During a firm's planning, operations, and control cycles, many choices and decisions must be made. We introduce you to financial information within an orgranization that supports decision making and performance measurement in addition to how to use this information to make a business case to various stakeholders. Students will also consider how weigh both qualitative and quantitative factors when making decisions.
Prerequisites
Complete MBA-524 or HCMT-527
Marketing has the power to shape and influence individuals, communities, and society in myriad ways. Technological innovation continues to change the way we market to consumers, and the ways in which consumers interact with products and services. In this course, students will explore and critically examine the impact of current issues and emergent technology on enhancing the customer experience while at the same time applying foundational marketing approaches to build strategies and tactics for an organization of their choosing.
The operation of an organization focus on the transformation processes used to produce goods or provide services. Develop the skills needed to ensure the ongoing strategic contribution of a firm's operations to its competitive position. Investigate design thinking and the impact it can have on the complex processes underlying the development and manufacture of products as well as the creation and delivery of services. Topics include process analysis and cross-functional and cross-firm integration as part of a strategic vision.
The complexity of today's business environments and a rapidly changing global marketplace challenges organizations to become adaptive and innovative. Everyone must find a way to adopt new leadership skills for organizational survival. Meet this challenge wherever you exert influence in the organization by developing knowledge and skills to effectively lead with change, including communicating with others in the organization. Identify how change is accomplished and impacts people and affects organizational relationships.
This course is built around a project that is designed to apply, in a comprehensive manner, the core areas of knowledge around which this program has been built. These include: Values of a Global-Based Organization, Innovation through Information, Financial and Economic Resources, Customers, Markets, Sales and Marketing; Human Resources and Organizational Relationships; Measurement and Process Improvement; and Action Planning to Create Value. The project may be performed for a current employer, a sponsoring workplace or as an internship as either a Service Learning project for a qualifying non-profit organization or another organization of the student's choosing.
Prerequisites
The MBA 590 Capstone course must be taken only after all other courses in the program have been completed.
Positive Organization Development Specialization Courses
A strength-based renaissance has emerged within the social sciences in response to calls for new explorations into the positive side of organizational life. Going beyond the myopic focus on deficits that had predominated the field of OD to date, learners will explore the myriad of exciting work happening in the fields that inform the theory and practice of PosOD, including: appreciative inquiry, positive organizational scholarship, positive psychology, design theory, and the rise of sustainable enterprises.
Prerequisites
Admission to the Positive Organization Development Certificate Program.
Learners will explore the fundamental relationship between inquiry and change and experiment with the power that questions have to shape organizational life. Through observation of and reflection upon the questions asked by and to them in their own organizational lives, learners will explore how every effective organizational change process begins with the very questions we ask. The theory and practice of 'inquiry based leadership' will be detailed as a framework to create effective organizational interventions at every level within an organization.
Learners will take a deep dive into the theory and practice of Appreciative Inquiry as a specific philosophy and action-research framework for creating positive organizational change. Case studies will explore how AI has been applied in different sectors to create positive whole-system change. Learners will be introduced to the practical tools and resources for engaging groups and organizations in AI, as well as applying the principles of AI to their own life.
A key aspect of PosOD involves the identification and augmentation of strengths within all levels of an organization. Learners will explore the myriad of strength-based assessment tools, beginning with tools and techniques for uncovering strengths at the individual level, the team level, the organizational level, and community level. This class focuses on how to uncover strengths and assets that often go under utilized and how to use this data in strategic ways for creating positive organizational change.
In addition to the admission requirements for all graduate program applicants, our online accredited MBA program has specific requirements that must be met.
Business or Management Bachelor's Degree Requirement
If your bachelor's degree is not in business or management you may be required to successfully complete one or both of the following courses in addition to the 12 required courses - successful completion is considered a grade of B or better in the course(s).
MGMT 525 Managing Organizational Risk
MBA-507: Survey of Accounting for Managers
Depending on which course(s) you are asked to take, the MBA program may be between 36 and 42 credits in total.
Do you already have a demonstrated proficiency in this area? Provide proof of one or more of the following with your admission package to be evaluated by our Program Director:
Previous college coursework in financial accounting
Professional certifications in financial accounting
On the job training
In addition to developing advanced communication and analytical skills, and a strategic mindset, graduates of the MBA online program will demonstrate a mastery of the following industry-specific competencies:
Identify problems and formulate solutions utilizing a systems thinking approach that recognizes change will never happen to just one thing, regardless of the solution.
Evaluate risk in business scenarios by questioning underlying assumptions and emerging patterns, brainstorming solutions, and investigating factors that can lead to, or have led to, success, and incorporate those factors into future decision making.
Using a systems approach, evaluate the effect of an increasingly global and diverse environment on an organization, and consider internal systems such as relationships, finance and operations, as well as inter-firm relationships.
Use design thinking to generate innovative approaches to leading today's fast-changing organizations, with a focus on navigating competitive, political and economic environments.
Develop an ethical approach to business planning by using quantitative analyses, balanced with competing qualitative factors, including interpretation of financial statements and recognition of stakeholder's contending interests.
Use design and systems thinking to create a vision and strategic plan that recognizes the need for continual adaptation to the environment and the integration among all parts of the organization as well as those outside the organization.
Formulate a personal leadership mission statement and presence that reflects insights into yourself, others, and the changing business environment in the context of political realities and competing points of view.
Positive Organization Development Specialization Learning Outcomes
Apply theories and methodologies of strength-based organization change including Appreciative Inquiry, positive psychology and positive organizational behavior to generate value within organizational systems.
Create and apply effective questions that facilitate positive change within organizational contexts at the interpersonal, team and system level.
Design and implement Appreciative Inquiry-based organizational interventions.
Choose appropriate strength-based assessment tools and apply them to create and sustain positive organizational change.
Champlain College Online's business faculty, led by Program Director Dr. Linda Miller, are expert practitioners in the field. Their industry expertise ensures that our positive organization development graduate curriculum is aligned with the needs of employers, and reflects the skills today's business professionals need for success. Classes led by our seasoned experts will give you real-world insight into the field and create a rich community of career-focused learning.
Alumni of the Champlain College Online MBA program work in corporations, small businesses, government organizations, and non-profits nationwide, including:
Alliance Bank
Ben & Jerry's
Burton Snowboards
Cabot Creamery
City of Burlington
Collins Aerospace
Dealer.com/Cox Automotive
Deloitte
Fidelity Investments
GE Healthcare
Internal Revenue Service 
JP Morgan Chase
Keurig Dr. Pepper
MetLife
Mylan Technologies 
National Life Group
Northrop Grumman
People's United Bank
Social Security Administration (SSA)
University of Vermont Health Network
UTC Aerospace Systems 
Titles our alumni hold include:
Accountant
Auditor
Business Administrator
Business Analyst
Chief Engineer
Chief of Staff
Chief Operating Officer 
Claims Specialist
Consultant 
Contract Specialist 
Financial Analyst 
Financial Manager
Global Inventory Planner 
HR Specialist
IT Auditor 
Management Analyst 
Program Analyst
Program Officer 
Quality Assurance Analyst 
Sr. Software Engineering Manager
Underwriting Analyst 
Increasing your career mobility is at the center of everything we do. As an online master's degree student, you get free access to the Fast Start Formula Career Course for getting noticed and getting hired, taught by Jen Morris, a leading executive career coach that partners with us to support our students in their job search journeys. This online course is self-paced and full of tips and tricks to land a job you'll love. Jen also hosts live webinars to answer specific questions, share additional insights, and does live "hot seat" coaching.
Tuition & Costs
Continuing your education is an investment in your future. Learn more about our affordable tuition rates.
Affordability
Cost shouldn't be a barrier to going back to school. We provide a number of options to make your online education affordable.
Upcoming Information Sessions
ET
MBA Information Session
Join program director Dr. Linda Miller, CPA and an admissions representative for an online presentation and learn how Champlain's Master of Business Administration program is unique and how it can help you attain your career goals. The presentation will be followed by a Q&A session.
Register Now
Meet the Program Director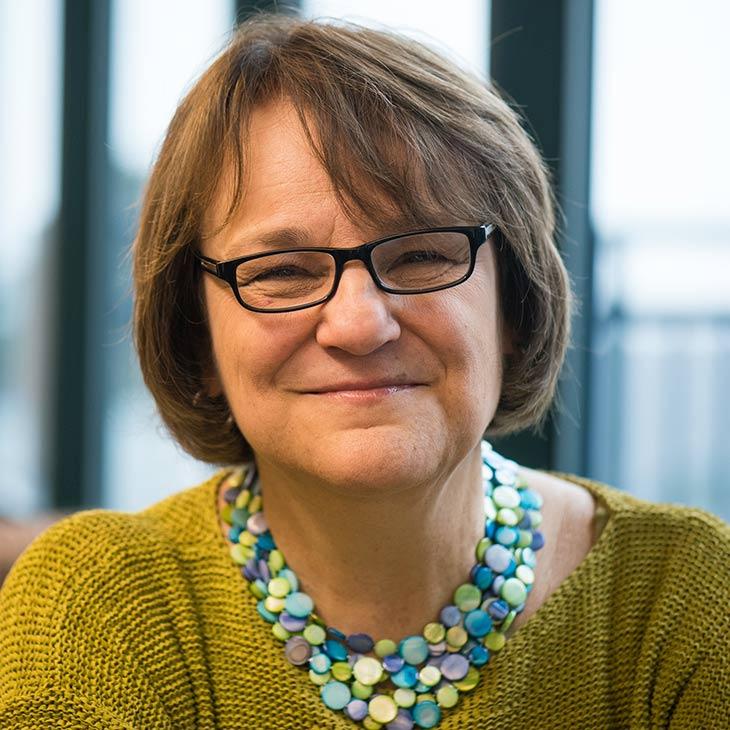 Linda Miller
PhD
CPA
Program Director
Accounting (A.S., B.S., Certificates)
Human Relations and Organization Development (M.S.)
Integrated Studies (B.S.)
MBA
Positive Organization Development (Certificate)
About
Linda Miller, PhD, CPA, is Associate Professor and Assistant Dean for Champlain College Online. She is responsible for the online accounting and integrated studies programs, as well as the MBA and master's in human relations and organization development programs. Following 12 years in accounting, business, and consulting positions, Dr. Miller has spent over 20 years in higher education at a variety of schools, including Bucknell University, the University of Vermont, and Pennsylvania State University, where she also taught in the executive education programs.
With an education focus primarily in adult and online education, Dr. Miller has enjoyed developing a wide variety of online certificates and degrees in business-related areas, including supply chain management and leadership. Dr. Miller continues to research best practices in online teaching and learning and to create opportunities for Champlain College Online instructors to develop their online teaching skills. Other specific areas of interest for Dr. Miller include the impact of technology on supply chains and the effective teaching of transformational leadership.
Dr. Miller holds an M.S. in Accounting from Pennsylvania State University and a PhD in Business Management (School of Supply Chain Management) from the same. She is a member of the International Leadership Association and the Society of Supply Chain Management Professionals.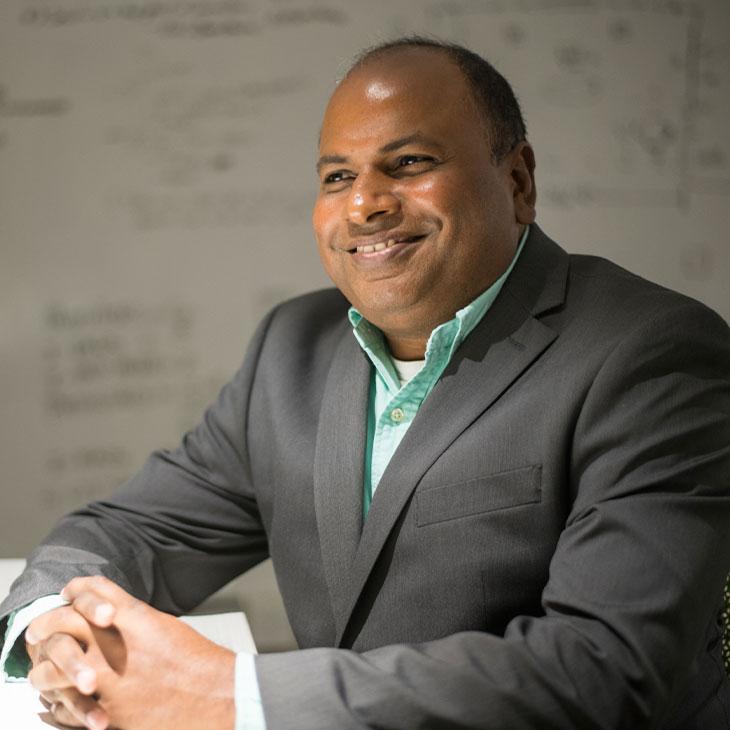 Online Experience
"I did not expect my online classes to be so collaborative or to have such constant engagement. One might think the traditional classroom approach would have more of those things, but I found them be even more present in Champlain's online format."
Madhava Potluri Master of Business Administration (MBA)
IS Consultant, MetLife
You may also be interested in
Download Program Guide
Learn what you can expect from our online MBA program with a specialization in positive organization development.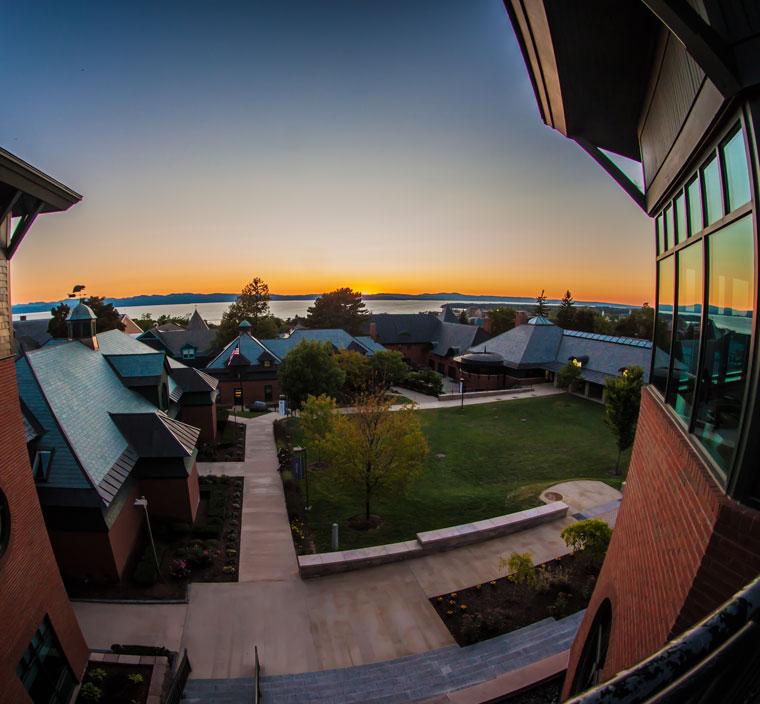 Download Program Guide
Champlain College will not share or sell personal information. Submitting this form constitutes your express written consent to agree to receive e-mails, texts, and phone messages from Champlain College at the phone number(s) and email address provided in this form.