Explore Positive Organization Development
Become a more effective champion of positive change within your organization, and gain a foundation in the philosophies, theories, applications and practice of Positive Organization Development through Champlain's graduate certificate in positive organization development, the first of its kind.
Build Your Career Future
As the business world becomes increasingly complex, today's business professionals must have a diverse skillset. These new business professionals must be agile and approach challenges with a systems-thinking mindset and, increasingly, must have a focused area of specialization.
A graduate certificate is a great way to highlight these in-demand skills and showcase subject matter expertise, as well as gain knowledge that can be applied to your workplace from day one.
This certificate can be taken as a stand-alone program, or can be embedded in Champlain's online MBA degree or online master's in human relations and organization development degree, and was developed in partnership with Champlain College's internationally renowned David L. Cooperrider Center for Appreciative Inquiry. 
Fast Start Formula Career Bundle
Propel your career even further by upgrading your certificate with our Fast Start Formula Career Bundle designed to get you noticed and get you hired. Gain access to the Fast Start Formula Career Course, the Landing A Job You'll Love Ebook, live webinars with "hot seat" coaching by Executive Career Coach Jen Morris and a one-year membership to the leading job search website for remote and flexible jobs, Flex Jobs. 
Take the next step
Apply (It's FREE & FAST!)
Academic Excellence and Recognition

Regionally accredited by the New England Commission of Higher Education

Ranked among the Best Online Bachelor's Programs by U.S. News & World Report

Designated as a Military Friendly School for our commitment to the military community

Named the Best Private Online College by Intelligent.com
Accomplish More with a Graduate Certificate in Positive Organization Development
Business and financial occupations are expected to grow 8% from 2020 to 2030, faster than the average growth for all fields, as a result of an increasingly complex global business landscape. The median annual wage for these roles is $72,250.*
A specialized certificate can help you build new skills, differentiate your resume, and demonstrate your value as an employee in your current organization.
*Source: Bureau of Labor Statistics (BLS), 2020
Top Reasons to Pursue a Graduate Certificate
Climb the ladder
Build new skills
Earn a recognized credential
Differentiate your resume
Test a new field
Pursue a passion
Demonstrate subject matter expertise
Program Details
Learn more about Champlain's 100% online positive organization graduate certificate, designed for working professionals.
Champlain's online positive organization development courses encompass the top skills needed by today's organizational development professionals.
Required Courses (15 Credits):
A strength-based renaissance has emerged within the social sciences in response to calls for new explorations into the positive side of organizational life. Going beyond the myopic focus on deficits that had predominated the field of OD to date, learners will explore the myriad of exciting work happening in the fields that inform the theory and practice of PosOD, including: appreciative inquiry, positive organizational scholarship, positive psychology, design theory, and the rise of sustainable enterprises.
Prerequisites
Admission to the Positive Organization Development Certificate Program.
Learners will explore the fundamental relationship between inquiry and change and experiment with the power that questions have to shape organizational life. Through observation of and reflection upon the questions asked by and to them in their own organizational lives, learners will explore how every effective organizational change process begins with the very questions we ask. The theory and practice of 'inquiry based leadership' will be detailed as a framework to create effective organizational interventions at every level within an organization.
Learners will take a deep dive into the theory and practice of Appreciative Inquiry as a specific philosophy and action-research framework for creating positive organizational change. Case studies will explore how AI has been applied in different sectors to create positive whole-system change. Learners will be introduced to the practical tools and resources for engaging groups and organizations in AI, as well as applying the principles of AI to their own life.
A key aspect of PosOD involves the identification and augmentation of strengths within all levels of an organization. Learners will explore the myriad of strength-based assessment tools, beginning with tools and techniques for uncovering strengths at the individual level, the team level, the organizational level, and community level. This class focuses on how to uncover strengths and assets that often go under utilized and how to use this data in strategic ways for creating positive organizational change.
As a capstone for the program, this course provides learners with an overview of the cutting-edge cases and tools being used in the field ofPosOD. Applying a unique course design of guest experts from around the globe participating virtually with students in a series of online seminars, this class will explore not only best practices, but also future trends in the field of OD, asking What is best and what is next in the field of Positive Organizational Development?
Graduates of the positive organization development online graduate certificate program will demonstrate the following industry-specific skills, knowledge, and competencies:
Apply theories and methodologies of strength-based organization change including Appreciative Inquiry, positive psychology and positive organizational behavior to generate value within organizational systems.
Create and apply effective questions that facilitate positive change within organizational contexts at the interpersonal, team and system level.
Design and implement Appreciative Inquiry-based organizational interventions.
Choose appropriate strength-based assessment tools and apply them to create and sustain positive organizational change.
Champlain College Online's business faculty, led by Program Director Dr. Linda Miller, are expert practitioners in the field. Their industry expertise ensures that our positive organization development graduate curriculum is aligned with the needs of employers, and reflects the skills today's business professionals need for success. Classes led by our seasoned experts will give you real-world insight into the field and create a rich community of career-focused learning.
Alumni of the Champlain College Online positive organization management graduate certificate program work in corporations, small businesses, government organizations, and nonprofits nationwide, including:
Essex Junction Recreation and Parks
Twincraft Skincare
U.S. Customs & Immigration Services
U.S. Department of Homeland Security
Titles our alumni hold include:
Analyst
Director 
Immigration Officer
Plant Manager
Many certificate students come to us seeking ways to get noticed at their current employers or to get hired in a new field. Given that, we are hyper focused on increasing the career mobility of our students and that's why we developed the Fast Start Formula Career Bundle, a suite of career offerings designed to help our students get noticed, get hired and land jobs they'll love.
Valued at over $1,000, the career bundle is offered to Champlain College Online certificate students for only $162 and includes: 
Fast Start Formula Course: The Fast Start Formula Course for getting noticed and getting hired is taught by Jen Morris, an executive career coach that we've developed a partnership with to support our students in their job search journeys. This course is online, self-paced and full of tips and tricks to land a job you'll love.
Live Webinars: Log-on to ask your specific job search questions, get live "hot seat" coaching and gain valuable insights from leading career coach, Jen Morris.
Membership to Flex Jobs (12-months): As the leading resource for finding remote and flexible work, Flex Jobs helps people find professional remote and flexible jobs in 50+ career fields, entry-level to executive, part-time to full-time, in the U.S. and around the world. Every job and company is researched for you to help you decide if you want to apply. Flex Jobs also offers great resources and tools like resume reviews and live customer support so you can land the remote or flexible job you want.
Landing A Job You'll Love Ebook: Download this ebook full of tips and tricks for standing out from the competition. From how to optimize your LinkedIn profile, to insider information on how recruiters work and bypassing the automated application websites, you'll be sure to learn how rise to the top. 
Upon enrollment in a degree or certificate, your access to the Fast Start Formula Career Bundle will made available to you. 
Tuition & Costs
Continuing your education is an investment in your future. Learn more about our affordable tuition rates.
Affordability
Cost shouldn't be a barrier to going back to school. We provide a number of options to make your online education affordable.
Upcoming Information Sessions
ET
Paying For Your Education Information Session
Every financial situation is different, but let us offer some helpful tips and walk you through the financial process at Champlain Online. In this interactive webinar, learn from an admissions representative who will share with you some information about financial aid, payment plans, veteran benefits, and more.
Register Now
You may also be interested in
Download Online Experience Guide
Learn what you can expect from your online experience at Champlain College Online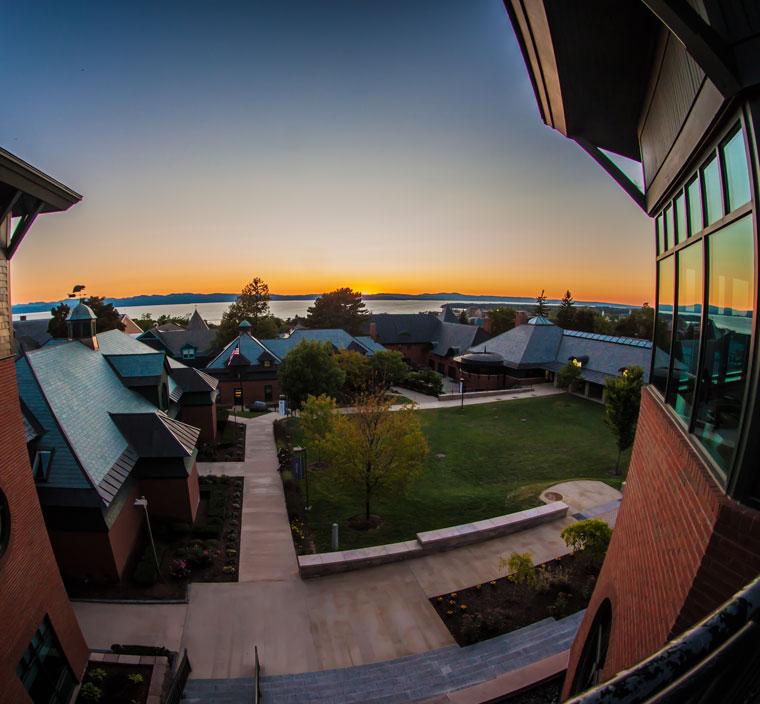 Download Online Learning Experience Guide
Champlain College will not share or sell personal information. Submitting this form constitutes your express written consent to agree to receive e-mails, texts, and phone messages from Champlain College at the phone number(s) and email address provided in this form.