Explore Blockchain
Learn the basics of blockchain technology and enter the information security field with a credential employers will respect with Champlain's online blockchain certificate program.
This certificate can be taken as a stand-alone program, or can be used as a stepping stone on the way to obtaining your online bachelor's in cybersecurity.
We understand how important it is for busy working adults to gain knowledge and expertise quickly, which is why our blockchain certificate coursework is applicable to the workplace from day one. Whether you've already earned an undergraduate degree or you're currently pursuing your bachelor's degree, an online blockchain certificate is a great way to earn a credential in the field, get your resume noticed, and demonstrate proficiency in a focused area of knowledge.
Academic Excellence and Recognition

Designated Best Online Private College by Intelligent.com

Consistently ranked among the Best Online Bachelor's Degrees by US News & World Report

Ranked among the Most Affordable Online Cybersecurity Bachelor's Degrees

Accredited by the New England Commission of Higher Education
Gain New Skills With A Certificate
Cybersecurity careers are expected to grow 32% between 2018 and 2028, significantly higher than the average growth for all fields.*
*Source: Bureau of Labor Statistics (BLS), 2019
Top Reasons To Pursue A Certificate
Enter an new field
Build new skills
Gain knowledge on your way towards a degree
Differentiate your resume
Earn a credential
Demonstrate proficiency in a focused area of learning
Program Details
Learn more about Champlain's 100% online blockchain undergraduate certificate, designed for working professionals.
Champlain's online blockchain courses encompass the top skills needed by today's information security professionals.
Courses
This course provides students with an understanding of the many different devices and technologies, from historical to emerging, that are required to design and build networks. In a broad survey of concepts and terminology, students will learn about topology, communications, protocols, and security, and to diagram basic networks to specification.
From day one, students in this course are problem solving, first in terms of algorithmic design and then as early as week two via programming in the latest version of Python, using PyCharm. Students begin by writing a program to have a conversation, having strings and numbers as input, and advance, by week seven, to building a working password saver program, capable of looking up, adding (and encrypting), and storing passwords.
Blockchain technologies used in distributed environments can improve security. In this course, students will learn blockchain basics: the structure of blockchain, the role of cryptography, consensus mechanisms and their roles, and blockchain forks types and classification. Students will also identify how blockchain technologies are currently being utilized by various industries, and be introduced to smart contracts as well as how blocks are mined.
This course will introduce foundation subject matter and technologies that are critical to the multidisciplinary landscape of cybersecurity.
Prerequisites
Complete CMIT-130 and CMIT-135.
Blockchain technologies can be used in distributed environments to improve security. Understanding the blockchain concepts can help a security professions better use blockchains to an organizational advantage. This course covers an overview of blockchain technologies to include the cryptography used.
Prerequisites
Complete CYBR-210 and CMIT-230
Distributed application development in in high demand. To better develop distributed applications, security best practices must be applied. This course applies blockchain concepts used in previous classes to concentrate on creating smart contracts, or chain code. Different blockchain technologies will be used.
Graduates of the online blockchain certificate program will demonstrate the following industry-specific skills, knowledge, and competencies:
Explain the principles and processes of blockchain technologies.
Apply blockchain to increase information security in different contexts.
Analyze blockchain application use-case scenarios.
Create secure distributed applications.
Champlain College Online's information security faculty, led by Program Director Sérgio Tenreiro de Magalhães, PhD, are expert practitioners in the field. Their industry expertise ensures that our cyber security curriculum is aligned with the needs of employers, and reflects the skills today's cybersecurity professionals need for success. Classes led by our seasoned experts will give you real-world insight into the world of cybersecurity, and create a rich community of career-focused learning.
Tuition & Costs
Continuing your education is an investment in your future. Learn more about our affordable tuition rates.
Affordability
Cost shouldn't be a barrier to going back to school. We provide a number of options to make your online education affordable.
You may also be interested in
Download Online Experience Guide
Learn what you can expect from your online experience at Champlain College Online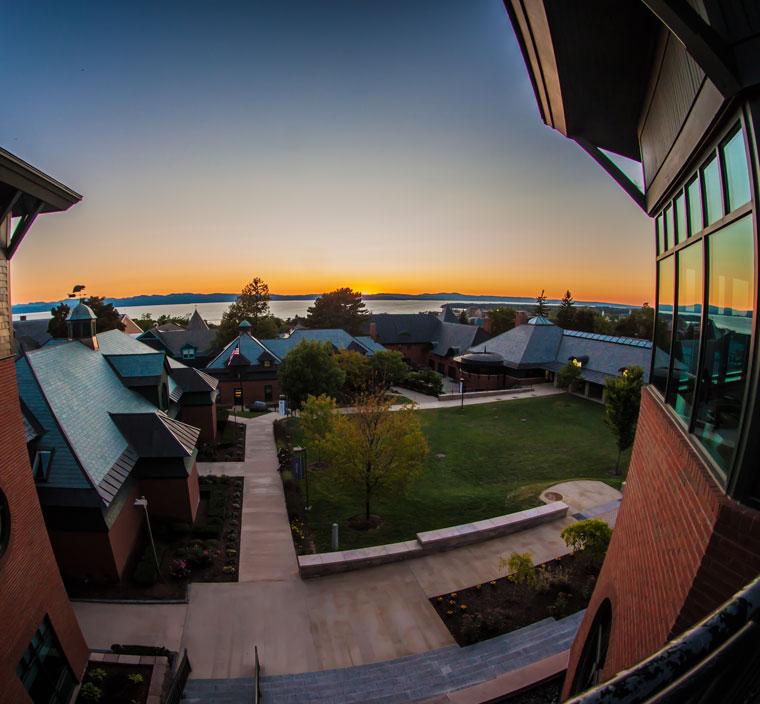 Download Online Learning Experience Guide
Champlain College will not share or sell personal information. Submitting this form constitutes your express written consent to agree to receive e-mails, texts, and phone messages from Champlain College at the phone number(s) and email address provided in this form.