Explore Cybersecurity (B.S.)
As cyber threats become a growing reality for businesses and organizations across all sectors, the need for highly trained cyber security professionals is becoming more critical than ever before. Designed to meet the needs of today's businesses, and with a focus on hands-on experience and problem solving, Champlain's nationally recognized online bachelor's in cybersecurity degree is the ideal program for those looking to advance their careers in this critical field, delivering cutting-edge education and virtual hands-on learning application to help you stand out in the field and advance your career from day one.
A Nationally Recognized Leader in Cybersecurity
Champlain is a nationally recognized leader in cybersecurity and digital forensics education and home of the Senator Patrick Leahy Center for Digital Investigation & Cybersecurity. With a robust faculty of expert-practitioner instructors who have significant experience working for top organizations and are sought-after thought leaders in the field, we specialize in building agile cybersecurity and digital forensics programs that the meet mission-critical needs of today's businesses, nonprofit organizations, and state and federal governments.
Champlain has been designated a National Center of Academic Excellence in Cyber Defense Education by the U.S. National Security Agency and the Department of Homeland Security since 2006, and Champlain cybersecurity programs have been named best in the nation by SC Magazine. Champlain is also designated as a National Center of Digital Forensics Academic Excellence by the Defense Cyber Crime Center (DC3) Air Force Office of Special Investigations - the fifth college in the nation, and the only private college in the country, to receive this distinction. 
Build Your Career Future
In a field that changes as rapidly as cybersecurity, with new technologies and best practices constantly emerging, it's essential that your cyber security undergraduate degree helps you build a foundational skillset that can help you adapt and grow. Champlain's program emphasizes both core technical skills (including knowledge of over 31 key applications, platforms, and programming languages, listed below) and essential soft skills like critical thinking and problem-solving that you can immediately apply to your workplace and that will give you an adaptive edge as global digital environments become more complex. You'll also have the opportunity to differentiate your degree and gain subject matter expertise through a certificate in a specialization of your choice, in Computer Forensics & Digital Investigations, Computer Networking, Incident Response, Linux Administration, Security Administrator, Software Security, or System Administration.
Academic Excellence and Recognition

Regionally accredited by the New England Commission of Higher Education

Ranked among the Best Online Bachelor's Programs by U.S. News & World Report

Designated as a Military Friendly School for our commitment to the military community

Named among the top MBA programs by Abound/Colleges of Distinction
Pursue Your Cybersecurity Career
Cybersecurity careers are expected to grow 32% between 2018 and 2028, significantly higher than the average growth for all fields, as a result of increase cyber threats across all industries. The median annual salary for information security professionals is over $98,000.*
The strong demand for cybersecurity talent means that job opportunities are available in virtually every field and sector, including cyber incidence response, cyber risk and strategic analysis, vulnerability detection and assessment, and more. There is also a particular need for cyber professionals in the federal government, which has designated cybersecurity as a mission-critical function.
*Sources: Bureau of Labor Statistics (BLS), 2019; job titles: cyberdegrees.org, 2019
Top Jobs for Bachelor's in Cybersecurity Graduates
Incident Responder
Penetration Tester
Security Administrator
Security Analyst
Security Engineer
Security Auditor
Vulnerability Assessor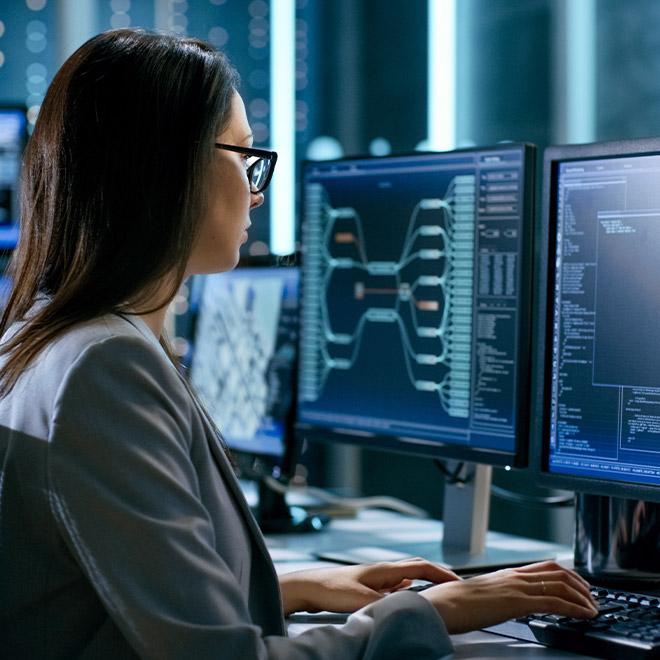 Program Details
Learn more about Champlain's 100% online cyber security bachelor's degree, designed for working professionals.
Champlain's online cyber security course portfolio encompasses the critical skills needed by today's cybersecurity professionals. Graduates of the program are required to complete the following courses.
Professional Courses (69 credits):
Networking Fundamentals
Introduction to Python
Introduction to Operating Systems
Senior Seminar Project (15-week course)
TCP/IP
Foundations of Cybersecurity
Digital Forensic Investigation Techniques
Operating System Security
Security Scripting With Python
Cloud Computing Security
Networking & Security
Mobile Security
Ethical Hacking
Intrusion Analysis and Response
Emerging Threats & Defenses
Wireless Networking
Cybersecurity Policy Analysis & Implementation
Web Page Development I- HTML
System Administration & Network Services 1
Project Management or Project Management Standards & Behaviors
Technical Electives (see Embedded Certificates/Technical Electives. 12 credits required)
General Education Courses (15 credits):
Intro to Psychology or Intro to Sociology
Critical Reading & Expository Writing I
Critical Reading & Expository Writing II
Interpersonal Communication
Intro to Statistics (15-weeek course)
Technical Writing
Microeconomics OR Macroeconomics
Intercultural Communication
Writing in the Workplace
Ethics in the Professions
Lab Science (4 credits required) 
Hum/Sci/Math Elective (9 credits required)
General Electives (5 credits required)
Cybersecurity Course Descriptions:
Graduates of the cybersecurity bachelor's online degree program will demonstrate the following industry-specific skills, knowledge, and competencies:
Evaluate the computer network and information security needs of an organization.
Assess cybersecurity risk management policies to effectively protect an organization's critical information and assets.
Measure the performance of security systems within an enterprise-level information system.
Troubleshoot, maintain, and update an enterprise-level information security system.
Implement continuous network monitoring and provide real-time security solutions.
Formulate, update, and communicate short- and long-term organizational cybersecurity policies and strategies.
Acquire in-demand technical, analytical and soft skills employers want - such as communication, creativity, critical thinking, and collaboration - in general education courses that are a part of this degree.
Earn a specialized certificate in a concentration of your choice as you pursue your degree, so you can build credentials as you go.
Acrylic Wifi
Android x86 Emulator
Burp
CentOS Linux
CSS
Damn Vulnerable Web Application (DVWA)
Google Hacking
Hping3
HTML5
IDLE
Linux Server
Low Orbit Ion Cannon (loic)
Metsploitable
Nessus
Netsh
Nexpose
NMAP
Open SSL
PyCharm
Python
Security Administrator Tool for Analyzing Networks (SATAN)
Security Onion
Social Engineer's Toolkit (Kali Linux)
TinyCA
Transmission Control Protocol/Internet Protocol (TCP/IP) Suite
VMware
W3AF
Windows Server
Wireless LANs
Wireshark
Zed Attack Proxy (ZAP)
Champlain College Online's cybersecurity faculty, led by Program Director Sérgio Tenreiro de Magalhães, PhD, are expert practitioners in the field. Their industry expertise ensures that our cyber security curriculum is aligned with the needs of employers, and reflects the skills today's cybersecurity professionals need for success. Classes led by our seasoned experts will give you real-world insight into the world of cybersecurity, and create a rich community of career-focused learning.
Alumni of the Champlain College Online bachelor's in cyber security degree program work in corporations, small businesses, government organizations, and non-profits nationwide, including:
Associated Business Systems - A Ricoh Company
AT&T
Bank of America
Biotek Instruments
Department of Homeland Security
Dyncorp International 
IRS
National Grid
National Life Group
People's United Bank
Security Risk Advisors
TEK Systems 
University of Vermont 
U.S. Treasury
Verizon 
Titles our alumni hold include:
Computer Forensics Examiner
Cybersecurity Practices Manager
IT Manager
IT Specialist
Information Assurance Network Manager 
Information Security Analyst
Information Security Specialist 
Intelligence Analyst
Network Administrator
Network Analyst
System Support Specialist
Sr. Information Security Specialist 
Sr. Systems Engineer
Unix Analyst
Tuition & Costs
Continuing your education is an investment in your future. Learn more about our affordable tuition rates.
Affordability
Cost shouldn't be a barrier to going back to school. We provide a number of options to make your online education affordable.
Meet the Program Director
Sérgio Tenreiro de Magalhães
PhD
Program Director
Cybersecurity (B.S., Undergraduate Certificates)
Software Development (A.S., B.S., Certificates)
Digital Forensic Science (M.S.)
About
Dr. Sérgio Tenreiro de Magalhães is Associate Professor and Chair of Cybersecurity at Champlain College Online.
Prior to Champlain, Dr. Magalhães was a researcher of the Software Engineering and Management Group (SEMAG) of the Algoritmi Research Center (University of Minho) and an Assistant Professor of the Catholic University of Portugal - Braga. He is a member and reviewer of a number of organizations, including the NATO Multinational Cyber Defense Education and Training project and the Editorial Committee of the International Journal of Electronic Security and Digital Forensics.
Dr. Magalhães has a PhD in Information Systems and Technologies from the University of Minho (Portugal). His research interests focus on information security, intelligence and performance monitoring, and has published widely on security-related topics.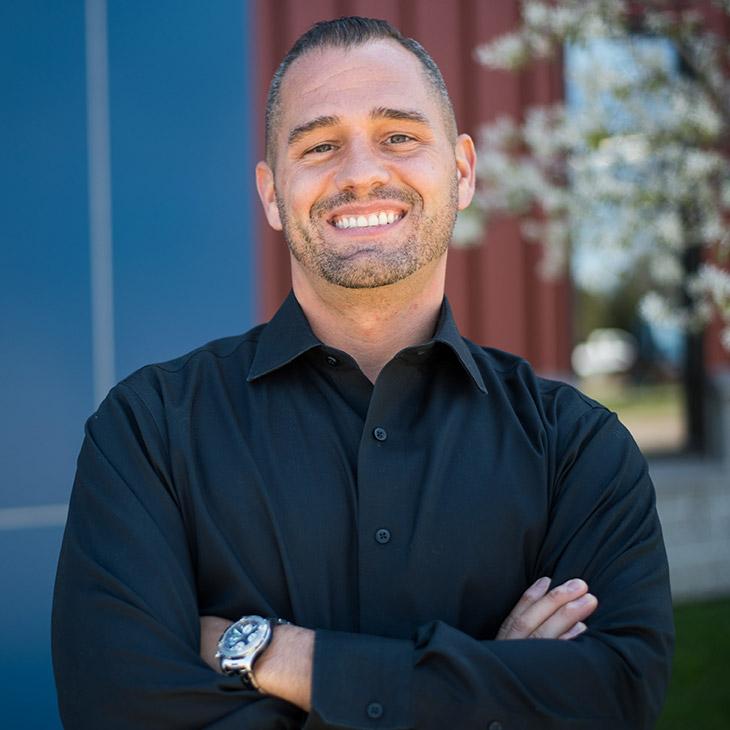 Career Growth
"Not having a bachelor's degree was restricting my career. I had been lucky to get in the door with some great companies without one, but there was only so high up I could go. Getting my degree opened up new opportunities for me in the cybersecurity field."
Shannon Brewster Bachelor's Degree in Cybersecurity
Regional Leader, AT&T Cybersecurity Consulting, Information Assurance, CISSP
You may also be interested in
Download Program Guide
Learn what you can expect from our online bachelor's in cybersecurity program.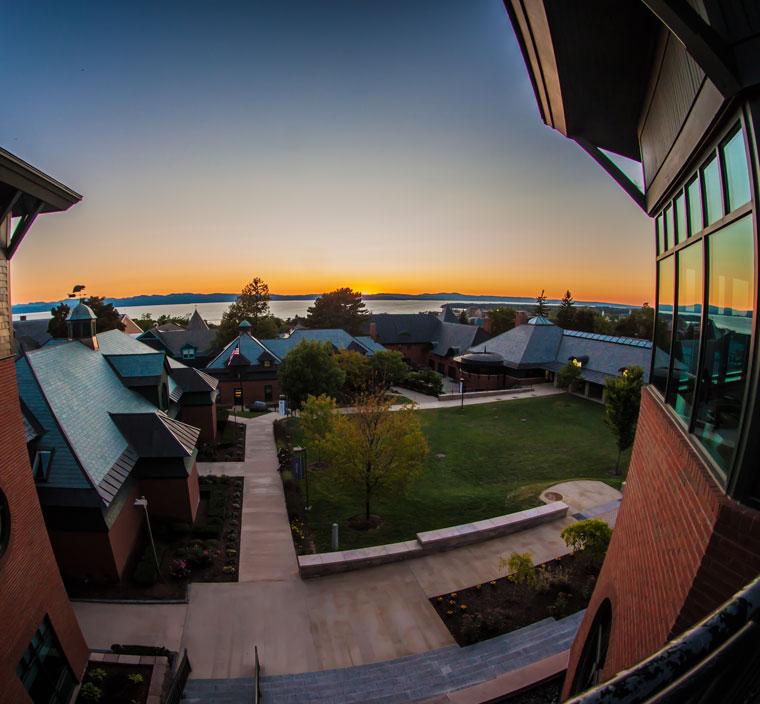 Download Program Guide
Champlain College will not share or sell personal information. Submitting this form constitutes your express written consent to agree to receive e-mails, texts, and phone messages from Champlain College at the phone number(s) and email address provided in this form.