How to Get into Web Design
Web design has become one of the most viable and advantageous creative disciplines to work in. The rising demand for web design professionals is a result of the increased urgency for companies to stay competitive in an oversaturated online marketplace. To attract new audiences and create more impactful experiences for their users, companies know it's more important than ever to optimize their online presence. A primary way companies can enhance their digital presence is to create compelling designs, from both an aesthetics and usability perspective - which is the fundamental responsibility of web designers.
Web design refers to the process of creating website interfaces. Designers are responsible for everything relating to the front-end look and functionality of the interface, including information architecture, component layouts, color schemes, typography, and imagery. Ultimately, in a web design role, you're responsible for creating a positive user experience by crafting visually pleasing and easy-to-navigate websites.
Web design can be categorized into two primary paths: user experience (UX) design and visual design. While closely related, in the web services industry these are typically considered separate positions.
UX Design
The primary goal of UX is to produce seamless experiences and maximize efficiency for users. UX designers focus on functionality. They create blueprints, or wireframes, for how certain pages should function, in regard to information/visual hierarchy, content organization, and use of interactive elements.
Visual Design
Using the wireframes designed by their UX counterparts, visual designers create aesthetically pleasing designs for each of the necessary interface elements. Given the integrative nature of website development, it is important for designers to have interdisciplinary knowledge of the strategy, development, and marketing processes.
While UX designer and visual designer are different job titles at some organizations, the roles may overlap at others. Either way, many employers will expect design candidates to have a working knowledge of both visual and UX design principles. Given the integrative nature of website development, it is important for designers to have interdisciplinary knowledge of strategy, development, and marketing processes.
If you are a creative type and are interested in pursuing job opportunities within a fast-paced and in-demand industry, web design may be an ideal degree choice and career path. Given the interdisciplinary landscape of web design, you may be wondering, how do I get into web design? To guide you through what it takes to start a career in web design, we've listed some important requirements and considerations for aspiring designers.
What Skills Do You Need to Be a Web Designer?
Understand the Principles of Visual Design
To become a skilled designer, you'll need to develop an understanding of the fundamental principles of design. In other words, you'll need to develop the ability to express how and why something is pleasing to look at. These principles include color theory, composition, contrast, visual hierarchy, scale, emphasis, perspective, and so forth. Understanding these principles leads to the successful application of these elements - and to successful web designs that are visually appealing and easy to use. Over time, with more practice and experience, your skills will only become more refined.
Proficiency in Design Tools and Software
To create visual interfaces for web products and services, designers use a variety of software and programs, including Adobe Illustrator, Adobe Photoshop, Adobe InDesign, Sketch, Axure, and Figma. While learning these programs with the guidance of a skilled instructor is a valuable aspect of a web design degree program, you can also advance your technical abilities through smaller online learning modules or enroll in a program-specific certificate program.
Good command of these tools - expertise, even - will be required for most design positions. Increase your chances of securing your preferred career opportunities by ensuring you have as much experience with these industry-standard programs as possible. 
Knowledge of Responsive Design
Web designers can't just produce nice-looking results; they need to create designs that are technically feasible, too. This means that designers must understand the functionality and usability of potential web elements - and how they will work on various devices and screen sizes. (For example, if you know your target audience is made up of heavy smartphone users, optimizing for mobile is crucial.) Understanding when and how to use certain components (such as buttons, drop-downs, or text fields) is vital to the overall user experience.
Soft Skills for Visual Designers
In addition to artistic aptitude and technical expertise in design software, web designers need a range of soft skills - such as time management, teamwork, and communication - to excel in their profession. Whether working with clients or as part of an internal creative department, design work is highly collaborative. Your work will need to align with branding parameters and other specifications, as well as be reviewed and approved by others. That's why it's essential to be flexible in your design thinking and be open to feedback - and know how to communicate your ideas clearly to others.
How to Start a Career in Web Design
Getting a Degree in Web Design
One of the most practical ways to build the credentials needed to begin a career in web design is enrolling in a degree program. Champlain College Online (CCO) offers an online associate degree and bachelor's degree program in web design and development.
Champlain's online bachelor's degree stands out from other design programs because it integrates creative design and back-end programming into one interdisciplinary curriculum. You'll have the opportunity to develop proficiency in more than 30 programming languages, design tools, and software applications. This focus on technical aptitude uniquely positions graduates for success. Even for web design positions, HTML and CSS knowledge is highly coveted by potential employers because it means those candidates will already be privy to the technical capabilities and limitations of their designs. This breadth of courses and programming experience can certainly give you an edge against other applicants.
Graduates emerge from the program as extremely well-rounded designers, equipped with knowledge of the interdisciplinary elements of web design.
Building a Web Design Portfolio
A portfolio is a collection of an artist's work - and it's arguably the most important tool for launching or advancing any type of design career.
When applying for web design jobs, you'll typically be asked to submit a portfolio along with other required materials. These samples allow recruiters to preview your work and get a feel for your technical abilities and personal artistic style. In this sense, a portfolio is a screening tool for job recruiters and a marketing tool for yourself.
In fact, a high-quality, versatile portfolio is essential for any designer. No matter where you are in your educational journey or career, you should put some time and energy into developing and maintaining a robust web portfolio. The best way to diversify and substantiate your portfolio is to showcase a range of project work, which will likely be pulled from previous professional experiences.
You can continue to build your design portfolio while you're in school, too. If you're enrolled in a design degree program (or plan to be), consider looking for internships to gain real-world experience and project opportunities that can be included in your portfolio. If you're still awaiting your first professional design experience, it's still possible to present a design portfolio. One way to create (or expand) your portfolio is to include mockups and concept work.
For example, you can develop a case study with a set of requirements and parameters from a pseudo-client. You can build materials - from mood boards and wireframes to visual mockups - for this fictitious-yet-realistic project. Although the pieces aren't in-market designs, this exercise will not only show off your design thinking, creative flair, and technical ability, but also demonstrates your flexibility and imagination when designing in a set of strict parameters - which will be the case in any professional design role.
Web Design: Job and Career Outlook
Nearly every industry needs talented web designers. The U.S. Bureau of Labor Statistics forecasts that employment for web designers will increase by 8% between 2019 and 2029, much faster than the average growth rate for other professions. As companies continue to prioritize their digital presence, demand for talented web designers will only continue to grow. This means that designers can expect a wide breadth of job opportunities in a range of industries and settings.
As a designer, you can work in-house for a company or organization, or join a creative agency where you can work on client projects. More experienced designers may also choose to freelance, which involves building up their own client base, or to pursue project-based work for companies in short stints of time.
Roles and job descriptions will vary by company, but some of the most common web design job titles include:
Graphic/Visual Designer
UX Designer
UI Designer
Art Director
Since web development is a collaborative process, and often part of larger business strategy and marketing efforts, your role as a designer will allow you to work with other professionals, such as content strategists, product managers, copywriters, and, on the development side, front-end and full-stack developers. While these titles do require different professional backgrounds and areas of expertise, they all work closely together to design and develop impactful web interfaces.
Interested in learning more about CCO's accessible, online degrees in web design and development?
Download Online Experience Guide
Learn what you can expect from your experience at Champlain College Online.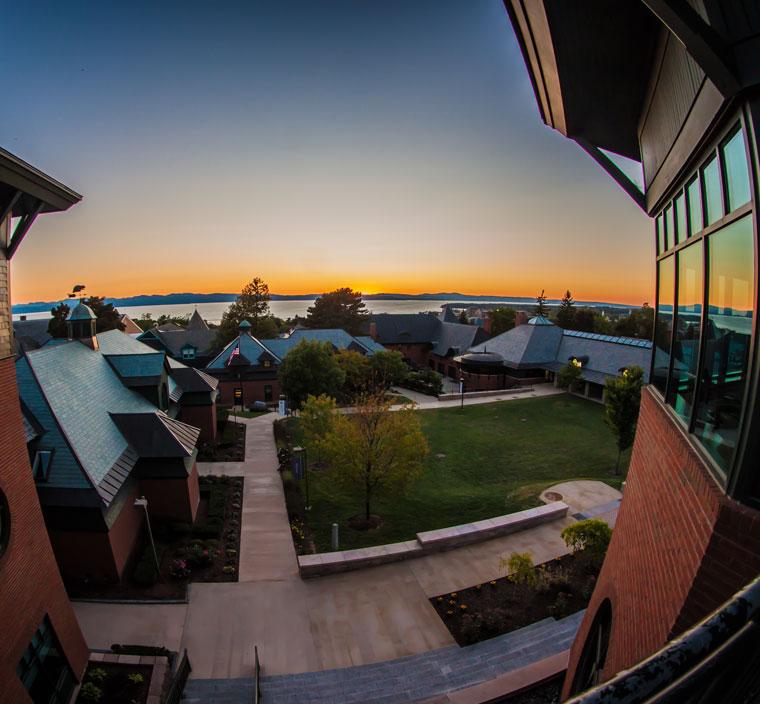 Online Experience Guide Download
Learn more about what you can expect from your online experience at Champlain.