My Decision to Go Back to School: Moving Up in a Company or Organization Requires More Education
Moving up within my organization and taking a management position was a long-term goal of mine, and I knew that I'd need a master's degree to get there.  I'd been considering going back to school for a long time, but kept putting it off.
When I heard about the Champlain College Online truED program through my employer, I knew it was finally time to jump back into my education, and I decided to pursue a master's in executive leadership in order to  build the leadership and management skills I'd need to advance in my career. Champlain's relationship with my organization made it so easy to apply and enroll; my employer was very supportive of my going back to school and even helped pay for some of my classes because they were relevant to the work I was doing.
Why I Chose Champlain for My Master's in Executive Leadership Online
I had attempted to go back to school and get my advanced degree before, but couldn't complete my program due to family and financial challenges. This time around, things had changed: my children are now grown, which made it much easier to find the time to complete my coursework, and Champlain's truED program made the degree so much more affordable. Not having those two major obstacles in my way motivated me to go full steam ahead and finally complete my degree.
My Experience as an Online Student
Going back to school online was challenging, since I'd been out of school for over fifteen years, and online learning was completely new to me.
All of my prior education experiences took place in a physical classroom, with a professor and a chalkboard, so it the online experience was intimidating at first. But Champlain has built a unique program that truly allows students to be successful from a distance. I found the technology to be user-friendly, and felt that Champlain successfully created an environment that truly felt like a real classroom. I could collaborate with other people just like I would in a regular classroom, through projects and discussions.
I even built close relationships with my classmates through the program; there was one person in my cohort in particular who I just clicked with. We actually worked for the same agency, in different departments and in different states, and there were a lot of similarities in the work we were doing. We were able to support each other throughout the whole program - when we were stressed out or having a tough time, we could always reach out to each other.
I also appreciated that if there was something I didn't know how to do, I could always reach out to someone for help. My professors and my advisor were always available and accessible, and interaction with them was easy. I could always just shoot them an email, and they would always respond right away. I found that everyone at Champlain was willing to help - once, when I was going through a challenging time, I was even able to set up a time to talk to the dean of the college after hours, in the evening.
Balancing Work and School as an Online Student
Balancing my schoolwork with the rest of my work and life commitments was difficult. I work full-time, and at the time I had a very demanding job. To get everything done, I would usually just stay up late at night doing my coursework.
There were definitely times when I was frustrated and stressed out. Sometimes, when my job was particularly demanding and I was traveling a lot for work, I did think that maybe it wasn't the right time for me to be in school. But the team at Champlain talked me through it - I stuck with it, and I'm happy I did.
When it came to balancing work and school, I found the online format to be really useful because of how much I was traveling. Champlain's technology allowed me to do my homework from wherever I happened to be - at the airport, on planes, in hotels. I was able to keep up with my classes despite being on the road so much, which wouldn't have been possible if I were attending a brick-and-mortar school.
How My Master's in Executive Leadership Led to a Promotion
I was able to see the impact of my education on my career almost immediately. I was able to apply what I was learning in class to my workplace, and I found that my new skills and knowledge started to be recognized by my employer. And as soon as I finished my degree, I was promoted.
Now that I've completed my master's in executive leadership online, I feel better equipped to advance even further in my career. I have the tools, I have the skills, I have everything I've learned during the program, and all of that will help me be successful in my new position and beyond.
To anyone considering a degree at Champlain, I would say do it. It won't be as hard as you think, so don't let fear get in the way, even if online learning is something you're not used to. If I could do it, you can do it, too.
Jiri Cruz graduated from Champlain College in 2018, with a Master's in Executive Leadership.
Download Online Experience Guide
Learn what you can expect from your experience at Champlain College Online.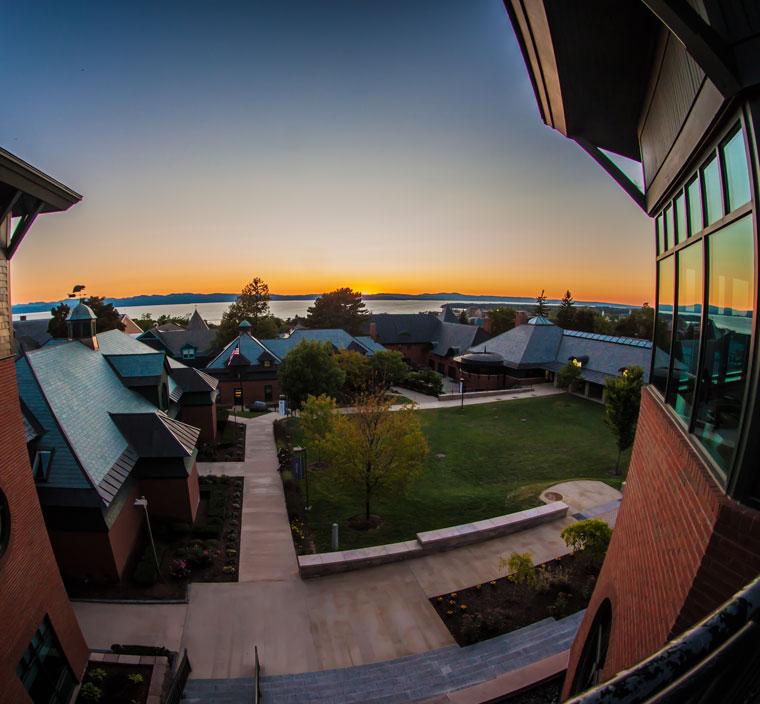 Online Experience Guide Download
Learn more about what you can expect from your online experience at Champlain.