If you are considering going back to school, you've probably realized that you have a number of options in front of you - and figuring out the differences between them, then deciding which is right for you, can be a challenge.
The biggest choice most adult learners face is deciding whether to attend an online college or attend on-campus classes. To help you understand the pros and cons of each, we've broken down the key factors to consider for each of them.
Differences Between Online and On-Campus Colleges
Convenience
One of the biggest draws of online vs. on-campus education is the convenience factor. Simply put, online education can be done from anywhere, at any time, and is an extremely flexible option that can easily fit into students' busy schedules. Students can "go to class" during their commute, on their lunch break, over the weekend, or after their children go to bed - it's completely up to them to manage their class time in a way that works for them.
On-campus education, on the other hand, is a less flexible option. While many programs, especially those geared towards adult learners and working professionals, will have nighttime class times to accommodate students' other commitments, students will still have to attend class at set times, which may conflict with working hours, parenting responsibilities, and other routines. Additionally, students should factor in travel time to and from campus - this may pose a significant barrier to those who lack reliable transportation, or to those who live in remote areas without a college campus nearby.
Program Variety
Another benefit of choosing an online college is that you will have nearly unlimited options when it comes to degree programs. When you're attending classes online, you can enroll in any school that offers the program you're interested in, regardless of whether that institution is located in a neighboring state, across the country, or even around the world. That means you can truly pick a degree program that fits your goals, interests, and career path.
One of the biggest limitations for students considering on-campus classes is that they are restricted by the course offerings of the schools nearby. While relocating is an option, it's often not a realistic one for adult learners, who have established lives, careers, and relationships. For most adult students who wish to attend on-campus classes, they only have the choice of a few schools due to geography, and those schools may or may not offer the program that they're interested in.
Classroom Experience
On-campus education is usually structured in a way that's very familiar to students: classes take place in physical classrooms, professors are giving lectures and leading discussions, and students are having in-person conversations about course material. This is very similar to the classroom experiences students may have had in high school, and so it's something that adult learners are naturally drawn to. On-campus class experiences are built around face-to-face interaction, and that's something that many learners thrive on - being in a classroom surrounded by your peers, able to start conversations, form friendships, ask questions, and schedule in-person meetings with faculty and support staff as needed.
For some students, the online learning experience can feel very unfamiliar and even a little uncomfortable at first, especially if they are not used to communicating via writing. However, by the end of their first term, most students have completely adjusted to this new way of learning, and find that their interactions with professors and classmates come to feel completely natural, and the same conversations, friendships, questions, and meetings still occur. Additionally, some students actually find the online discussion format to be more rigorous than a traditional classroom experience, since they have to think more carefully about what they write and can't just put their hand up to respond to a question.
Learning Style
One of the biggest determiners of whether you should choose online or on-campus classes is your preferred learning method.
In-person classes are in some ways more dynamic than online classes, and offer more options to learners with different learning styles - if you are an auditory or visual learner, lectures may work well for you; discussion groups can help people who learn best by talking through a subject or question; and those who learn best through reading and writing can take notes and review course presentation materials after class. Additionally, there is an argument to be made that in-person education offers more accountability, since you must show up to class every day, and more support, since you have a built-in network of classmates, professors, and academic support facilities available to you. If you are someone who needs structure to succeed, a classroom environment may be right for you.
On the other hand, online classrooms are much more flexible, which can be a big plus for some students and a challenge for others. Online students must be very self-motivated and organized, and hold themselves accountable for attending class and completing assignments just as they would if they were attending classes on-campus. If you have significant personal drive to succeed and are an independent learner (something that requires a measure of self-discipline), online learning could be a good option for you. Other factors to consider when assessing the compatibility of your learning style with an online learning environment include your comfort with reading as a means of absorbing information and your ability to communicate effectively in writing, as both are essential to your success in an online classroom.
Affordability
Affordability is an issue on all prospective students' minds, regardless of whether they are considering online or traditional education. It's also a factor that can vary significantly from institution to institution, so it is difficult to state that one form of education is much less expensive than another. However, in general, students can expect some savings from online education, due to the lack of expenses associated with on-campus education, such as transportation, room and board, and textbooks. Tuition does also tend to be lower, due to the lack of overhead required to run online programs.
While traditional education is generally more expensive, it can range in price from being roughly equivalent with an online education (particularly state colleges) to much more expensive. One of the benefits of traditional education is that many schools offer institutional financial aid, which many online colleges do not, and this can dramatically affect the out-of-pocket expense to the student, especially when combined with federal financial aid options or employer tuition reimbursement.
To assess the affordability of their various options, students should contact the financial aid offices of the schools they are considering to learn more about average aid packages, their eligibility for student loans, and tuition costs, and do a comparison of the final dollar amounts they would owe per semester. They should also do a full analysis of the overall cost of attendance for the institutions they are considering. It's important to determine whether students are expected to be additional, hidden fees relating to things like access to distance learning, technology, online libraries, or materials (for an online program) or student activity fees (for on-campus programs). These all must be factored in when calculating the cost of your education, and can add up quickly.
Ultimately, while both in-person and online degrees have their advantages and drawbacks, both are excellent options, and it's up to the individual student to determine which will best fit their lifestyle, habits, and schedule.
Download Online Experience Guide
Learn what you can expect from your experience at Champlain College Online.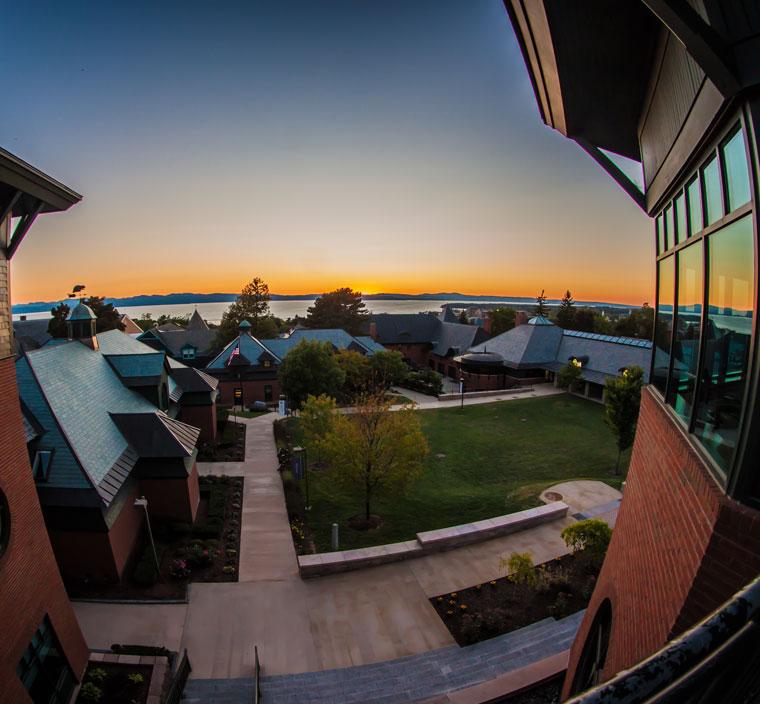 Online Experience Guide Download
Learn more about what you can expect from your online experience at Champlain.