Every year, LinkedIn compiles the top skills employers are looking for in the new year by analyzing thousands of job postings from across the site. While certain soft skills - like professionalism, teamwork, and leadership - never go out of style, trends in hiring and the workforce mean that each year, the qualities employers are looking for when hiring new employees tend to shift slightly.
In an increasingly tight job market, employers are focusing less on the technical capabilities and experience of their job candidates, and more on the soft skills an individual can bring to a role.  While having a foundation of relevant knowledge will be important in most hiring processes, these less tangible soft skills can be a strong indicator of cultural fit, willingness to learn, and ability to excel in a new organization, and could give you the edge you need to secure a new role. And despite how valuable these skills are, employees find it surprisingly difficult to find job applicants who have them.
Building these soft skills can help you feel confident to apply to any role, even if you don't have the "right" background, or lack some of the experience requested in a job posting - if you can demonstrate that you have this additional skillset, many employers will still consider you.
So if you're ready to make yourself a stronger candidate for a new job or promotion, read on to find out the top soft skills employers are looking for.
Top Soft Skills Employers Are Looking For in 2022
Creativity
Even if you're in a field that's not typically thought of creative (such as communications, media, or the arts) the ability to think creatively is an enormous asset. Employers are looking for people who can think outside the box, who take take concepts and apply them in fresh ways to real-life situations, and who can look at problems from different angles and continually come up with new ideas.
Persuasion
Regardless of your role, persuasiveness is a skill that will come in handy in any number of scenarios. Some professions incorporate persuasion into their day-to-day work: marketers and salespeople, for example, need to persuade customers to purchase their product or use their service. For others, persuasion might come into play in team projects or when presenting new ideas to management - you'll need to be able to make your case, present compelling evidence, and ultimately persuade your team members or your boss to say yes.
Collaboration
More than ever, today's professionals to need to have a strong ability to collaborate. Employers want employees who work well with others, who can compromise, who can set aside personal differences to complete a task, and who can form strong working relationships with all kinds of people across departments and across the organizational chart. Even if you prefer to work solo, you'll more likely than not be called upon to contribute to a group project at some point in your career, so finding ways to adapt your working style to mesh well with others' is key.
Adaptability
Employers appreciate it when their employees are flexible and adaptable. Professionals who can go with the flow - whether it's in terms of learning new systems, changing processes, or taking on new responsibilities - will be valued by their organizations, and employers will often think of these employees when considering advancement opportunities or professional development, because these are the professionals with the demonstrated capacity to learn new things and feel most comfortable in new circumstances.
Time Management
Being able to manage your time effectively is essential in virtually every job and industry. Employers want to know their employees can meet deadlines and handle their workloads effectively - especially in busy and fast-paced work environments - and the ability to stay on top of things is important. You need to be able to juggle multiple assignments, prioritize, find ways to be productive, and delegate (or ask for help) when necessary.
How to Build Soft Skills
So if you're looking for a new job, or simply want to impress your current organization, how do you go about building these soft skills?
One of the best ways is simply to find opportunities to practice them on the job. For example, if time management is a challenge for you, ask your boss for tips, or look online for ideas on how to manage your workload, then try to incorporate them at work. The great thing about soft skills is that many of them can be built with persistence and practice - you don't need specific training!
However, if you're committed to taking the next step in your career and want to make a bigger change, a degree from a well-respected, regionally accredited, nonprofit institution is a great way to not only get a credential in a career-focused field of your choice, but to also build a foundation of key soft skills that will carry you through the rest of your professional life.
These academic programs - particularly those with an emphasis on career advancement - build many of these skills into their curricula, or require you to put them into practice as part of your coursework. You'll need to think creatively to take on challenging assignments, collaborate with classmates on group projects, and manage your time effectively to keep track of assignments and to fit school into your busy schedule. And all programs, regardless of the field, will teach you career-specific persuasion skills, as well as how to be adaptable in changing environments. You'll also gain other critical soft skills like communication, leadership, and more.
Download Online Experience Guide
Learn what you can expect from your experience at Champlain College Online.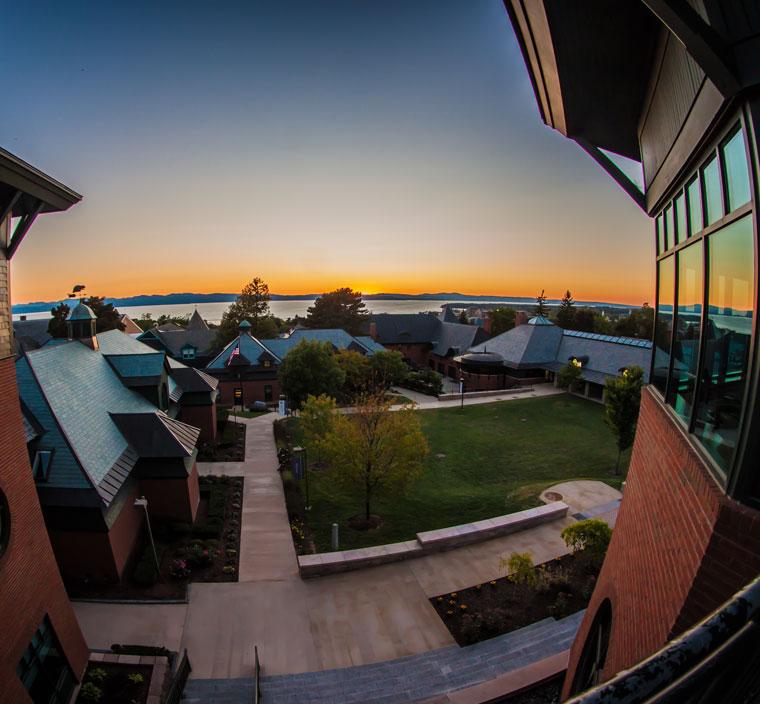 Online Experience Guide Download
Learn more about what you can expect from your online experience at Champlain.