LinkedIn regularly surveys top business leaders to find out what skills are most in demand in today's workforce - both "hard skills" (easily quantifiable, often technical skills that are gained through education, training, and experience) and soft skills (subjective skills that relate to how you interact with others in the workplace - these can also be thought of as people skills).
Both of these skillsets are essential to career success, as most jobs require some combination of the two. While hard skills are very valuable, especially in technical roles, it's important to not dismiss the importance of soft skills, which include easily transferable and highly sought-after abilities such as communication and critical thinking, which employers are looking for in virtually every industry and sector.
Keep this in mind when looking into degree programs and training courses - you'll of course want to find a program that is relevant to your intended career path and offers highly applicable coursework in your field, but you also want to the program to help build your overall skillset and knowledge base in other areas.
So what are the most in-demand skills in the business world, and how can you obtain them?
Today's Most In-Demand Skills
Top Soft Skills Employers Are Looking For
Leadership
Why Employers Are Looking For This Skill
Regardless of where your position falls on the organizational chart - whether you're managing your own team or working at the individual contributor level - leadership is an essential skill in virtually every job, organization, and industry. Hone your leadership skills to give you an edge in your next job application process, to move up the ladder within your current organization, and find long-term success throughout your career.
How Can You Build Leadership Skills?
Luckily, because leadership is such an in-demand skill, there are a multitude of ways people can improve their leadership abilities. While there are many free resources online that you can put into practice in your day-to-day work, there are also all kinds of leadership training programs and degree options (such as a graduate certificate in leadership, or a master's degree in executive leadership) that you can pursue based on your level of interest and desired time commitment.
Communication
Why Employers Are Looking For This Skill
Communication is also a vital skill in today's workplaces - being able to communicate well makes you more effective at your job, helps eliminate misunderstandings, gives you the ability to better diffuse conflict, allows you to create stronger working relationships with your coworkers, and ensures you'll be able to explain your work to individuals in other areas of the business (whether they're upper management or colleagues in other departments).
How Can You Build Communication Skills?
There are many ways you can learn the fundamentals of interpersonal communication, including both free online resources and more intensive education options. Many undergraduate degree programs will incorporate courses on communication into their general education requirements; others make communication a core focus of the degree (such as in a B.S. in marketing communication). Advanced degrees, particularly those in fields like business administration, human relations, or leadership, will also often include a class on how to apply advanced interpersonal communication techniques to the workplace.
Collaboration
Why Employers Are Looking For This Skill
Collaboration is key to producing high-quality work - whether it's collaboration with members of your own team or people in other departments, it's essential to be able to work well with others. Even if your work is done largely independently, or you prefer to work on your own rather than in groups, being able to share your work (or draw on others to help you with a project) is an important skill.
How Can You Build Collaboration Skills?
Collaboration is a skill best learned on the job: you could start out by seeking opportunities to collaborate, if you don't have many already, or talk to your manager about finding ways to help you build those skills. A degree program is also a great way to build collaboration skills - no matter the field you're studying, degree programs at both the undergraduate and graduate level require significant collaboration with other students as part of the coursework and learning process. You'll often find yourself participating in group projects, contributing to class discussions, and otherwise working alongside other people with different backgrounds, skillsets, and perspectives.
Time Management
Why Employers Are Looking For This Skill
Perhaps the most essential skill of all, time management is something that virtually every employer will appreciate. Regardless of what you do, being able to manage projects, assess priorities, be more productive, and get your work done on time is essential.
How Can You Build Time Management Skills?
While maintaining good time management skills can be a challenge, it is, in some ways, the easiest soft skill to learn, since it really comes down to developing or adopting specific techniques and methods that will help you stay on track. It's also a skill with endless opportunities for development: in addition to a plethora of online resources that will address every working style or learning preference, time management techniques can be refined at work, in a degree program, or simply in day-to-day life - any circumstance where you have tasks to accomplish in a specific time frame is ideal for trying out new time management skills, or refining those you've already learned about.
Top Technical Skills Employers Are Looking For
Web Development
Why Employers Are Looking For This Skill
Web development abilities are highly in-demand in today's web-based world. These competencies might include cloud and distributed computing, user interface design, and coding languages like Java. Employers are looking for individuals with these skills to fill diverse roles in the web development field, which is projected to see faster than average growth over the next decade.
How Can You Build Web Development Skills?
This is a field that requires specific technical training, so to build your web development skills you will need to pursue formal training or enroll in a degree program focused on this area. A bachelor's degree in web development and design, or a certificate in web design or web programming, would be a great place to start.
Software Development
Why Employers Are Looking For This Skill
Individuals with software programming and development skills - including various coding languages like Java and Python, data engineering, algorithm design, mobile development, and software quality assurance - are highly sought-after in a number of industries. This field is on track for significant growth over the next ten years.
How Can You Build Software Development Skills?
Software development is a highly technical field, so you will need to pursue technical training or a degree in this field in order to build the required skill. There are many options out there for software development education, such as a certificate or a bachelor's degree in software development.
Network and Information Security
Why Employers Are Looking For This Skill
In our increasingly digital world, network and information security are essential divisions in almost every business, regardless of industry or sector. That being said, individuals with information security skills and network security skills will see plenty of opportunity in the job market over coming years: the industry is projected to see a 28% growth rate (much faster than average).
How Can You Build Network and Information Security Skills?
Network and information security is a broad field, with many possible areas of specialization. While you'll usually need some form of technical training in order to build these skills, you can choose an area that interests you specifically, such as degree in cybersecurity or information security operations.
Business & Data
Why Employers Are Looking For This Skill
While having a general business skillset is useful for many different roles, many employers are looking for individuals who've specialized in this field, to help bring critical systems thinking and broader perspectives to their organizations. People who have experience in data analysis, financial forecasting, economics, and marketing are in particularly high demand. This versatile skillset can also translate to a wide range of different roles and specialties in a number of organizations in government, non-profits, and the private sector.
How Can You Build Data Skills?
Because of the importance of, and demand for, business skills, many higher education institutions are now offering degree programs that address this need, from certificates to business management degrees to MBAs. You can also participate in non-degree training programs that focus on particular subjects, such as marketing, if there are specific skills you're looking to build.
Download Online Experience Guide
Learn what you can expect from your experience at Champlain College Online.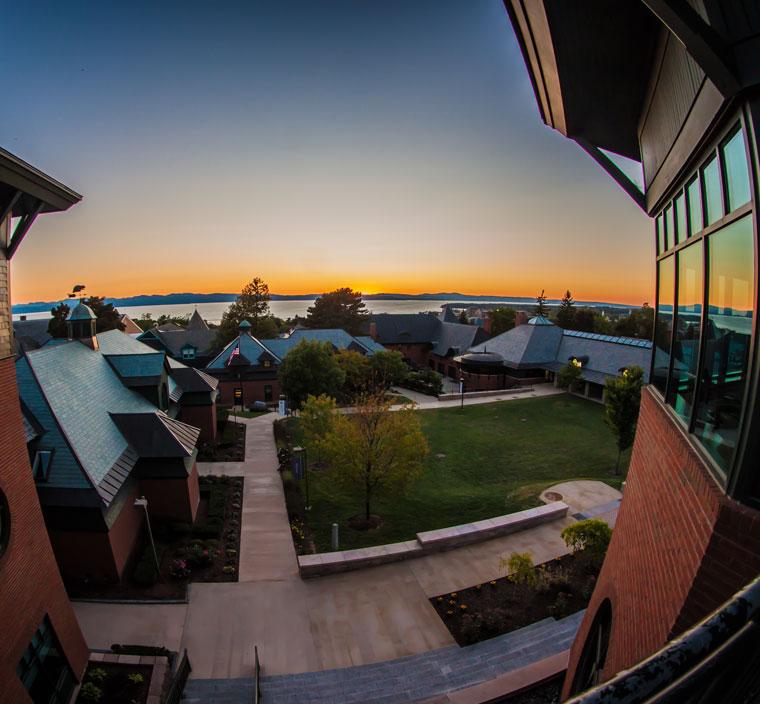 Online Experience Guide Download
Learn more about what you can expect from your online experience at Champlain.