On April 10, 2018, Champlain College hosted the inaugural Adult Student Transfer Conference, inviting community college staff who support adult students with advising and the process of transferring here to our campus. This day of professional development featured presentations on our national survey of adults who have not earned a bachelor's degree, Champlain's approach to transfer credits, a quality assurance demo, round table discussions on career counseling and APL, and more!
Attendees shared real stories about adult students overcoming challenges in order to change their lives through higher education, and worked collaboratively to learn more about community college students and how we can support one another in serving them. While we have always valued the pathways that community colleges create for students who come to Champlain College Online for a bachelor's degree, this conference made it clear how much our partnerships with community colleges matter now more than ever.
Why Now?
We know that community colleges have long provided an important foundation for many of the adult students who make their way to Champlain, not only with necessary coursework toward a degree but also as a more affordable educational option. These pathways are now becoming increasingly valuable for adult access to education.
In November 2017, Champlain College Online commissioned a national survey to better understand the unique needs and goals of adult students without a bachelor's degree, particularly, the motivators and barriers to going back to school, and what this might mean for us. We sought to explore how potential adult students perceive the effectiveness of higher education, online vs. face-to-face learning, and the role of higher education in the future workforce. This survey reinforced our understanding that adults want to return to school, but cost is a significant, if not the main, barrier to doing so. Sixty percent of adults want to return to school and 70% recognize that it is important, if not essential, to have a degree to increase career prospects.
The Importance of a Degree
Not only is having a degree or credential important to increase career prospects and for growing complex knowledge and critical thinking, but it also can improve career earning potential over time. A bachelor's degree means a median weekly salary of $1,156, or just over $60,000 per year, and a low unemployment rate of 2.7 percent. Nationally, the need for adults to hold a degree is becoming more urgent. Two-thirds of all jobs created in the next ten years will require some form of postsecondary education, yet only about 46% of adults in the U.S. have completed a degree or similar credential of value. Due to significant structural barriers, like the rising costs of college tuition, this increasing need for educated adults means that the supply cannot meet the demand.
In our home state of Vermont, Governor Phil Scott recently announced an education attainment goal for adults across the state: by the year 2025, 70 percent of working-age Vermonters will have a postsecondary degree or credential of value. This 70x2025vt  initiative, in partnership with the Lumina Foundation, is designed to "increase the economic and civic vitality of Vermont through education attainment." Champlain College Online's own Associate Vice President, Melissa Marcello, is a part of the Adult Student Working Group that just met last week, and is comprised of representatives from colleges, VSAC, and industry across the state of Vermont who aim to understand the unique challenges adults face in gaining a postsecondary credential.  
The Role of Community Colleges
But what does all of this mean for us in higher education? Community colleges will now have an important role to play in providing affordable, high quality educational opportunities, and therefore, so do the four-year colleges and universities that partner with them.
The discoveries from our national survey were reinforced by our conference attendees' stories of adult students, particularly our local Vermont attendees. Many Vermont-based students who are familiar with Champlain College set their sights on completing a degree here following their associate degree. However, after their time at a community college, they cannot make that goal a reality primarily due to cost. In our efforts to support the higher education of adult students, to strengthen the pathways from our community college partners, and to make college more accessible to more adults, Champlain College has made the decision to reduce our online undergraduate tuition by more than half. Beginning in Fall 2018, online undergraduate courses for our standard students will be only $318 per credit. Our hope is that adult students coming from community colleges will be able to complete a bachelor's degree through a more affordable pathway with Champlain Online.
By not only reducing tuition in our undergraduate programs, but also by increasing our outreach efforts to community college students and staff like you, we can support our community college partnerships, which are often the first step towards a degree for many of our adult students. Community colleges are more valuable to Champlain now more so than ever, and together we can continue to support the educational attainment of adult students, especially as the national need for an undergraduate degree grows. We hope that our community college colleagues, whom we work so closely with in supporting adult learners, will join us in our efforts to support adult education and consider connecting and collaborating with Champlain College Online in future outreach and admissions events for adult students.
Download Online Experience Guide
Learn what you can expect from your experience at Champlain College Online.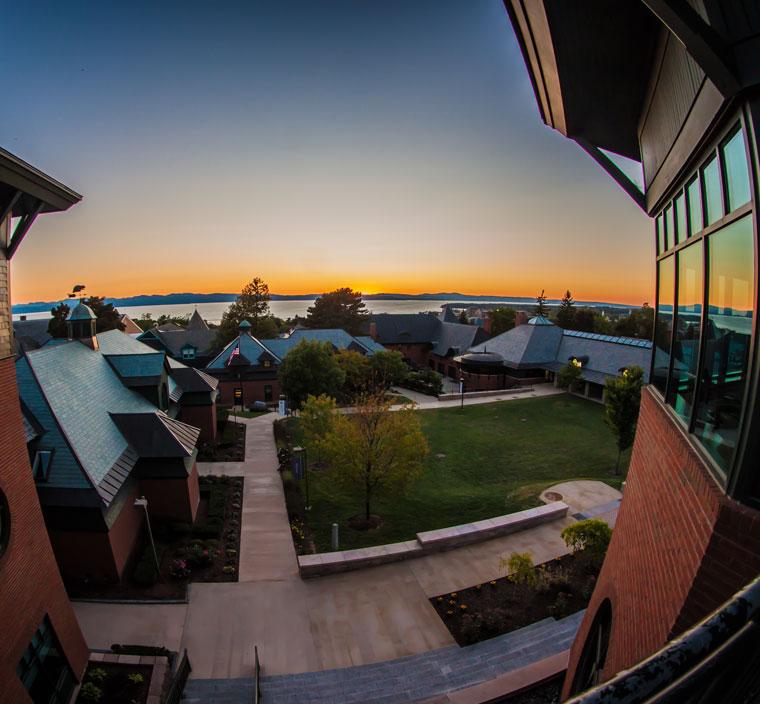 Online Experience Guide Download
Learn more about what you can expect from your online experience at Champlain.