Explore Computer Science
Are you a passionate problem solver interested in unlocking limitless opportunities in the ever-evolving field of technology? Designed to equip you with theoretical knowledge and skills, this 100% online bachelor's degree in computer science combines foundational courses in mathematics and programming with core courses in computer architecture, data structures and algorithms, and systems administration. The comprehensive curriculum also includes courses on emerging technologies like Blockchain and Quantum Computing, and advanced computer science courses on programming paradigms, compilers, and computational logic so you'll have the skills and knowledge necessary to design, develop, and implement innovative solutions to complex computational problems.
Unlock Your Potential
An online bachelor's degree in computer science can prepare you to help shape the future of computing and technology. Graduates are positioned for careers and to continue their studies in software engineering, data science, cybersecurity, and artificial intelligence.
Take the next step
Apply (It's FREE & FAST!)
Academic Excellence and Recognition

Regionally accredited by the New England Commission of Higher Education

Ranked among the Best Online Bachelor's Programs by U.S. News & World Report

Designated as a Military Friendly School for our commitment to the military community

Named the among the best schools with accelerated bachelor's degrees by Intelligent.com
What Can I Do With a Bachelor's Degree in Computer Science?
The computer and information technology industry is rapidly growing and shifting. The Bureau of Labor Statistics (BLS) predicts that employment in computer and information technology jobs will increase by 15% between 2021 and 2031, creating approximately 682,800 new jobs. This growth is significantly higher than the average rate for all occupations.
As older generations retire or leave the industry, an additional 418,500 job openings will become available each year. With a bachelor's degree in computer science from Champlain College Online, you will gain the necessary skills to enter the rapidly expanding technology field and work in positions including software development and computer programming.
Potential Career Fields
Computer Support Specialist
Network & Computer Systems Administrator
Computer Systems Analyst
Database Administrators & Architect
QA Analyst & Tester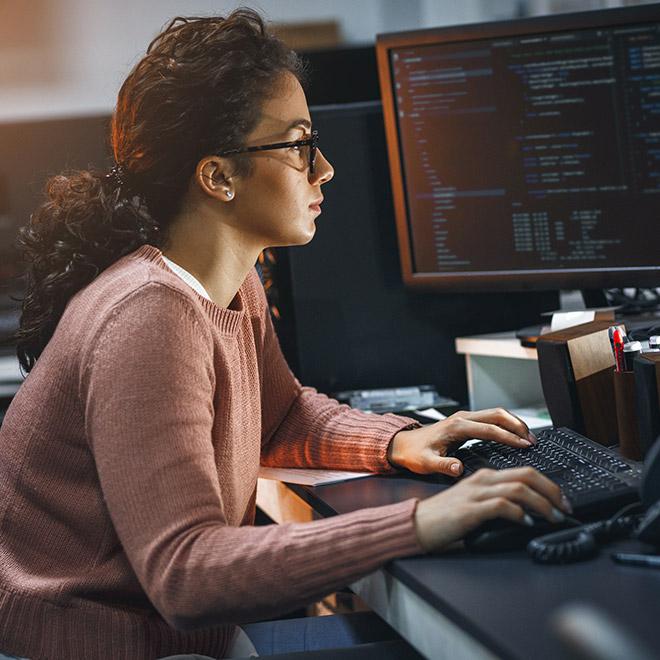 Program Details
Learn more about Champlain's 100% online computer science bachelor's degree, designed for working professionals.
Champlain's online computer science courses encompass the top skills needed by today's IT professionals. Graduates of the program are required to complete the following courses.
Professional Courses
From day one, students in this course are problem solving, first in terms of algorithmic design and then as early as week two via programming in the latest version of Python, using PyCharm. Students begin by writing a program to have a conversation, having strings and numbers as input, and advance, by week seven, to building a working password saver program, capable of looking up, adding (and encrypting), and storing passwords.
This course, through guided research and hands-on learning experiences, provides students with an understanding of operating systems, including their core fundamental principles and how they work. Students are introduced to the three most popular operating systems for personal computers (Windows, OSX and Linux), and mobile operating systems, and learn about standard functions such as memory, process/thread, input/output, storage and device management.
Learn the basics and more in this course on Relational Database Management Systems (RDBMS) and SQL (Structured Query Language). Students propose a final project in the first module and then work, week-by-week, to design, create, and populate the database. Then, students learn to create queries and stored procedures.
Blockchain technologies used in distributed environments can improve security. In this course, students will learn blockchain basics: the structure of blockchain, the role of cryptography, consensus mechanisms and their roles, and blockchain forks types and classification. Students will also identify how blockchain technologies are currently being utilized by various industries, and be introduced to smart contracts as well as how blocks are mined.
Quantum computing is changing the way we process information. In this course, students learn to distinguish quantum computing from classical computing, and are introduced to the fundamentals of quantum computing, including gates, circuits, algorithms and error correction. Students also consider the impact of quantum computing on software development, and current and future uses for the technology.
Students are presented with the opportunity to expand and showcase their knowledge and abilities in this 15-week course where they are expected to work independently and develop a project related to their major.
Prerequisites
Must complete 90 credits in major before taking this course.
In this course, students will explore advanced programming paradigms beyond procedural and object-oriented programming. Students will learn about functional programming, logic programming, and other paradigms, and apply the concepts to practical programming problems. Topics include lambda calculus, lazy evaluation, recursion, and parallelism. The course emphasizes abstraction, modularity, and correctness.
Prerequisites
Complete (SDEV-340 - C++ Programming II or CMIT-235 - Advanced Python) AND SDEV-345-Data Structures & Algorithms AND MATH-160- Logic and Probability
In the Computational Logic course, designed for students pursuing a BS in Computer Science, students learn formal methods for reasoning about programs, covering propositional and predicate logic, as well as proof techniques and automated reasoning tools. Students will learn how to model problems and construct logical arguments, and explore how logic can be applied to software engineering and artificial intelligence. Through hands-on work, students will develop skills in formal reasoning and problem-solving
Prerequisites
Complete (SDEV-340 - C++ Programming II or CMIT-235 - Advanced Python) AND SDEV-345-Data Structures & Algorithms AND MATH-270 - Discrete Mathematics
In this course, students will learn about the various stages of a compiler, including lexical analysis, parsing, semantic analysis, optimization, and code generation, focusing on the translation of high-level programming languages into executable code. Students will also study common compiler data structures and algorithms, such as abstract syntax trees and register allocation. In addition, students will gain practical experience by implementing a compiler for a simple programming language.
Prerequisites
Complete (SDEV-340 - C++ Programming II or CMIT-235 - Advanced Python) AND SDEV-345-Data Structures & Algorithms
This course covers the fundamental concepts of linear algebra and analytical geometry, including matrices, vectors, linear transformations, and systems of linear equations. Students will also explore the analytical geometry of Euclidean spaces, including lines, planes, circles, spheres, and conic sections. In this course, students will develop their mathematical reasoning skills and learn how to apply these principles to solve real-world problems.
Presents the basic concepts of differential and integral calculus. Topics include limits and the derivative, curve sketching and optimization problems; the product, quotient and chain rules; indefinite and definite integrals; integration by substitution and parts; and differentiation and integration of the exponential, logarithmic and trigonometric functions. Appropriate applications are considered.
Prerequisites
MATH-125 or high school equivalent
Students will learn the concepts, techniques, and structures of discrete mathematics necessary for the software engineer, including logic, sets, functions, relations, Boolean algebra, and combinatorics. The course also introduces the concept of mathematical proof.
Prerequisites
Complete MATH-125 with a minimum grade of B- OR complete MATH-210
A hands-on course covering key components of the Linux operating system. Through hands-on activities students will gain a working knowledge of the Linux operating system. Topics include installation and configuration of Linux, using common commands and graphical interfaces, installing common server applications, User and group account management, as well as performance monitoring and security systems.
We will extend coverage of topics in NETW 260 Linux System Administration I in order to provide students with the skills they need to deploy, configure and maintain secure Linux servers within the enterprise infrastructure. Many of the topics will provide in-depth coverage of topics including Apache Web Server, SAMBA, NFS, scripting, secure implementations, DNS, DHCP, and, user administration. Extensive lab exercises in a multi-server virtual machine environment will help students put their new skills into practice.
In this course, students will gain an introduction to classical mechanics and learn about motion, force, energy, and momentum. The course covers vectors, scalars, and coordinate systems, as well as kinematics in one and two dimensions, Newton's Laws of Motion, circular motion, and kinetic energy and work. Students also learn about potential energy and energy conservation, collision theory, rotational motion, moment of inertia, torque, rotational dynamics, and angular momentum.
This course will introduce students to programming concepts, using a major industry programming language, C++. SDEV-240 covers the history of programming languages, the essentials of the C++ programming language, and how to write effective and efficient programs to solve a variety of real-world problems.
In Computer Architecture and Assembly, students learn how computing systems execute instructions at the machine level, how they manage different memory levels, how co-processors interact, and how different programming choices influence execution time. Students learn how to program with MIPS Assembly, a RISK-architecture Assembly Language, and use it to bridge theory with practice.
The focus of this course is to cover the robust and powerful features of C++ and Object Oriented Programming. These skills will serve as a foundation to transit to develop Client/Server, Database driven applications and simulations.
The goal of this course is to learn about correct, efficient data structures and algorithms, and how to design, analyze, and implementation them in software applications. Various abstract data types including linked lists, stacks, queues, and trees will be covered in detail. Algorithms for searching, sorting, and implementing data structures will be examined using diagrams, animations, pseudocode, and C++ code.
Written Communication
Complete these two courses:
This course introduces students to the foundational concepts needed to communicate effectively in writing for academic study and professional development. Students will be introduced to rhetorical modes and their role in the development of written communication. Students will also learn how to use the four stages of the writing process--prewriting, drafting, revising, and editing--to create written communication that meets its intended purpose for its intended audience.
This course builds on students' proficiency in the writing process and rhetorical modes to introduce the use of sources in written communication. Students will practice information literacy as they learn to determine information needs from sources, identify types of information resources, develop effective search strategies, and incorporate sources in written communication, legally and ethically. A minimum grade of C is required for this course to meet a general education requirement.
Prerequisites
Complete ENGL-100 with a minimum grade of C or better
Oral Communiation
Complete one of the following, unless a specific course is required by your program:
This course draws on fundamental concepts of contemporary communication research to help students identify and develop strategies to become effective and versatile communicators across media and settings. Students will examine and respond to a range of interpersonal situations through the critical evaluation of the three essential components of all communication: its purpose, audience, and context. Students will leave the course with the ability to reflect on and adapt their strategies to successfully and consistently communicate for a range of purposes across diverse settings.
Collaboration
Complete one of the following, unless a specific course is required by your program:
This course draws on fundamental concepts of contemporary group communication research to help students identify and develop strategies to communicate effectively in small groups and teams for the cooperative purpose of advancing common goals. Students will draw on listening and responding strategies learned in COMM-130 Interpersonal Communication and apply them to communicating as a leader or member of a small group. They will also learn how to recognize and manage the types of conflicts that can arise in small groups. Prerequisite: COMM-130 Interpersonal Communication
Inquiry & Analysis
Complete the following course, unless a specific course is required by your program:
Students will learn and apply critical inquiry skills to analyze persuasive communication created by others and to develop persuasive communication/arguments of their own to solve problems in professional, civic, social, and personal contexts. Specifically, students will learn to recognize fallacies in logic; apply inductive and deductive reasoning strategies to the interpretation and development of persuasive communication; evaluate the validity of sources; and develop logically sound persuasive communication. Students will explore the roles of self-awareness, empathy, and ethics in the context of critical inquiry and the development of arguments.
Technology Literacy
Complete one of the following courses, unless a specific course is required by your program:
This course is an historical overview, and examination of the evolution of digital, film, and print media, and their functions. Students will identify and analyze contemporary problems of the media such as the legal, social, economic and psychological implications of their relationships with society. They also will examine the ways in which marketing and PR professionals utilize the mass media channels to reach their intended target audiences.
This course explores the complex and evolving relationship between human beings and technology. Through a multi-disciplinary approach that draws on fields such as sociology, psychology, philosophy, and history, students will examine the ways in which technology has shaped human culture, identity, and values, as well as how humans have influenced and continue to influence the development, adoption and use of technology.
Quantitative Literacy
Complete two of the following courses, unless a specific course is required by your program:
Mathematical reasoning, when applied to everyday and professional lives, has two dimensions: logic for deterministic situations and probabilities for non-deterministic situations. This course aims to help students develop these mathematical reasoning skills.
Accurate and appropriate visual data representation is increasingly critical in today's work environments. Students will develop skills in data organization, manipulation and interpretation in a way that supports data-driven decision-making and effective communication of numerical data
Scientific Literacy: Natural Sciences
Complete one of the following courses, unless a specific course is required by your program:
Introduces students to the biochemistry and physiology of nutrition and exercise. Emphasis will be placed on human body systems such as musculoskeletal, digestive, respiratory and circulatory, and their relationship to nutrition and fitness. Students will also study the biochemistry of energy conversion as it relates to exercise physiology. Laboratory sessions are designed to reinforce, by a hands-on approach, the principles discussed in lecture. Course includes two laboratory hours per week.
Students learn the biology, genetics, chemistry, and physics involved in the forensic investigation of crimes. A wide range of topics are studied including DNA, entomology, fingerprinting, trace evidence, serology (blood, saliva, and semen), blood spatter, and chemical analysis of drugs, alcohol, and other compounds. Students apply their new knowledge of forensic science through the use of case studies and laboratories. This course includes two laboratory hours per week.
Prerequisites
If you have taken FOR-110 you may not take this lab science course.
Students will develop the ability to apply scientific methods to understand the natural world, to identify scientific aspects of daily life, and to evaluate the quality of scientific information based on its source and the methods used for its generation.
Diversity, Equity, Inclusion and Global/Cultural Understanding
Complete one of the following courses, unless a specific course is required by your program:
This course will introduce students to major streams of social justice thought, including historical social justice movements, theoretical problems having to do with social equality, personal freedom, marginalization, and stigmatization, and the ways in which civic and professional communities respond to these issues.
Arts & Humanities
Complete two of the following courses, unless a specific course is required by your program:
With pressure and release, a window opens and closes, recording light on a sensor. The simple action captures the instinct, judgement, and skill of the person behind the lens. This class will begin a study of the art and craft of photography. Students will develop their vision and their understanding of how to achieve it. Solid skills will be learned and many doors will be opened.
A survey of the continuing change experienced in art since the 15th century. Students will examine how an image is achieved as well as the significance of the subject represented. Individual inquiry concerning the nature of art is encouraged.
Students learn to appreciate films through the critical analysis of various elements of mise-en-scene, cinematography, editing and sound. The course introduces the conventions of classical Hollywood cinema, considers the work of one major director (auteur), and surveys selected international and independent films. Students view and discuss films each week.
Students in the course will explore the cultural history of the music genre broadly referred to as rock. Students will explore the social, economic and political contexts that are influenced by and that influenced each style in the United States. By listening, watching, reflecting upon, discussing and writing, students will explore how music takes on meaning, personally, and culturally. Topics and themes include the relationships between and among gospel, country, funk, folk, disco, rap and hip hop; the role of business and technology in those relationships, and political or transgressive elements of rock music.
Students will apply communication theory and research to address the particular challenges to communicating effectively in organizations. Students will learn how to identify organizational communication problems, analyze those problems, and generate effective solutions. Students will examine the relationship between organizational structure and specific communicative practices, and how communication practices by organizational members establish, maintain, or change organizational culture. They will also learn how to anticipate communication deficiencies in organizations, and use communication as a means to facilitate organizational development and innovation.
Prerequisites
Complete COMM-130 or COM-100.
Specific application of common tools for writing in the working world. Students will be instructed in rhetorical strategies of professional writing including style, report formats, editing, document design, and integration of visual aids. Students will complete a semester-long writing project; oral and written reports associated with the process of problem-solving within the project will be included.
Students will learn how to create conditions for successful conflict engagement, a necessary skill for any professional. The course focuses on the foundational capacities to remain calm and connected with oneself and others. In this state students can access helpful ideas and responses and be their best selves regardless of environment. Improving facility for conflict creates stronger relationships and reduces fear. By the end of the course, students will understand that disagreement and difference can become a source of personal and interpersonal growth.
Students will become familiar with arguments originating from the following schools of ethics: virtue ethics, deontology, and utilitarianism. Students will apply these ethical schools of thought to formulate arguments, practice deliberation and assess the implications of their decisions for various stakeholders in a professional context.
Prerequisites
Must have 75 completed credits or permission of Program Director.
This course introduces students to the fundamental elements of technical writing (clear, concise, and targeted)that are common among seven forms of technical communication: email correspondence, editing,employment communication, proposals, long, formal reports,oral communication, and inventions. Through peer reviews and writing workshops, students develop the ability to write and edit text that precisely targets its audience. This course emphasizes deepening and broadening students' writing, speaking, and thinking abilities in a non-lecture-based, hands-on, discussion-centered classroom.
Social Sciences
Complete two of the following courses, unless a specific course is required by your program:
Provides a comprehensive analysis of the fundamentals of substantive criminal law. Students will learn the essential elements of crimes and the rationale underlying criminal law. The nature of jurisdiction, the criminal act, the criminal state of mind and matters affecting responsibility for criminal conduct are included.
This course focuses on the rules and procedures governing how the American criminal justice system must process individuals suspected, accused, and convicted of law violations.
This course provides students with a broad overview of the history, theory, and fundamentals of criminal investigation. Students are introduced to the basic responsibilities of investigators and protocols for report writing, evidence collection, and preparation of cases for trial. They also learn specific investigative techniques for different types of crimes, such as crimes involving violence and property, terrorism, and hate crimes, and, where appropriate, compare investigative protocols from other legal cultures.
Principles of Economics introduces the fundamental concepts of economics - the study of how people manage resources, and how they react to scarcity. This course focuses on both microeconomics (the behavior of consumers and companies) and macroeconomics (large-scale economic factors such as employment and interest rates), so that you'll gain a broad understanding of how a modern market economy functions, how decisions in business settings are informed by economics, and how economics applies to your everyday life.
Students will study important themes in the social history of the United States since the Civil War. This course allows students to expand their critical thinking skills through an examination of primary and secondary sources. Themes might include: the evolving status of women; the immigrant experience; the concept of the American dream; the paradox of freedom vs. slavery; the minority experience; the tensions between social classes. Students will be evaluated primarily on writing assignments.
A survey of the science of psychology, including an overview of human behavior in various areas such as physiopsychology, development, learning social psychology, personality and abnormal behavior.
A study of human groups, culture, the self, and human interaction. The course focuses on contemporary American society and the influence of culture on our actions and beliefs, with the goal of fostering critical thinking about our social environment.
Graduates of the computer science bachelor's online program will acquire and demonstrate the following industry-specific skills, knowledge, and competencies:
Analyze complex computational problems using mathematical and logical reasoning to develop innovative solutions
Develop proficiency in multiple programming languages, and apply programming paradigms, such as object-oriented, functional, and logic programming, to solve computational problems in various domains.
Evaluate, select, design, and implement appropriate and efficient algorithms and data structures.
Analyze and optimize computer systems, leveraging knowledge of computer organization and architecture.
Communicate effectively with technical and non-technical audiences, using appropriate modes of communication, to convey complex computing concepts and solutions.
Champlain College Online's computer science faculty, led by Cybersecurity Program Chair Kathleen Hyde, MCIS, MBA, are expert practitioners in the field. Their industry expertise ensures that our curriculum is aligned with the needs of employers, and reflects the skills today's computer and information systems professionals need for success. Classes led by our seasoned experts will give you real-world insight into the world of information technology, and create a rich community of career-focused learning.
Tuition & Costs
Online Undergraduate Tuition Fall '23 - Summer '24
$250
per credit for military service members (family members see truED tuition)
$150
One-time graduation fee
*Based on a 3-credit course; cost will vary if course is a different number of credits
Affordability
Cost shouldn't be a barrier to going back to school. We provide a number of options to make your online education affordable.
Meet The Program Director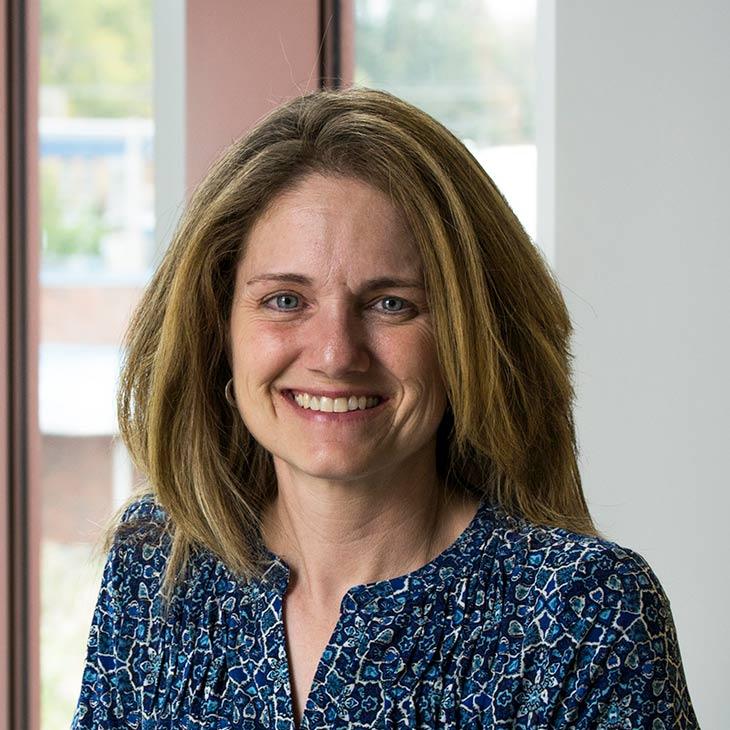 Chair, Cybersecurity Programs
Computer Forensics & Digital Investigations (B.S., Certificate)
Computer Information Systems (B.S.)
Information Security (M.S., Certificate)
Management Information Systems (B.S.)
Web Design & Development (A.S., B.S., Certificates)
About
Kathleen Hyde, MCIS, MBA, is the Chair of Cybersecurity Programs for Champlain College Online. She is responsible for the online cybersecurity and computer forensics and digital investigations undergraduate programs, as well as the M.S. in digital forensic science program.
As program director, Ms. Hyde maintains the cybersecurity and digital forensic programs' competitive and relevant edge, promotes the growth of the nation's cybersecurity workforce, and shares her passion for lifelong learning by teaching several online classes.
For more than 20 years, Ms. Hyde has provided consulting services in cybersecurity, data recovery, business continuity, and digital forensics to government, retail, finance, professional, and residential customers. She has also served as an instructor for Champlain's cybersecurity program and a subject-matter expert for course development for the past three years. Her areas of expertise and interest include insider threat detection, emerging threats and defenses, digital privacy and surveillance, and cybersecurity for educators.
Ms. Hyde holds both an MBA and an M.S. in Computer Information Studies from the University of Phoenix.
You may also be interested in
Download Program Guide
Learn what you can expect from our online bachelor's in computer science program.